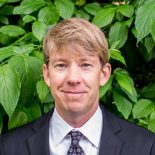 Ryan Bradley, ND, MPH
Director of Research & Senior Research Investigator
Dr. Bradley is Director of Research and a Senior Research Investigator in the Helfgott Research Institute. His commitment to research is to improve the health of the public through rigorous research on non-drug treatments. Dr. Bradley received his ND in naturopathic medicine from Bastyr University in 2003, and his MPH in Epidemiology from the University of Washington in 2009. He completed NIH-funded T32 research training in complementary medicine at Bastyr University and KL2 training in clinical research at the University of Washington in the Division of Cardiology. His research interests in clinical trials of natural products and mind-body therapies in chronic inflammatory conditions including heart disease, type 2 diabetes, pain, and inflammatory bowel disease.
Dr. Bradley has conducted a wide-variety of clinical and observational research, including: cardiovascular epidemiology in the Multi-Ethnic Study of Atherosclerosis (MESA) cohort; observational research and clinical trials on practice outcomes from integrating naturopathic medicine and conventional medicine for type 2 diabetes and cardiovascular disease; clinical trials of natural products (including vitamin D, mixed-carotenoids, and quercetin) and mind-body interventions including qigong for type 2 diabetes. He has published in leading peer-reviewed medical journals including: Atherosclerosis (PMID: 24530768), the Canadian Medical Association Journal (CMAJ) (PMID: 23630244), the Journal of Clinical Endocrinology and Metabolism (JCEM) (PMID: 24684456), Diabetes Care (PMID: 20040671), and Biomarkers in Medicine (PMID: 24044563).
In addition to academic research, Dr. Bradley maintains a clinical telemedicine practice along the Pacific seaboard focused on integrative treatments for diabetes, cardiovascular disease and chronic kidney disease; and sees patients at Guarneri Integrative Health in La Jolla, CA.