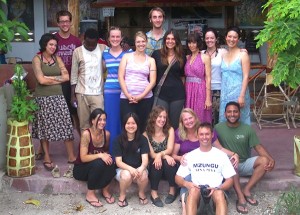 NUNM Master of Science in Integrative Medicine Research students traveled summer 2013 with Dean Heather Zwickey to Tanzania to learn how research is conducted internationally. Additionally, Dean Zwickey lead a research trip to Uganda and Rwanda. Projects for the summer of 2013 were:
Herbal Medicine and Ethnobotany in Tanzania
Breast-feeding Practices and Childhood Stunting
Herbal Medicine and Ethnobotany: Tanzania is one of the most ethno-botanically diverse countries on the planet. With more than 10,000 species of plants, the soils of Tanzania grow many herbal medicines. Researchers at Muhimbili University in Dar es Salaam screen the herbs of Tanzania for activity against cancer, HIV, and malaria among other diseases. Students visited the Institute for Traditional Medicine at Muhimbili University and participate in an herbal medicine research workshop with researchers there. Students also had the opportunity to visit with a traditional healer in Tanga to learn how the herbs are used in the villages.
Breast-feeding and Childhood Stunting: Childhood stunting, a condition where full-growth potential is not reached, is a major health concern in developing countries. In Tanzania, childhood stunting is higher than in most other countries, with more than one third of all children below average in height and weight; children often weigh the same at 2 years of age as they weighed at 6 months.
The reasons for stunting in Tanzania are complex. While a formal breast-feeding survey has not been conducted, one apparent cause is reduced time breast-feeding. In a focus group conducted in 2008, it was discovered that instead of breast-feeding, children are fed "uji," a form of cornmeal similar to grits. The nutrient value of uji is minimal, and doesn't support adequate growth. NUNM students participated with researchers to learn how a breast-feeding study will be conducted in Tanzania.
Additional Activities: Students learned global health by simply spending time in a developing country. There were many opportunities to discuss health and health politics during the trip. Challenges to conducting research in Tanzania become apparent after learning about the local culture. Students were also able to practice physical medicine on each other. As much as possible, the trip was tailored to students' specific interests.