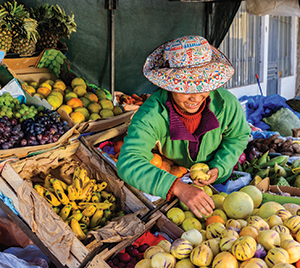 A new Master of Science degree in Global Health has been approved for accreditation by the Northwest Commission on Colleges and Universities, and will be offered to matriculating students in fall 2014. It is the first global health degree program to be offered at a naturopathic medical school.
This is the sixth accredited degree program at NCNM and is designed for students looking for ways to understand and contribute to solving complex global health challenges.
The program will take a broad whole-systems approach rooted in integrative medicine. Students will explore multidisciplinary solutions with a special emphasis on health disparities and social justice.
This is especially appropriate, said Dr. Heather Zwickey, dean of the School of Research & Graduate Studies, as natural medicine is increasingly being applied worldwide. In addition, several naturopathic and Chinese medicine nonprofits have emerged to offer health care and public health education to underserved communities nationally and internationally.
Also, she observed, "A degree in global health is a natural fit for NCNM. Both of our core programs, naturopathic and Chinese medicine, have global origins."
Natural medicine is ideal for countries with low economic resources and limited access to Western medicine, particularly pharmaceuticals and surgery, outside large cities. In the less developed areas of the world, integrative therapies including plant medicine, mind-body medicine, physical medicine and nutrition are both available and cost-effective.
The Global Health master's is a nine month program with 31 required courses in areas like epidemiology and biostatistics. Additional core courses and electives will build expertise for different career pathways including working with or launching nonprofits. The program also requires students to complete field work to gain practical experience.
According to the American Association of Public Health, career opportunities for new graduates in global health are excellent, with jobs ranging between $31,000 and $85,000 per year, both stateside and internationally. NCNM projects that in its first few years, class sizes will hold fewer than 20 students.
The majority of Global Health students are expected to seek additional education and find careers in medicine or research. Other career options include jobs in public health, international non-governmental organizations (NGOs), nonprofit and health policy organizations.
The co-chairs of the new program are Dr. Tabatha Parker ('04) and Dr. Angela Senders ('05). Parker is the co-founder of Natural Doctors International (NDI) – the world's first and oldest naturopathic global health organization. After several years in private practice with a focus on mind-body medicine, Senders was awarded a post-doctoral research fellowship in the Department of Neurology at Oregon Health & Science University (OHSU) to study mind-body medicine in a larger healthcare context.