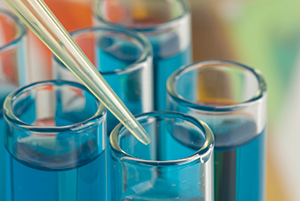 A growing student interest in research and NCNM's institutional drive for more evidence-based therapies are key factors in the college's decision to add three master's degrees within the School of Research & Graduate Studies. One, a Master of Science in Nutrition, begins this spring. The other, a Master of Science in Integrative Medicine Research, has been underway since 2011. The Master of Science in Global Health was approved for accreditation in March and will be offered to newly enrolled students this fall.
The student interest began showing up about five years ago, said Morgan Schafer, chair of the Master of Science in Integrative Medicine Research (MSiMR) program. Many of the students were looking for a solid route to PhD programs and had a keen interest in developing research skills prior to enrolling in their doctoral programs, she said. NCNM's Helfgott Research Institute has long utilized students in its studies. Approximately 25% of the NCNM student body participates in research, some funded by grants from the National Institutes of Health (NIH) and collaborative projects with other schools through its Student Research Program. But it recently became clear that NCNM needed more academic programs directly tied to research, said Schafer. Also, she said, students were interested in conducting their own research on the topics that most interested them.
"We're teaching a whole new skill set," said Schafer, including how to develop a hypothesis, design a study, assess its results and articulate the research.
Speaking of articulation, several Helfgott students have already published their results and presented at regional, national and international science gatherings. That not only adds to the profession's evidence-based knowledge, said Schafer, but is a great help getting into a doctoral program.
"We have students publishing at a very young age in their career," Schafer said. It's anticipated that most students in the MSiMR program will publish in peer-review journals, too, and all are required to complete a master's thesis.
The two-year MSiMR program combines master's-level studies in public health, clinical research and natural medicine. Classes emphasize active learning, Schafer noted. Main study areas include nutrition and food as medicine, herbal medicine, balneotherapy and hydrotherapy, acupuncture, Chinese medicine, environmental medicine and detoxification.
On the research side, students are guided by a researcher/mentor, but allowed to pursue the course of study they are most passionate about. "There's only so much we can teach," said Morgan, "the rest is up to them."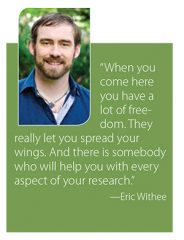 One such student is Eric Withee. A 2006 graduate of Oregon State University with a bachelor's degree in biology, Withee was looking for post-grad opportunities that would help him contribute to his family's business in nutrition and supplements. Also, after his undergrad experience, he had worked as an advocate for raising student math and science proficiency with an eye to producing more science graduates.
"I decided to take my own advice," he said, and looked around on the Internet for graduate science opportunities and saw information about NCNM's master's in research. "They told me I was the first to call about it. I feel very fortunate to get in on the ground floor of the program."
He said he enjoys the program emphasis on doing hands-on research. He credits his faculty advisor, Dr. Kimberly Tippens, with crucial help designing his research and getting it approved by the NCNM Institutional Review Board. "When you come here you have a lot of freedom," he said, "They really let you spread your wings. And there is somebody who will help you with every aspect of your research."
Withee is designing a study that will study the effects of methylsulfonylmethane (MSM, an organosulfur compound sold as a dietary supplement), on the oxidated stress of runner's muscles. He hopes to track 40 runners participating in the upcoming Portland Marathon and publish a paper on the subject.
"I want to leave school as a published researcher, with at least one paper, and maybe two or three," which will allow him to work in the nutritional supplement industry as a researcher or technician. He'll get additional chances to publish even when he's done with his MSiMR, as he will start classes in the Master of Science in Nutrition (MScN) program.
Withee, said Morgan "is having an incredible experience … he's taken the idea to expand the evidence base to help with health and wellness and just run with it."