What a difference time can make. In 1914 New York City, practitioners of massage, therapeutic baths and nutrition counseling were jailed, heavily fined or otherwise persecuted at the behest of the leading medical societies. In one sad case, a woman sent to the infamous Rikers Island prison for allegedly practicing medicine without a license was so despondent that she killed herself.
Fast-forward to April 2014. Maryland Governor Martin O'Malley signs a bill into law for the licensure of naturopathic physicians. Supporting the bill: not only advocates of natural medicine, but many state healthcare officials and the Maryland Medical Association. The latter group, which represents medical doctors in the state, dropped its opposition after many of its members came out in favor of the bill.
It has taken a long time, a lot of effort and patience from those who practice and care about the medicine to get to that bright day in Maryland. The news was closely followed by the Connecticut Legislature's decision to update antiquated laws to implement full licensure of naturopathic doctors there.
According to Mike Jawer, the director of government and public affairs for the American Association of Naturopathic Physicians (AANP), momentum is really building. Some 20 U.S. states and territories now license NDs—which represents a 20% rate of growth just in the last five years. Jawer, the AANP's chief lobbyist in Washington D.C., has been on the front lines of change for the last four years, including the annual DC FLI, an event that draws NCNM students and faculty to our nation's capital. There, students join their peers from across the country to educate members of Congress and their staffs on the philosophy and value of natural medicine. One result: last year Congress passed a resolution declaring a full week in October as Naturopathic Medicine Week, an event that was repeated this year from Oct. 6-12. Symbolic, yes, but a significant milestone on the road to winning hearts and minds, said Jawer.
Changing minds state-by-state remains the key battleground, though, since licensing healthcare professionals is the province of each state. As a result, many NDs, their state associations and the AANP are actively involved in state efforts to win approval for licensure. It's a process that increasingly involves winning over once hostile medical societies. In Maryland, for instance, the legislative process took four years and included considerable contact between NDs and their MD colleagues. "The medical doctors learned a lot about natural healing, some even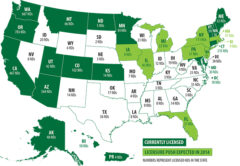 calling it 'the future of medicine,'" said Jawer. Several other states are poised to follow suit, he said, with Pennsylvania, Massachusetts, Rhode Island, Michigan, Illinois and Iowa considered "close." Efforts are also underway to move New York into the ND column. That would truly be a big prize, as natural medicine founders Father Sebastian Kneipp and Benedict Lüst first brought their ideas from Germany to New York. The state, particularly New York City, is also where some of the most virulent attacks on the medicine and its practitioners occurred.
The landscape is also changing in the South, where some states have made it illegal to practice alternative medicine. A handful of NDs live in the South, but as yet there are no state licensing laws. Florida is the most promising, Jawer said, with strong efforts also underway in Texas. If those states pass licensure, several other southern states are likely to follow.
As with many causes though, it's one step forward and one step back. Passage of the Affordable Care Act (ACA) includes Section 2706, which states that insurance companies cannot discriminate against natural medicine primary care physicians or other licensed healthcare practitioners recognized by state law. That provision, proposed by Sen. Tom Harkin (D-IA), was a triumph for the profession.
However, while some state MD associations and a growing number of allopathic physicians see the value of natural and integrated medicine, some national MD groups continue their opposition.
Last year, the American Medical Association, historically hostile when it comes to alternative medicine, supported a bill in Congress to strip out the ACA's non-discrimination provision. The group and other MD groups also encouraged the U.S. Department of Health and Human Services (HHS) to issue guidelines on Section 2706, which considerably muddied the insurance waters. Said Jawer, HHS seems to be saying not all types of natural medicine need be covered, "a major stumbling block," which allows some insurance companies to continue to exclude ND coverage.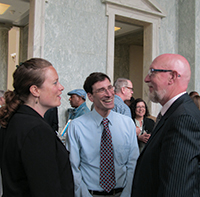 The bill in Congress failed, and Harken, the AANP and its friends took HHS to task, but the situation remains unresolved—and a top AANP priority. State ND and alternative medicine associations are also lobbying their insurance commissioners while a patient group called Cover My ND (covermymd.com) began a campaign to save and implement Section 2706. And, said Jawer, some insurance carriers aren't waiting. FED Blue for federal workers, and Pacific Source and others in Oregon offer ND insurance coverage, to be followed Nov. 1 by Blue Cross Blue Shield of Montana.
Even in Oregon, which has had a licensure law on the books since 1909 and has more NDs than any other state, there is work to do, said Laura Farr, executive director of the Oregon Association of Naturopathic Physicians (OANP). In 2009, after heavy lobbying from OANP, state law was changed to grant the right for NDs to practice as primary care physicians with full formulary drug access.
That was a huge victory, but now the OANP is working for support from the state insurance commission and the legislature to get the ACA's non-discrimination clause enforced. Thus far, it has been tough going, though CareOregon is credentialing NDs and nonprofits that deliver low-income Medicaid services including naturopathic coverage.
In addition to the state-wide efforts, said Farr, OANP is working with the big insurers one-by-one to explain the naturopathic and integrative medicine case. "There is a general, pervasive lack of awareness" at the insurance companies about what NDs can do, the scope of practice for which they are trained and educated, said Farr, who is married to NCNM alumnus Dawson Farr, ND ('02). However, she said, if they can sit down with the right person at these companies, "we can significantly move the needle" towards understanding.
In the meantime, patience is wearing thin. The American Chiropractic Association is suing national insurance carriers, according to Farr, and the OANP is considering "pursuing a legal strategy."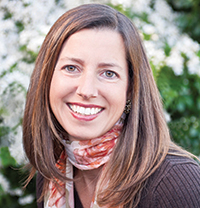 "How patient are we willing to be?" said Farr, "This is the law and they are already out of compliance."
So, the battle goes on, with NCNM playing a substantial role. President David Schleich is a nationally known advocate of the medicine, appearing at hearings, and encouraging state licensing efforts and natural medicine schools.
Keeping the doors open to teach natural medicine is also a key contribution. For many years, NCNM alumni have returned to their home states to set up practices and battle for reform. NCNM also participates in AANP's DC FLI event, which not only helps educate lawmakers, but teaches students how to influence political change.
MaryK Geyer, ND, until recently NCNM's associate dean of the School of Naturopathic Medicine, led this year's group of students and faculty to the capitol. The group helped push for Naturopathic Medicine Week, protecting the ACA non-discrimination clause, and for continued alternative care through Medicare. Right now, she said, that coverage cuts off for senior citizens over age 65.
Geyer called the DC FLI effort "incredibly important" for the profession and for the student experience. "What you can accomplish with face-time, with a professional attitude," is significant, she said, adding that legislators and staff seemed to enjoy the fresh outlook and the passion of NCNM students.
A few years back, Chip Halverson, ND ('11), was one of those fresh faces. He participated in the event four years in a row and got so fired up that he's made many more trips to Washington on his own to talk to legislators about the profession
"Everyone has to do a little bit to get a lot done," he said. "It's really good to cultivate that early on, because it's important to the profession. We can't afford to just go out, close the door and practice. We'll never be on board that way."