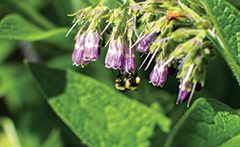 The month of June has brought beautiful warm weather, blue skies and… bees! NCNM welcomes our new bee neighbors to campus. But what do bees have to do with natural medicine? Mary Doyle, Admissions Counselor, recently sat down with Brian Landever, NCNM's beekeeper extraordinaire, to learn more about the role bees play in natural medicine.
Mary Doyle: Thank you for agreeing to an interview. So, why bring bees to NCNM?
Brian Landever: We are primarily inviting bees onto our campus to increase the pollination of our lovely gardens and local trees. As bee populations have increasingly become an issue throughout the United States, it has become important to support their survival by providing safe homes for them. The hives we have built attempt to do just that.
MD: What do bees have to do with natural medicine?
BL: Supporting the life forms that sustain the fertilization of the very medicinal plants we learn to use at NCNM adds another component to the circle of sustainability in our practice.
MD: How many hives on campus and where are they located?
BL: Thus far, we have one hive, and we soon will be transferring the bees from that hive into a larger hive to provide them additional room for population expansion and increased production of honey comb. The hive is located behind Spaulding House at the corner of SW Water and SW Hooker streets, and houses approximately 30,000 bees. These bees are more than capable of taking care of themselves, and are quite occupied with pollen collection throughout the day.
MD: What if someone would like to visit the bees?
BL: The hive may be visited, but it is important to be calm and move slowly when you peak behind the fence. If a bee lands on you, do not touch her. She will fly away on her own.
MD: Will the honey and/or wax be harvested? If so, for what purposes?
BL: We are still determining if and how we want to use the honey. We primarily want to ensure that the hives have enough honey to eat throughout the winter.
MD: Who tends the bees? Can students volunteer?
BL: If students are interested in volunteering, they may leave a note for Brian Landever at the Spaulding House. Volunteer roles could include setting up new hives, assisting with the introduction of swarms, or gradually repositioning hives to ideal locations.
MD: Excellent. Thank you for your time. Is there anything else you would like to add?
BL: Thanks goes to Tim Wessels, founder of Bridgetown Bees, who is guiding and overseeing our apicultural activity, and Dr. Meed West, who provided NCNM with the first swarm of bees.
Thanks to NCNM, Brian Landever, Bridgetown Bees and Dr. Meed West for supporting this venture! If you would like to come visit the hive, please fill out a campus visit request and we'll get you on a tour of the campus, our gardens, and the hive.