For the first time in its history, NCNM will offer undergraduate degrees to go with its expanding roster of postgraduate degrees.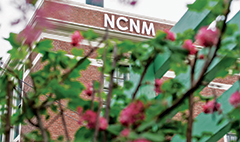 The college received approval in March from the Northwest Commission on Colleges and Universities (NWCCU) to launch two programs in fall 2016. Both undergrad offerings are two-year, pre-med and pre-health degree completion programs that focus on integrative health sciences and nutrition.
The programs are designed for students who have previously completed two years of college course work, such as community college students who want to complete their undergrad degree; transfer students from a traditional four-year college or university; or students who have previously withdrawn from a bachelor's program and want to continue.
"Yes, it is historical," said President David Schleich, "It entails a maturing of our program mix at NCNM; 'maturing' in the sense that we now have a valuable access point for students migrating to natural medicine education from accredited undergraduate institutions."
More on the Web: ncnm.edu/undergrad