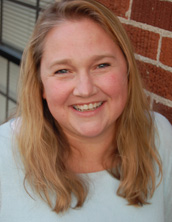 Salama!
Zanzibar!!! Even the name is exotic. The color of the water here defies description. Heavenly turquoise? Sea foam dream? Impossibly deep salty azure? Like I said, words don't do it justice. We arrived in Zanzibar at sunset yesterday, and by the time we reached the hotel, the tide was out and the island was dark. I don't think the students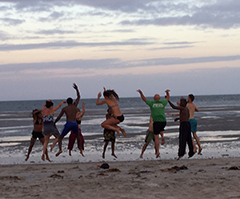 were too impressed with Zanzibar until the tide rolled in this morning. Then the cameras came out and the breath-taking view put smiles on their faces. And now half of them are sprawled in handmade chaise lounges, and the other half are body surfing in the tepid Indian Ocean. The beach vendors are standing on shore watching the swimmers – hoping they can't last body surfing forever, and then maybe they'll buy an African scarf or a key chain.
Since Serengeti, we've done a lot of traveling – from the desert of Serengeti, through the mountains of Ngorogoro, to the beautiful Indian Ocean. The car rides have been shortened by fun discussions, and some great (and unexpected) tunes. We spent 11 hours in the car driving from Serengeti back to Moshi, and another 10 hours the next day driving from Moshi to Sedaani. (You may remember from last year that Sedaani is the national park on the ocean that hosts the elephant conservation group.)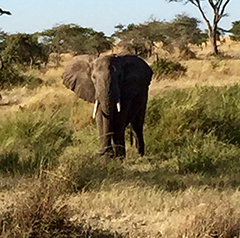 Our purpose in Sedaani was noble, but it would be hard to prove it for the amount of fun we had. Our friend David runs a camp called, "A Tent With a View" there. He also has a non-profit called "Doctors on Safari." David, a Brit who has been in Tanzania for 25 years, recognized that doing medicine in Africa is draining, and most doctors who come end up staying in poor conditions and eating traditional food (which isn't very interesting or tasty.) So David started "Doctors on Safari" which provides low cost housing in his luxury resorts – and serves three-course meals for breakfast lunch and dinner. David has been keen on building a relationship with us so that medical students, and eventually doctors, will come provide medical care in the village outside the tented camp.
Our intention was to teach David's staff wilderness first aid this year, with the hopes of running a wilderness first aid class for villagers and clinical officers next year. In addition, we intended to have a clinic day with the students shadowing Maria and village doctor for a day. Next year, we hoped we could run a trip for NUNM alumni to come and perform medicine for a few days.
Needless to say, Maria's absence was missed – and no clinic day materialized. Instead, the students had a much-needed day off. They played on the beach, swam, read, and wandered the picturesque countryside.
It wasn't all play though. On day two, we gathered in the main tent for a lecture on intestinal worms. While worms are endemic in much of the world, the students hadn't learned about them in their microbiology class. Hence the need for a tropical disease course! As we sat and discussed roundworms and flatworms, a crowd soon materialized. The tented camp staff congregated at the bar to listen to the lecture. Eventually, Michael, the camp Masaai and program director, sat down among the students so that he could ask his own questions. He then contributed Masaai strategy for treating worms, eventually leading the students out in the bush to show them the plants used to treat worms. Now that's not an experience that you're going to get in Portland.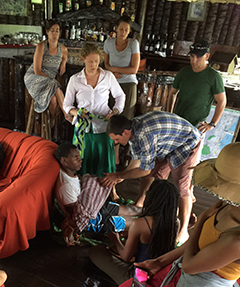 Later that afternoon, the students demonstrated a scenario where wilderness first aid would be used. They practiced immobilizing a broken arm and CPR. Our safari drivers, Julius, Sky, and John, were very interested in learning first aid. They come across car accidents often and don't know how to help. They watched and then participated in the role-play exercise. It became clear that they were inexperienced with even the most basic of skills like checking to see if someone was alive. It was funny because they kept saying, "but what if they're dead" – meaning unconscious. And the students assumed they meant dead – meaning dead. Not sure the language barrier was ever overcome for that one.
There is no word for unconscious in Swahili. Last winter, Julius had a serious car accident. His jeep was destroyed when a truck ran him off the road. Some of the other drivers he was with at the time texted me pictures of him laying in the grass. It was clear he was either unconscious or dead. Fortunately, it was just unconscious. Because they can't describe this state, Julius' text to me when he regained consciousness was, "I was dead, but now I'm fine."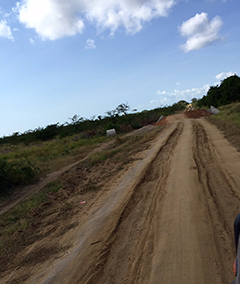 After a couple of wonderful days in Sedaani, we hit the road again and drove to Dar Es Salaam where we could catch the ferry to Zanzibar. Initially, we had considered flying to Zanzibar from Sedaani. However, while it is far more convenient, I really wanted the students to experience Dar. Don't get me wrong, I'm not a fan of Dar Es Salaam. It's overcrowded with somewhere around eight million people. It's mosquito infested – and they continually have outbreaks of malaria, chikengunya, and Dengue fever. And it's hot. I'd rather be cold than be as hot as it gets in Dar. However, in my opinion, there is much more appreciation for the rest of the country after someone has experience the chaos that is Dar.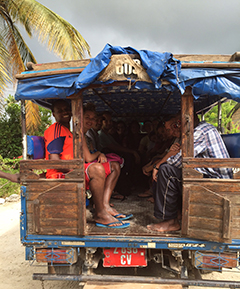 And Dar traffic didn't disappoint. We would be cruising right along and then traffic would just stop. As soon as some big truck moved from in front of us, we could see that what had been a lane going our direction was now a lane of cars coming at us. Why? No reason. I suppose because TIA (This is Africa.) The students were excited because one of the jeeps ended up following a local musician named "DiamondPlatinum." They took pictures and texted each other from car to car. At one point, we could hear a siren behind us. Lauren asked Julius if he was going to move for the ambulance. He just shrugged. I said, "In the US, you can get a ticket if you don't move for an ambulance." He said, "yeah, here too." OK.
Overall, the students have weathered the long car rides well. They're now amused when a jeep gets a flat. Thomara timed Sky changing the last flat tire – 3 minutes and 37 seconds. Seriously, can AAA do it that fast? However, this was our last car ride. When we got to the ferry terminal, we said a sad goodbye to Sky and John who were on their way back to Arusha to sell Sky's truck. (Julius and Eliphas came to Zanzibar with us to help since we didn't have Maria's help for this leg of the journey.)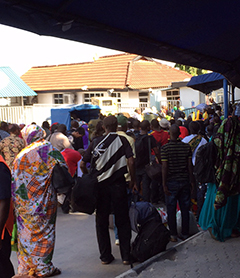 The ferry terminal was equally chaotic. Hundreds of people trying to cram through a single metal detector… Why get in a line? You might get there faster if you shove your way forward. By the time we made it to the ferry, I didn't have any patience for the ferry stress. It didn't help that I picked up a bug, and managed to be sick for the Dar portion of the trip. With cramps that had me doubled over, vomiting, and diarrhea, I just wanted to get to a place I could sleep with a bathroom nearby.
You probably think you know what a ferry in Tanzania is like. But you're likely wrong. We take the fast ferry. Usually when we do this, we travel VIP class. This particular ferry was out of VIP class tickets, so we sprung the extra $5 for Royal class. And yes, Royal class is not unlike traveling first class on an airline. Massive recliners, TVs at every seat pre-loaded with 38 different movies, TV shows, and games, fully air-conditioned, and carpeted with 80s throwback burgundy carpet with an orange green and black hoop print.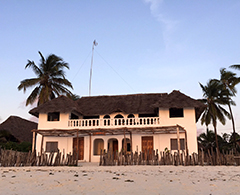 Upon arrival in Stonetown, in Zanzibar, we had a short misunderstanding with our driver who thought we would take a dala dala to our hotel, and instead wound up on a Korean mini-bus. Nevertheless, we eventually found our little oasis on the beach – and I got access to my bottle of cipro, which quickly cleared up my gut bug. I am determined to stay as healthy as possible on this trip. With Maria on her way back to the US, Elizabeth and I have much more to manage. We are both trying to keep up the self-care. Speaking of which, Julius just brought me goat skewers from the village. I'm going to go eat!
I hope you are well. I'm sending you Zanzibarian love and peace!
Heather