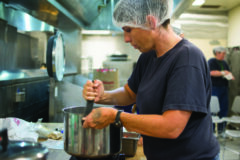 Courtney Jackson, ND ('08), and Julie Briley, ND ('11), are used to spreading the nutrition gospel far and wide, but the Food as Medicine Institute (FAMI) docs are teaching where few NDs have gone before: prison.
FAMI is helping inmates at the Coffee Creek Correctional Facility, a women's prison in Wilsonville, Oregon, with a cooking, gardening, planting and harvesting program.
It all started when Charlene Zidell, daughter of Min Zidell, visited the facility and thought FAMI instruction would be great for the women in the minimum security section. With funds from the Zidells, FAMI instructors are making regular visits to Coffee Creek, working with women who are six months from release.
"It's really good for their moods and offers a connection to nature not usually available to inmates," said Dr. Briley.
The idea is also to increase life skills, something that will be useful upon release. The women, she said, "have been so appreciative, the information is really making a difference." Indeed, one inmate told her "wow, we really need this so much." The program is slated to continue through September.