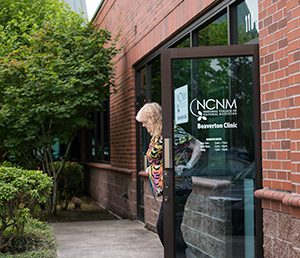 Last year, as NCNM's community clinic at the Elsie Stuhr Center in Beaverton was set to close, administrators looked for a new, permanent location that would serve as a pilot project for a new community clinics model. The idea was to create a professional clinic space that would attract existing patients, but also set the stage for growth to serve other underserved populations. Importantly, the new space would allow for a permanent clinic space, a move away from the former pop-up clinic model at Elsie Stuhr and other community clinics.
After commissioning an analysis of population density and proximity to potential and existing patients, they chose a storefront site in the center of Beaverton with good visibility, next to the Social Security Administration office. With staff and equipment in place, the next step was outreach events, news media coverage, open houses and ads in the local papers.
"This area of Beaverton has a large population of established NCNM patients, but also has a population density with the right mix of demographics to project steady growth and return on investment," said Community Clinics Manager Lori Knowles. "With the Affordable Care Act, we knew the NCNM community clinics program had to provide community-based options for the growing number of newly insured patients eager for a more professional clinical setting option."
The combination clearly worked. Many of the first patients coming through the Beaverton Clinic door in the summer and fall of 2014 indicated they had also been seen by NCNM doctors and students at Elsie Stuhr. Then, a marvelous thing happened. The numbers just kept growing. As a result, physician shifts have nearly doubled since opening day. Two acupuncture shifts were added and now have a month-long waiting list. The clinic also has a hybrid billing model that offers more payment flexibility to accept private insurance, Medicaid and cash.
Knowles has watched with interest as patient demographics have shifted over time. She said the first patients tended to be primarily lower to middle income Caucasian women and some men. They are still getting those patients, but, "Now we are seeing more Medicaid patients than ever before and are also seeing an enormous jump in the Latino- and Spanish-speaking uninsured (many undocumented) population in the last and current fiscal quarter. This is mainly due to our involvement in the Washington County clinic contract (see "Learning and Healing in NCNM's Clinics," p. 16) and the specific goals for serving that population. We are also doing our own outreach efforts within that demographic as well."
Quick success has also brought some challenges, said Knowles. With so much growth, it was necessary to create a separate budget for Beaverton apart from the community clinics, and mirror the main clinics' price structure. Staff costs have risen as paid bilingual front office staffers replaced volunteers. The transition away from the community clinics model also included a need to close the donation-based inventory and replace it with a fully stocked retail medicinary.
Clinic administrators have also needed to be nimble, closely tracking demographics for trends and opportunity. "We have continuously adjusted and expanded our clinic hours, services, treatment offerings, billing model, etc., to adapt to the needs of NCNM, the shifting healthcare landscape, and most importantly, the needs and expectations of our patients, students and providers."
Another mark of success occurred over the summer. With all of the changes in structure, NCNM's first permanent clinic outside the Portland city limits is no longer considered a community clinic. It's now referred to as a satellite of the main NCNM Clinic—and is clearly a template for future growth.