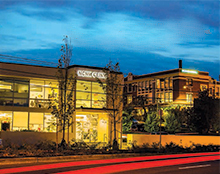 Back in the mid-90s, alumnus Dr. Chris Meletis wondered how NCNM could broaden help for people without adequate health care. NCNM's Community Clinics were born.
In 1992, a naturopathic physician, later the chief  medical officer and dean of clinical services at  National College of Natural Medicine (NCNM) in  Portland, Oregon, was leaving his clinic shift for  the day and spotted a woman struggling to herd  her four little ones out of a beat-up station wagon  and into the NCNM campus clinic.
On his long drive home that night, he wondered what agonizing decisions a mother raising a family with limited financial resources must make if all her kids happened to contract an acute illness at the same time. His thoughts drifted and he found himself wondering where people without any means go when they get sick.
As Dr. Chris Meletis, ND ('92), drove home, he continued to imagine ways in which access to health care might be expanded for the uninsured and underserved. He wondered if NCNM, which already offered generous low-cost clinical care at its small campus clinic, could begin to provide an even greater and more expansive program of free and low-cost health care to people who would otherwise not be able to afford a doctor.
Soon after, Meletis, an NCNM grad and now an  internationally recognized naturopathic expert,  along with Drs. Laurent Chaix, Jill Sanders, Rich  Barrett and Judy Peabody, among others, began to  set up NCNM's first safety-net community clinics  at churches and outreach agencies throughout  Portland's metro area. It was the first time that the safety-net concept of care was developed at an American naturopathic medical college. There was a need for health care and an opportunity to help heal a wide range of presenting conditions.  There was also the chance for NCNM students to develop clinical skills alongside attending NDs.
NCNM Clinics Today
Fast forward to 2015: NCNM has graduated 2,264 ND students since it opened in 1956. Those students have seen and helped thousands of underserved patients through NCNM's network of community clinics—now numbering a dozen.
This seed of an idea from so many years ago has seen a number of iterations. Naturopathic clinical care has developed over the years, not only at NCNM's community clinics, but at the campus' main NCNM Clinic, which opened in 2009. The large, modern, natural medicine clinic offers its naturopathic medical providers and student interns technology that's state-of-the-art, including an electronic medical record system that shares records with area hospitals and clinics throughout Portland.
The Affordable Care Act (ACA) now provides health care to about 16 million Americans—many formerly uninsured. But there are still millions more who remain uninsured or uninsurable. The need for community clinics remains.
Natural medicine is also no longer a fringe health system as it was thought to be when Meletis launched the community clinics concept. With the ACA came legitimacy for NDs, Chinese medicine practitioners and others due to a provision in the law that prohibits insurance companies from discriminating against them. In Oregon, state legislators have come to see NDs as primary care providers. As public demand steadily grows for natural medicine, confidence is growing, too, by conventional medical doctors, public policy makers and public health agencies—all concerned with the growing shortage of primary care physicians.
NCNM Wins Public Health Agencies' Recognition and Funding
Most recently, NCNM is the recipient of that vote of confidence. Last year, the NCNM Clinic received a grant from CareOregon to join a Primary Care Patient-Centered Home learning collaborative with a select group of area medical clinics and hospitals. CareOregon is the state public health agency that provides health plan services to coordinated care organizations serving about 250,000 Oregonians with limited incomes.
In July 2015, the college announced that its newest satellite clinic in a suburb of Portland, the NCNM Beaverton Clinic, was awarded a two-year $387,000 grant by the Washington County Health & Human Services Department. The grant has the potential to be renewed for an additional three years for a total of $967,500. The county closed two of its clinics and funded the clinic to provide naturopathic primary care and preventive services to the county's thousands of uninsured patients. Services at the NCNM Beaverton Clinic include family planning, sexually transmitted disease screening and treatments, vaccine immunizations, as well as treatments for a range of health conditions, from  allergies, colds and flu, to diabetes, heart disease  and gastrointestinal disorders.
NCNM's Dean of Clinic Operations and Chief Medical Officer, Regina Dehen, ND, LAc, said that NCNM students consider the experience of working with a diverse cross-section of patients at the college's community clinics critical to their training. "The opportunity to provide care to underserved patients using botanical medications alongside mainstream pharmaceuticals, such as vaccinations or contraceptives, has tremendous educational value," Dehen said.
"Whether or not a naturopathic doctor chooses to provide vaccinations or contraceptive management as part of their future private practice, these skills are an essential part of our training as primary care providers," she added.
NCNM's Community Clinics Manager Lori Knowles agrees. "Our students are learning critical skills as they help a population who often come to us for their first visits in pretty bad shape—with physical complaints that have been undiagnosed and untreated for far too long. They learn to trust our practitioners and the students, and make great strides toward health maintenance. Our patient volume in Beaverton has grown quickly, which speaks to successful health outcomes. To also have the support of the county health department in assuming care of their patients is awesome."
New graduates are also finding doors long closed to NDs flung wide open. Consider the success  of Dr. Sara Gillham, a 2011 NCNM grad, who  confidently promoted herself and her clinical  skills with ZoomCare, now called Zoom+, a  wildly successful out-patient urgent care clinic.  About a year after graduation, she was hired as a clinical manager of wellness, charged with implementing naturopathic medical care at all ZoomCare clinics. The neighborhood clinic model  that ZoomCare introduced has changed the way  clinics look at the delivery of medical care, and the  company is expanding into California, Idaho and  Washington—with 11 more NCNM NDs hiring  on as primary care providers. Gillham, meanwhile, has been promoted to product development manager for the quickly growing company.
Gillham, interviewed by the American Association of Naturopathic Medical Colleges this year, acknowledged there still are challenges ahead for NDs in the changing medical marketplace, but added, "By offering naturopathic care in a conventional medical setting we are succeeding in educating our conventional colleagues in the efficacy of naturopathic medicine, and we are reaching patients who might not otherwise consider naturopathic care."