New Publications Explore Food as Medicine and Vaccinations
PORTLAND, Ore. (April 6, 2016)—NCNM Press, a division of National College of Natural Medicine (NCNM), is stepping up the publication of contemporary and scholarly texts about natural medicine and history with its latest releases: Food as Medicine Everyday and Vaccination and Naturopathic Medicine. These new titles and other recent publications will be introduced April 15 at the annual Northwest Naturopathic Physicians Convention being held in Portland.
NCNM President David J. Schleich, PhD, observes that there is a growing market for reliable literature about natural medicine and sustainability. "As NCNM enters its 60th year, we want to celebrate this landmark by expanding our publishing efforts as a voice and channel for an interprofessional audience of scholars, teachers, students and patients. NCNM Press aspires to be the most trustworthy source of medical literature, scholarship and research related to natural medicine and holistic health systems."
NCNM's early publishing efforts supported academic projects written by staff and faculty. The college's first title, published in 2005, was Nature Doctors, co-written by NCNM's Library Director, Friedhelm Kirchfeld, and NCNM graduate Wade Boyle, ND. Nature Doctors is a historic overview of the development of naturopathic medicine in the United States. In 2009, the college issued its first naturopathic textbook, Functional Gastroenterology, by NCNM Professor Steven Sandberg-Lewis, ND. These books are in their second and third printings, respectively.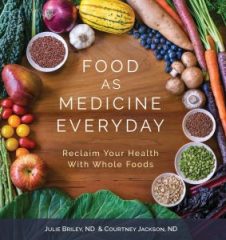 Food as Medicine Everyday
The latest in a series of new titles from NCNM Press, Food as Medicine Everyday captures the philosophy that is a central tenet of the naturopathic education—good nutrition is the cornerstone of health and wellness, and a leading factor in preventing chronic disease. The book's format follows the popular 12-week Food as Medicine Everyday nutrition and cooking classes that focus on developing a whole foods approach to meals.
Written by NCNM Food as Medicine Institute naturopathic physicians, Drs. Courtney Jackson and Julie Briley, Food as Medicine Everyday imparts the wisdom inherent in traditional whole foods diets. Topics range from understanding healthy fats and carbohydrates, to tips on reading food labels and cooking simple, tasty foods.
The Hevert Collection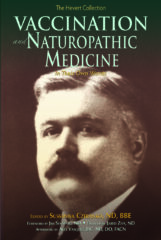 In 2013, Hevert Pharmaceuticals, a leading German manufacturer of herbal and homeopathic natural medicine, helped fund the design and production of an ambitious 12 volume series of books. The Hevert Collection: In Their Own Words is a comprehensive compilation of the founding naturopathic literature from the early 20th century writings of Benedict Lust and other pioneering naturopathic physicians. Edited by NCNM's Rare Book Room Curator, Dr. Sussanna Czeranko, the sixth book in the series, Vaccination and Naturopathic Medicine, offers modern-day naturopathic physicians and other advocates of natural medicine a close examination of the origins, philosophy, principles and practice of the naturopathic profession.
Recent New Titles
In addition to publishing literature about the history and significance of natural medicine and its traditions, NCNM Press is also committed to producing literature that supports the health and well-being of our planet, its ecosystems, as well as its people.
Cultivating Agribusiness, by Mike Chilton and Bob Griffin, published in late 2015, offers Chilton's visionary perspective on the global opportunities he discovered while farming a range of specialty seeds and crops in the Pacific Northwest. New and experienced farmers will learn how to turn specialty farm production into a sustainable and economic livelihood. The Fortunate Few, by author Thierry J. Sagnier, also published in 2015, shares the inspiring history and stories of the early groups of volunteers of the International Voluntary Service (IVS) and the organization's influence later on the formation of the Peace Corps and other voluntary service organizations.
Titles such as these, Schleich said, make the NCNM Press a unique source for publications that explore holistic living and systems. "We envision NCNM Press as a haven for writers dedicated to sharing this knowledge and for readers who seek change for themselves and for our planet."
ABOUT NCNM
Founded in Portland, Oregon, in 1956, NCNM is the oldest accredited naturopathic medical school in North America and an educational leader in naturopathic and classical Chinese medicine, and integrative medicine research. NCNM offers seven postgraduate and graduate degrees and is launching two undergraduate degree programs in fall 2016. NCNM's prestigious Helfgott Research Institute offers students the opportunity to help design and develop evidence-based research with renowned investigators. The medical school's teaching clinics, including NCNM Clinic, NCNM Beaverton Clinic, SIBO Center for Digestive Health, and NCNM's many community clinics assist thousands of patients each year by providing low-cost medical care throughout the Portland metropolitan area. NCNM also offers community education through the NCNM Institutes.
ABOUT NCNM PRESS
NCNM Press, a division of National College of Natural Medicine, publishes distinctive titles that enrich the history, clinical practice and contemporary significance of natural medicine traditions. The Press strives with its titles to recognize historical and contemporary best practices in environmental, global health, and sustainability research and history.
# # #