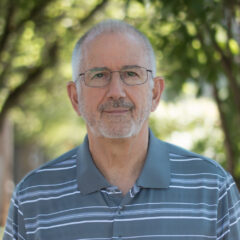 PORTLAND, Oregon (Nov. 29, 2017)—Educator and scientist Charles Kunert, PhD, MS, has been named dean of the School of Graduate Studies at NUNM. He will oversee all facets of the development, implementation and delivery of NUNM's on-campus and online graduate degree programs. He replaces Heather Zwickey, PhD, who is resigning to pursue business interests and to focus on teaching and research at NUNM and other institutions of higher education.
Kunert has a long and distinguished career in academia, including more than 30 years in a variety of teaching and administrative positions at Concordia University in Portland, as well as the University of Oregon in Eugene.
He brings extensive experience in scientific research and teaching, including courses in biology, chemistry, microbiology and molecular genetics. He held a number of positions at Concordia; serving as chair of the Math-Science department and, for 20 years, was dean of the College of Theology, Arts & Sciences. Concordia named Kunert emeritus professor of biology in 2016.
Widely recognized for his research on environmental science, he has participated in symposia on sustainable development in the United States and abroad, and has also written on the intersection of faith and science.
Kunert received a Master of Science in Biology from Portland State University and a PhD in Molecular Genetics from the University of Oregon. In addition to publications and writings, he has led many courses and workshops, ranging from presentations on intelligent design and evolution theory, to the ecology and geology of locales ranging from the Pacific Northwest to Belize.
Interim Provost and Associate Vice President of Student Affairs, Glenn C. Smith, EdD, noted that Kunert brings a depth and breadth of academic experience to the role. "Chuck is a scientist, a critical, analytical thinker. He'll inspire a high level of academic rigor among our faculty and students—the hallmark of education at NUNM. I am confident that Chuck will infuse his passion for scientific discovery into our natural medicine graduate programs. We're fortunate to have an educator of Chuck's caliber join our NUNM leadership team."
NUNM's School of Graduate Studies encompasses six discrete programs in natural medicine, including a Master of Science in Integrative Medicine Research; Nutrition; Global Health; Integrative Mental Health; Sports Medicine; and Ayurveda.
###