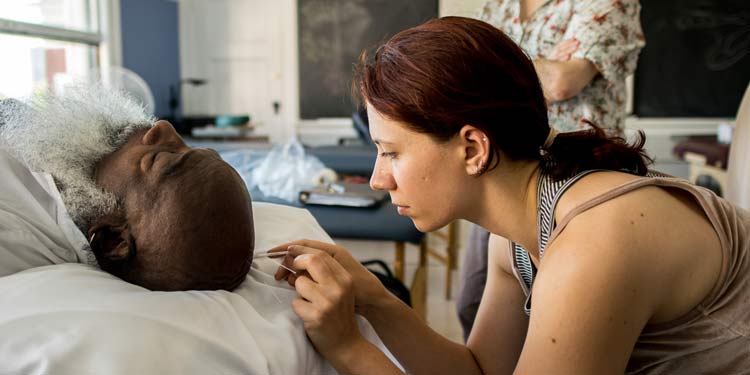 2018 marks the 16th annual Acupuncture and Oriental Medicine (AOM) Day, established to increase public awareness of the progress, promise and benefits of acupuncture and Chinese medicine. Acupuncture and other Chinese medicine modalities are permeating hospitals and Western medicine facilities, welcomed by conventional and naturopathic doctors alike. Patients, MDs and NDs are easing cancer symptoms with acupuncture to fight nausea, fatigue and pain. Acupuncturists are also working in conjunction with Western practitioners on a whole host of other diseases and disorders like chronic pain, fatigue, infertility, digestive disorders, auto-immune disorders, stress, insomnia, allergies and more.
It's been a big year for licensed acupuncturists (LAcs)! The 2018 Standard Occupation Classification Manual has created a new designation for "Acupuncturists," recognizing National Board-Certified Acupuncturists, who are state licensed, as their own federal labor category. Also, the Department of Veteran Affairs (VA) has opened up new opportunities by classifying acupuncture as a profession instead of a modality. This allows licensed acupuncturists to treat many clinical conditions, including developing and researching their full potential within the VA environment. The VA healthcare system has officially added acupuncture and taiji to its integrative, evidence-based treatment options, as well as yoga, massage, clinical hypnosis, and biofeedback—great news for patients!
We're proud that NUNM's Classical Chinese Medicine Program continues to lead in the field of Chinese medicine education. Our mentor-scholar hands-on education format is truly unparalleled with passionate faculty elevating AOM to new heights. NUNM utilizes an active learning approach. With the supervision of a teaching LAc, our students have the opportunity to directly contribute to patients' health outcomes in their first year. AOM Day only comes once a year, so at NUNM, we extend the celebration to take place over the course of a week, because there is just too much to celebrate in one day! Here's the list of events taking place:
Wednesday, Oct. 24
Student led qigong with Taylor St. Clair in room 305 from 12−12:45 p.m.
Thursday, Oct. 25
Spirit calming non-insertive acupuncture demos with Robert Quinn, DAOM, LAc, in room 223 from

10−11 a.m.

Student led qigong with Taylor St. Claire in room 305 from 12−12:45 p.m.
Friday, Oct. 26
15-minute shiatsu demos with Harry King from 9:30−11 a.m. in room 204
Singing bowl demonstration and meditation with Ken Glowacki, LAc, in room 305 from 5:30−6:30 p.m. Please bring your own yoga mat.