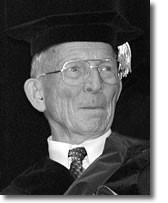 NUNM mourns the loss of Dr. Gerry Farnsworth, dedicated naturopathic physician, a founding member of National College of Naturopathic Medicine (NCNM), and a pioneer in the profession of naturopathic medicine, to which he dedicated his life.
Dr. Farnsworth earned his chiropractic degree from Canadian Memorial Chiropractic College in Toronto, Ontario. He then obtained his naturopathic degree from National College of Drugless Physicians in Chicago. He began serving the naturopathic medical profession in 1952, when he joined the board of the Association of Naturopathic Physicians of British Columbia, where he faithfully discharged his duties for 27 continuous years.
Dr. Farnsworth served on the NCNM board from 1956 through 1979, principally as chairman. He was a lifetime member of the Canadian Association of Naturopathic Doctors; British Columbia Naturopathic Association; College of Naturopathic Physicians of British Columbia; Canadian Memorial Chiropractic College; and was a founding member of the Northwest Naturopathic Physicians' Convention, where he served continuously since 1957. He was also a founding member of the Northwest Naturopathic Physicians Association and Canadian Naturopathic Foundation.
In addition to supporting the profession he loved so dearly, Dr. Farnsworth served his patients for 65 years, delivering naturopathic medical care with a special focus in laboratory medicine, physical medicine, women's health and cardiovascular health.
In 2009, NUNM conferred upon Dr. Farnsworth an Honorary Doctor of Laws degree for his dedicated service. In his remarks that day to the graduating class, NUNM President, David J. Schleich said that Dr. Farnsworth's "remarkable stewardship forged a path for you to be here today, so that you can achieve your dream to practice natural medicine. Imagine the level of devotion that must have inspired Dr. Farnsworth, a former NCNM board chair and contributing faculty member for more than 20 years, to commute weekly at his own expense for years from British Columbia to this fledgling little college in Portland." In fact, Dr. Farnsworth's dedication to establish NCNM led him to mortgage his home to support the little fledgling college in its early days in the 50s.
A celebration of Dr. Farnsworth's life will be held Saturday, Nov. 3, 2018, at 3 p.m. at the Coast Kamloops Hotel and Conference Centre in Kamloops, British Columbia, Canada.
In the obituary sent to NUNM, his family asks that in lieu of flowers, donations can be made in memory of Dr. Gerald Farnsworth to National University of Natural Medicine: donate here.
NUNM is honored to share the obituary of this remarkable physician, educator and longtime friend of our university.
Gerald Farnsworth Obituary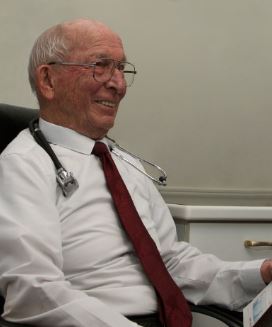 Dr. G.R. Farnsworth January 24, 1928 – October 6, 2018
The family of Gerald Ross Farnsworth is deeply saddened by his passing on October 6, 2018, at the age of 90. He was surrounded by the family that was so important to him.
Gerry was born January 24, 1928, in Moose Jaw, Saskatchewan, the youngest of four children. He is pre-deceased by his wife Penny, his eldest daughter Karen, and son-in-law Wayne…along with his brother Earl.
The loss of this kind and generous man will be deeply felt by his family: sons Cameron (Marie), Tim (Debra), Todd (Janet), and his daughter Tana; his grandchildren Colin (Crystal), Becky (Kirby), Matthew (Cassie), Taylor (Alexis), Adam, Braydon, Hunter, Mikaela and Easton; and great-grandchildren Kaiden, Hannah and Emmet. He also left behind a doting sister, Marjorie, and a best friend in his brother Roy, along with many nieces and nephews, each of whom had their own special relationship with Gerry. Following Penny's death, Gerry met and enjoyed life with new companion, Neta, which brought a new family to bond with, especially Kaye.
After graduating from chiropractic college in Toronto and naturopathic college in Chicago, Gerry moved to Kamloops in 1950 to begin practice. It is where he brought his new wife Penny, and started their family. He provided a wonderful home and life to his five children, while at the same time dedicating his life to the development of this now well-known field of naturopathic medicine, going so far as to mortgage the family home at a critical time to support a key fledgling college during the 1950s. Gerry is recognized by universities and colleges in both Canada and the United States as a founding father of the profession. He maintained his practice in Kamloops for 61 years, having thousands of patients in his care over those years. His son Todd continues that legacy.
Flying, a passion that became a close second to his interest in his profession, was a key, fun part of his life that took him all over North America throughout the early sixties until his final pilot-in-command flight in 2005. Flying and doctoring were his true passions that gave him much satisfaction in life.
Gerry had many other interests that included fishing, hunting and the outdoors, his mule Chrissy, many "grand dogs," traveling in his RV (he loved to find new roads, and then revisit them), which he blended well with his dedication to his family and friends. And he had many, many friends, as well, far and wide.
In his last 10 years or so, he slowed down a little…to putter around his home, check on his children, spend his evenings with Neta, continue his travels, and enjoy retirement. His commitment to service and helping his fellow man through his 60 years as a Royal Arch Mason in Kamloops Shrine added to a life well lived—an example for all that have known him. He is missed by many. May he rest in peace.
A celebration of his life will be held at the Coast Kamloops Hotel and Conference Centre at 3 p.m., Saturday, 3 November 2018.
In lieu of flowers, donations may be made in memory of Dr. Gerald Farnsworth to the National University of Natural Medicine.
—Todd Farnsworth, ND