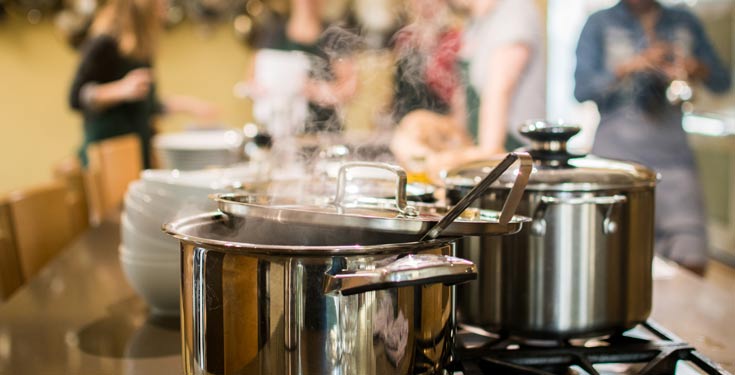 Lucas Schubert, a graduate of our Master of Science in Nutrition program, is a nutritional coordinator with Saint Luke's Mid America Heart Institute. Here he is using NUNM's Food As Medicine Everyday (FAME) cookbook to share a heart-healthy holiday treat on the FOX4 morning show.
Lucas is a trained FAME educator, and he's spearheading the Food as Medicine Institute Alliance at Saint Luke's. He develops and teaches the FAME series workshops, providing individual nutritional consultations, and overseeing additional nutritional programs.
Cranberry & Pistachio Chocolate Bark
Makes 30 pieces
Ingredients
4 cups dark chocolate (>70% cacao) pieces
1/4 cup white chocolate pieces
1/2 cup cranberries
1/2 cup pistachios, chopped
Directions
Line a baking sheet with parchment paper.
Melt the dark chocolate in a double boiler on the stove.
Spread the melted dark chocolate on the baking sheet in a thin layer.
Sprinkle the cranberries and pistachios evenly around the dark chocolate. Press down on some to sink into the chocolate.
Melt the white chocolate in the microwave or double boiler.
Using a fork, drizzle the white chocolate onto the dark chocolate.
Transfer to the refrigerator for an hour or the freezer for 15 minutes or until the chocolate is fully set and cold.
When set, peel off the parchment paper and break into pieces.
Recipe Tips
Dark chocolate (>70% cacao) contains beneficial antioxidants to reduce inflammation and support cardiovascular health. Choose chocolate with (>70% cacao) content to avoid unnecessary sugars.
For more food as medicine recipes, purchase the Food as Medicine Everyday cookbook or sign up for one of the Food as Medicine Everyday (FAME) Series.