Helfgott Research Institute Recognized for Integrative Health Research Training
PORTLAND, Oregon—The National Institutes of Health renewed the National University of Natural Medicine's Helfgott Research Institute grant to continue its Building Research Across Interdisciplinary Gaps (BRIDG) Clinical Research Training Program for another five years. The grant renewal will be approximately $3.275 million dollars over its five-year cycle. NIH first funded the program in 2015. The approval for renewed funding allows Helfgott to continue training doctoral-level scientists in clinical research related to complementary and integrative health (CIH), including naturopathic and Chinese medicine disciplines.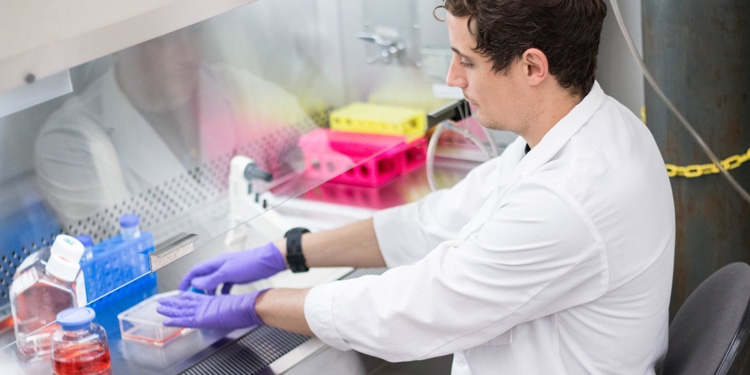 The BRIDG Clinical Research Training Program in Complementary and Integrative Health is underway in collaboration with the University of Washington (UW) in Seattle. Since 2015, the research program has been awarded a total of $2.4 million. This new award will bring the total to just under $6 million in grant funding over the 10-year program.
BRIDG Clinical Research Training Program
The goal of the BRIDG program is to cross-train promising investigators to translate CIH (formerly known as complementary and alternative medicine, or CAM) concepts into testable, multi-disciplinary research hypotheses; and to apply translational research methods to CIH-oriented research. Recognizing that research in CIH requires a multi-disciplinary approach, NUNM and UW have combined their expertise in research, clinical care and CIH to create an immersive clinical research training program that fosters inter-professional communication, collaboration and respect among a variety of medical and research disciplines.
The program integrates doctoral-level CIH healthcare providers (e.g., doctors of naturopathic, chiropractic, East Asian medicine, physical therapy and/or osteopathy) and conventionally trained researchers from biomedical and public health disciplines (e.g., medical doctors, doctors of public health, PhDs, etc.).
The NUNM component of the BRIDG program is training post-doctoral researchers who want to learn clinical research in a variety of CIH practices, including naturopathy, Chinese medicine, herbal medicine, nutrition, and mind-body therapies, with help from NUNM mentors. The UW program component is training post-doctoral CIH clinicians in a variety of clinical research methods, with UW mentors.
The BRIDG program directors at NUNM are Ryan Bradley, ND, MPH, the director of research at NUNM; and Heather Zwickey, PhD, a professor of immunology at NUNM. The BRIDG program directors at UW are Cathryn Booth-LaForce, PhD, the Charles and Gerda Spence Endowed Professor in Nursing at UW, and a professor and research affiliate at its Center on Human Development and Disability; and Yvonne Lin, PhD, an associate professor in the School of Pharmacy.
Learn more about the BRIDG program and NUNM's Helfgott Research Institute.
Learn more about NUNM's Master of Science in Integrative Medicine Research program.
ABOUT NUNM
Founded in 1956, NUNM is the oldest accredited naturopathic medical school in North America and the leader in natural medicine education and research. In addition to undergraduate degrees in health sciences, NUNM offers a number of doctoral and master's degree programs in naturopathic and classical Chinese medicine, nutrition, research, and global health. NUNM Health Centers, the SIBO Center for Digestive Health, and NUNM's affiliated Portland metro community clinics provide healthcare services to thousands of patients each year.
# # #