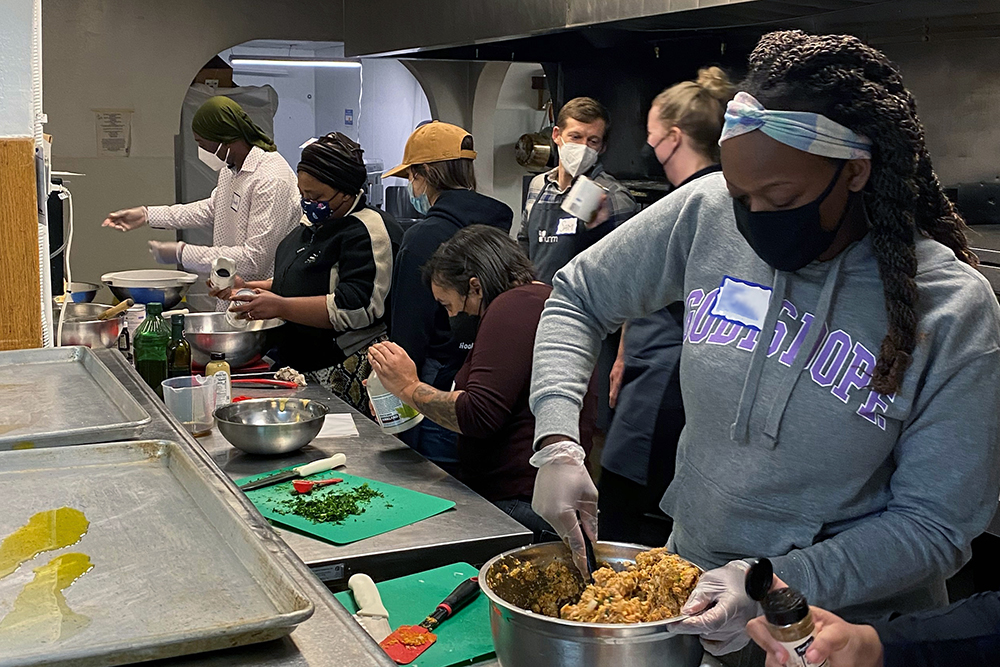 Without the proper diet, the lives of diabetics could be in danger. That's the impetus behind more than 20 local organizations to partner with the National University of Natural Medicine (NUNM). The initiative selected the Food as Medicine Institute (FAMI) to present a nutritional program of education and cooking classes to teach community members the benefits of a whole food-based diet.
Classes led by NUNM nutritionist Kira Freed are held every Wednesday evening for 10 weeks at the Sunrise Center (18901 E. Burnside St., Gresham, Oregon) in the Rockwood neighborhood. Residents of this historically marginalized community, where 25% of the population lives below the poverty level, have an average life expectancy 10 years shorter than other parts of Portland. As Oregon's most racially and ethnically diverse neighborhood, nearly 40% of Rockwood residents are Black or Latinx.
"These classes offer hope and a bright future for the Black community of Gresham," said Germaine Flentroy, Managing Director with Play Grow Learn, a nonprofit organization dedicated to supporting healthy opportunities for disenfranchised youth and families in the greater Portland metropolitan area.
"We're trying to prevent and get in front of [diabetes], from our youth to elders, how to get this wellness. If youth grow it, they'll eat it. With cooking classes, we can prevent this disease from happening in the Black community," Flentroy said.
Deidre Schuetz, Founder of Nutrition Garden Rx, a nonprofit optimizing urban gardens for health and climate benefits with and for people with low income, upstarted and is the facilitator and field researcher for this grassroots- and garden-based initiative. Schuetz emphasizes that 1) diabetes disproportionally affects racial and ethnic minorities (U.S. Food and Drug Administration, 2021) and 2) in the United States, more than 34 million people have diabetes, more than 88 million adults (1 in 3) have prediabetes, and child diabetes/prediabetes is on the rise (Center for Disease Control and Prevention, 2021).
Research also shows that increased consumption of vegetables and whole grains is associated with a lower risk of developing type 2 diabetes. Schuetz explains, "If adapted appropriately to the individuals and communities it serves, the Food as Medicine Everyday (FAME) nutritional program has high scaling potential. The goal is to co-create a medically fundable diabetes program that organizations can adapt with and for the people they serve."
"At NUNM, our philosophy is 'Food as Medicine' and research indicates that diet is the number one modifiable risk factor associated with preventable, chronic disease," said Dr. Andrew Erlandsen, director of the Food as Medicine Institute. "Our hope is that the FAME nutritional program will increase awareness about the importance nutrition plays in reducing the risk of disease, but also establish the value of home-prepared meals as class participants learn culinary skills."
Dr. Erlandsen, who also serves as Dean of NUNM's School of Undergraduate and Graduate Studies, as well as Associate Professor and Assistant Research Investigator, acknowledges the power of collaboration. "We are incredibly proud to partner with Play Grow Learn and all the other supporting organizations. We firmly believe that naturopathic medicine and nutrition can make a difference for people who have, or are at risk for, diabetes."
Main sponsors include the Portland Clean Energy Fund, East Portland Resilience Coalition, Centennial Community Association, Illuminate HumaNature, and Nutrition Garden Rx with fiscal support provided by East Portland Neighbors and food products supplied by Bob's Red Mill and the Oregon Food Bank. Additional collaborating community organizations include Arise and Shine, Chef Curtis Kent, City of Gresham Councilor Vince Jones-Dixon, City of Portland Community Garden Program, CSA Partners of Health (fiscal sponsor – Zenger Farm), East Portland Resilience Coalition (fiscal sponsor – ROSE Community Development), Growing Gardens, Homeplate Garden Coaching, Multnomah County, Multnomah County Racial and Ethnic Approaches to Community Health, Oregon Health & Science University, Outgrowing Hunger, Richmond Learning Academy, Rooted in Nature Health Care, The AfroVillage, The Rosewood Initiative, and Unity Center for Behavioral Health.