Master of Nutrition student Jenna Moreno dreams of owning her own sustainable small farm someday and growing nutritious food for the community. Until then, she's getting valuable hands-on experience as an intern with a Portland-area farmers market and by helping educate community members how to cook healthy meals to prevent diabetes and heart disease.
"Connecting with the food and farming community has really hooked me in here," Moreno said.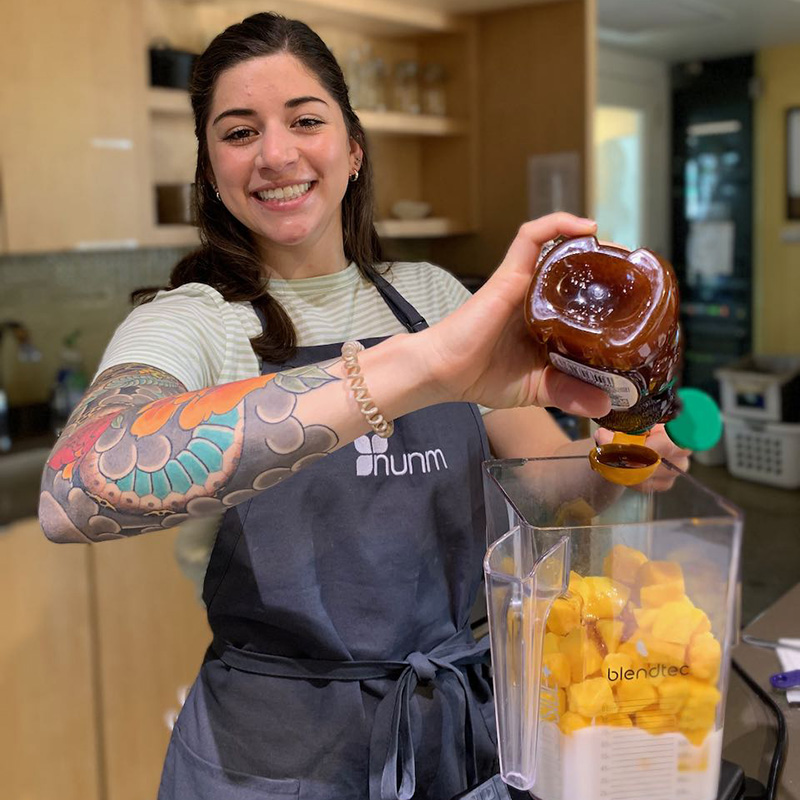 Jenna Moreno (She/Her)
Master of Science in Nutrition, National University of Natural Medicine (NUNM), Class of 2022
Bachelor of Arts in Sustainable Wellness, University of Redlands, 2018
Hometown: Claremont, California
Raised in southern California just outside of Los Angeles, Moreno moved to Vancouver, Washington, four years ago and began working as an electrocardiogram (EKG) technician at Adventist Health hospital. She quickly realized, however, that working in Western medicine was not the right career path for her.
"At the time, I was at a place where I wasn't sure if I wanted to become a nurse. My father works in health care, he has been a nurse for a long time, and I know what a great career it is. But I've never really been a slap-a-bandage-on-it kind of person, which is a big issue, I think, with Western health care," Moreno said. "I like the idea of treating the root cause of problems."
Moreno decided to leave her hospital job and pursue her passion for nutrition. She'd always wanted to explore a graduate degree and found the one she'd been looking for at NUNM.
"I sent a link to NUNM's Master of Nutrition program to my mother, who liked the accreditations and prestige the school had. She thought it was a perfect fit, too."
Environmentalism Meets Nutrition at Farmers Market
Moreno earned her bachelor's degree at the University of Redlands, where she focused on environmental studies and mindful living. She's building on that foundation with a graduate degree focused on health and nutrition.
"I'm very interested in the sustainable agriculture movement, which is why I've gotten an internship with the Montavilla Farmers Market. I love getting to meet people who are farming regeneratively, trying to localize their food system – that's really where my undergraduate and graduate studies intertwine," Moreno said. "I'm less interested in clinical nutrition as I am in community nutrition education."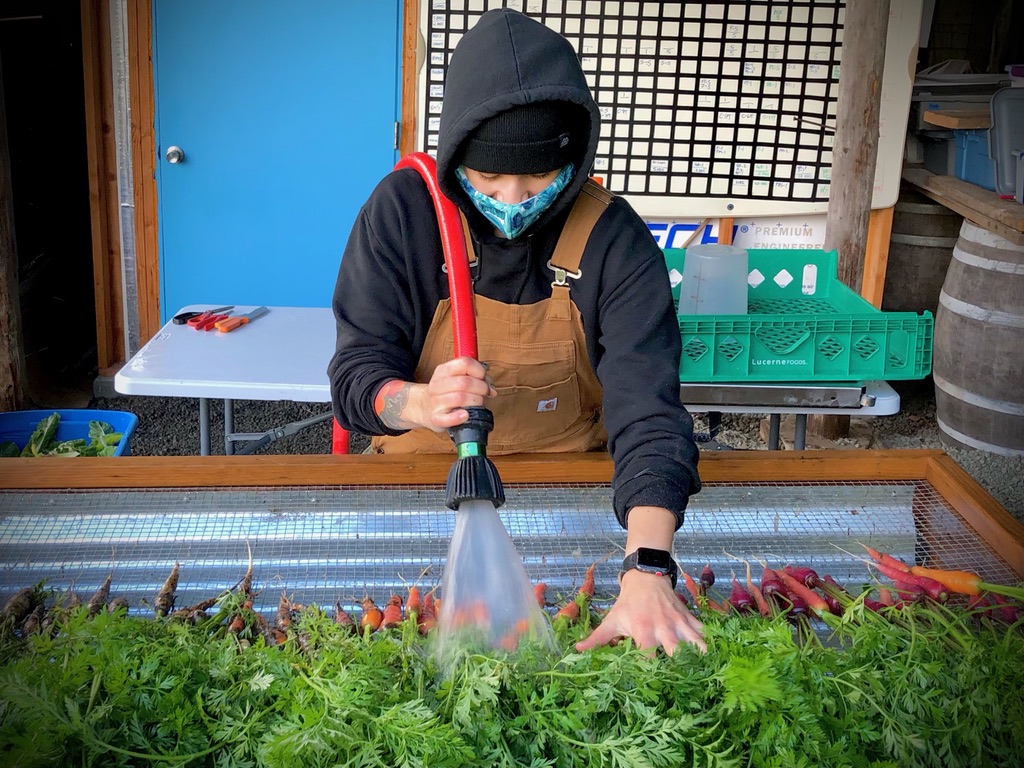 Moreno found the internship while looking on my.NUNM.edu/MyCareer, one of the resources NUNM provides students who are seeking employment opportunities. The internship has given Moreno the opportunity to connect with a variety of market vendors and farmers, and she's found a mentor in Lisa Hall, market manager of Montavilla Farmers Market.
"Lisa has been really excited to have me do what I want to do for my long-term goals – I love it! I'm writing the weekly newsletters and doing farmer highlights. For instance, we're hosting programs like beekeeping, and I'm coordinating it with one of the honey vendors. It's nice to develop a more intimate relationship with these people, especially since I hope to be in the agricultural farming world in the future."
Moreno is an extrovert through and through: she greatly prefers interacting with the community, compared to burying her head in a textbook and reading research articles.
"I just don't enjoy that as much as talking with people. Getting more comfortable putting myself out there has been really fun – the community engagement component is great because I really want to be involved in the community, but sometimes I don't know how to be involved. I think this is bridging that gap," Moreno said.
Cooking for the Community
In addition to her studies and farmers market internship, Moreno is also gaining hands-on community experience at the Food as Medicine Institute, where she's employed under the work-study program at NUNM. Currently she's helping with the Food as Medicine Everyday cooking classes taking place at the Sunrise Center in Gresham.
NUNM adjunct faculty member and Teaching Kitchen manager Kira Freed facilitates the classes and teaches the lectures, while Moreno and a few classmates assist with cooking and answering questions of the class attendees.
"It's fun to be there and meet new people. … We're learning how we can better connect with different organizations in the area that are working with marginalized populations. We've been making sure the recipes are accessible for all people. All the grocery shopping we've been doing has been at the market right next door to the Sunrise Center," Moreno said.
Heart disease runs in Moreno's family, so teaching people how to prevent it by eating healthy foods is a big reason why she has gotten involved in the community cooking classes.
"It's really teaching people about the different forms of macronutrients that are healthy, like what kinds of sweeteners we should be looking out for, how to build a well-balanced plate for blood sugar stabilization. … Diabetes and heart disease are the most prevalent diseases, not just in marginalized communities but all communities," Moreno said.
Finding Her Own Path
Moreno said the Master of Science in Nutrition program is helping her not only figure out how to be active in the community but also plan for her future.
"When I started at NUNM, I thought there would be a job that I would apply to, but I'm coming to realize a lot of it is making your own job and finding your own path. … As much as I want to say I only came here to learn about nutrition and for my love of nutrition, the goal is to get a job that is well-paying. So, that's been the scariest thing – What am I going to do after this?"
Ideally, Moreno would love to be a farmers market manager and integrate the Food as Medicine Institute into her own nutrition education classes or programs.
"My 'dream' dream is to own a farm and to have a center on the farm that hosts events and community education," Moreno said.
For more information about NUNM's Career Services contact Emma Britton, NUNM Career Services Manager, at ebritton@nunm.edu or 503.552.1625.