The College of Classical Chinese Medicine (CCM) at National University of Natural Medicine (NUNM) has invited several legends in the world of Classical Chinese Medicine to spend two days exploring the understanding of the role of Shen, or Spirit, in true health. The Classical Chinese Medicine Symposium will take place virtually May 28-29, 2022.
Registration is now open to all healthcare practitioners and NUNM alumni – and at a reduced rate for medical students. Early registration for the Classical Chinese Medicine Symposium closes on April 30, 2022; after this date, prices will increase by $75. To register and for more information, visit https://nunm.regfox.com/ccm.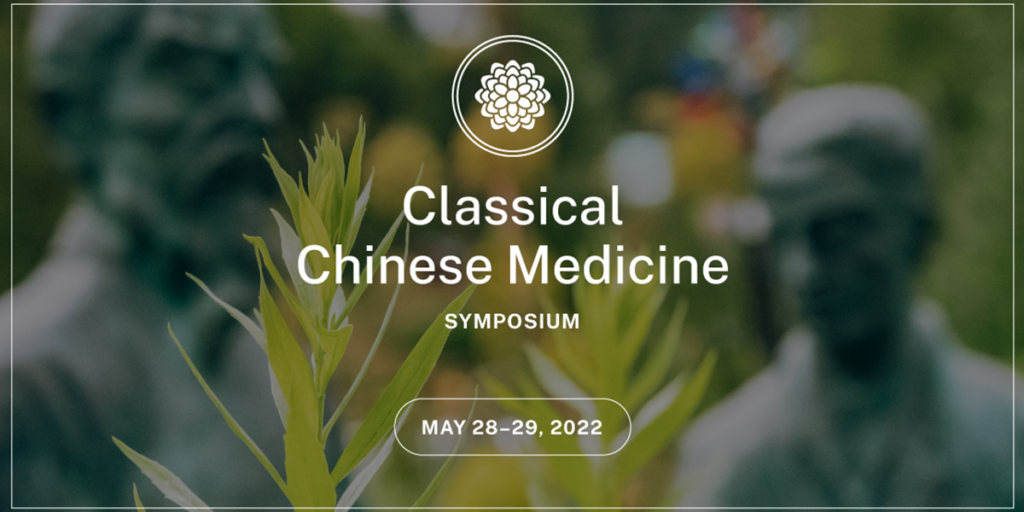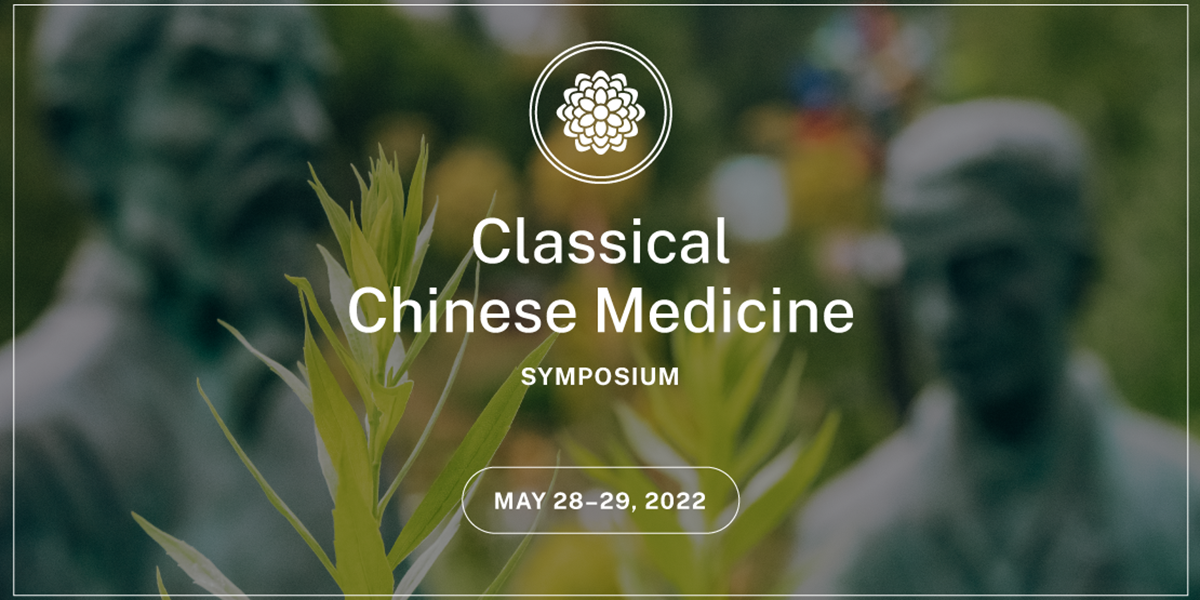 Explorations and Conversations within Classical Chinese Medicine
The Classical Chinese Medicine Symposium will feature faculty from the College of CCM at NUNM leading discussions with their primary teachers. All participants will experience the depth of this transmission and gain an understanding of Spirit that will enrich their practice for years to come.
Scheduled speakers and topics for the Classical Chinese Medicine Symposium include:
Leon Hammer, MD, in conversation with Brandt Stickley, MSTCM, LAc, Associate Professor, NUNM
Leon Hammer, MD, is a veteran of World War II, and a graduate of Cornell Medical College and the William A. White Institute of Psychoanalysis and Psychiatry. He worked within psychology until the early 1970s when he began a study of Chinese Medicine in England and China. He studied with the internationally acknowledged Chinese master Dr. J.F. Shen over a period of 27 years. After retiring from his practice of Chinese Medicine, Dr. Hammer has devoted his time to writing and teaching. His book, Dragon Rises Red Bird Flies, has become a classic in the field; his second book, Chinese Pulse Diagnosis, A Contemporary Approach, has been described as a seminal work. His third book, The Patient-Practitioner Relationship in Acupuncture, unpacks the "sacred space of the client-practitioner interaction."
Dr. Hammer has lectured and taught throughout Europe, Australia, and Japan, as well as the United States. In 1984, he served as a member of the Commission for Evaluation of Acupuncture Schools, and in 1995, he was appointed a member of the National Blue Ribbon Committee for Initiation of the Herbal Examination. From 1991 to 1998, he served as a member on the New York State Board of Acupuncture.
In 2001, Dr. Hammer received an award as "Educator of the Year" for participation and contribution to excellence in education from the American Association of Oriental Medicine. In 2002, he received an award from the Traditional Chinese Medicine Foundation for "Building Bridges of Integration" between Oriental medicine and Western medicine. Dr. Hammer helped found Dragon Rises College of Oriental Medicine in 2001, and he continues to function there as Chairman of the Board and professor emeritus.
This is a condensed version of Dr. Hammer's bio at https://www.dragonrises.edu/mkd-team-member/leon-hammer/
Brandt Stickley, MSTCM, LAc, joined NUNM's faculty at the College of Classical Chinese Medicine (CCM) in 2009. He teaches Chinese psychology and pathology, and is a supervising attendant to CCM students at the NUNM Health Centers and community clinics. He is a licensed acupuncturist, herbalist, author, and a practitioner of the ancient art and science of Classical Chinese Medicine. He's a graduate of Cornell University and American College of Traditional Chinese Medicine in San Francisco, and completed his internship in Hangzhou, China. He has studied Contemporary Chinese Pulse Diagnosis since 1998 with Leon Hammer, MD, with whom he has worked closely.
"The pulse diagnosis I practice is a very deep model that I learned from a renowned master and my mentor, Dr. Leon Hammer," Stickley says. "The central theme of Dr. Hammer's work is on the role of awareness. Using this awareness there is a logical methodology in pulse diagnosis that helps me deeply understand imbalances in my patients and how they evolved over time — the overwhelming experiences that impact the patient's heart often occur like insults at conception or birth, which, in turn, create a global damaging effect on the patient's health."
"Dragon Rises Red Bird Flies by Dr. Leon Hammer is the single most significant book that I have read, and is the greatest influence on my thinking about Chinese Medicine," Stickley says.
Judy Worsley, JD, DAc in conversation with David Berkshire, MAcOM, LAc, and with Eric Hartmann , DVM, MAc
This discussion will explore how Spirit is present within all of us and must be considered in diagnosis and treatment. Treating the levels addresses the capacity of the person to recognize what is naturally within them. Worsley Classical Five-Element Acupuncture, as a system of medicine, emphasizes the importance of addressing the spirit in all aspects of treatment.
"We must strive to see people not only as they present themselves in illness, but more importantly as they would be in perfect health and balance, in full discovery of their true nature, unique in body, mind and spirit," said J.R. Worsley.
Judy Becker Worsley was a devoted student of Professor J.R. Worsley from 1973 until his death in 2003. She succeeds him as the leader of this tradition. In 1972, having attended law school in the United States and realizing law would not be her career path, in her search to find something meaningful she happened to read a book on acupuncture. Feeling inspired she traveled the United States in search of the best possible teacher. In the spring of 1973 she found the inspirational teacher she had been searching for in England, J.R. Worsley, and began her training. Between 1973 and 1983 she received her licentiate, bachelor, master and doctorate certifications. Under Worsley's direction, she practiced, taught, and supervised at the College of Traditional Acupuncture (CTA) until 1995. During this time Judy and J.R. opened the Worsley Institute of Classical Acupuncture (WICA), an undergraduate program in the USA and in 1991 they were married. In 1996 J.R. and Judy created the Master Apprentice Program (MAP™) for ongoing postgraduate work. In 1998 J.R. publicly announced that Judy would succeed him as leader of this tradition, should he pre-decease her. In his final years he intensified his work with her, preparing her for the responsibility that would follow.
One of Judy's designated responsibilities is to be affiliated with teaching organizations that are in a current professional relationship with her, and who demonstrate that they practice and/or teach Worsley Five-Element Acupuncture both in content and Spirit as taught by Professor J.R. Worsley.
David Berkshire, DACM, LAc, lives a life of service rooted in his deep love of teaching and practicing natural medicine. Prior to studying Chinese Medicine, David spent years as a wilderness guide and educator, and this relationship with the natural world ultimately brought him to Chinese Medicine. He received a Master of Acupuncture and Oriental Medicine degree from the Oregon College of Oriental Medicine (OCOM) in 2001, and a Doctor of Acupuncture and Chinese Medicine from Pacific College of Health and Science in 2021. Outside of the academic environment David spent over 10 years apprenticing with David Ford, who introduced him to Five-Element Acupuncture; in 2012, he began to attend MAP and any other offering that Judy Worsley would offer, reflecting his dedication and love of Worsley Classical Five-Element Acupuncture.
"I love Chinese Medicine and Worsley Classical Five-Element Acupuncture reflects the heart of our medicine. My hope is through example I can help others see the power of the simplicity of nature," says Berkshire.
In 2001 David founded the Kwan-Yin Healing Arts Center — a natural medicine clinic (now in two locations) featuring multiple practitioners and modalities in Portland, Oregon. While maintaining a private practice, David served as adjunct faculty at OCOM and then as full-time faculty at the National University of Natural Medicine from 2005-2021 (he remains an adjunct faculty member). He has served on several professional boards, including the Acupuncture Advisory Committee of the Oregon Medical Board and in the role of President of the Worsley Institute.
Eric Hartmann , DVM, MAc, serves as Vice President on the Board of Trustees for the Worsley Institute and is a practitioner located in Seattle. "I practice Worsley Five-Element Acupuncture, which follows the laws of nature to support a person to be more balanced, at ease, and peaceful. Keeping the whole person in mind, this form of acupuncture assists in the regaining of health on all levels: body, mind, and spirit. I'm dedicated to helping my patients achieve this sense of balance … I have been practicing for over 20 years and have extensive and direct training in Worsley Five-Element Acupuncture. After years of training and commitment, I am now a coach in the Master Apprentice Program, which was started by Dr. J.R. and Judy Worsley."
Liu LiHong, MD, translation by and conversation with Heiner Fruehauf, PhD, LAc
Dr. Liu has been working at the epicenter of COVID-19 in Wuhan. He is the author of the highly regarded book Chinese Classical Chinese Medicine, which was translated into English with a forward by colleague, Heiner Fruehauf.
From the NY Times Review by Ian Johnson: "Liu is the author of Sikao Zhongyi (literally 'Contemplating Chinese Medicine,' now translated as 'Classical Chinese Medicine'), a book that has sold more than 500,000 copies since it was first published in 2001 and has made him one of China's most famous practitioners of traditional medicine. Now sixty-three years old, he has emerged as an inspiration to thousands of Chinese who are eager to rediscover their roots and see in these healing arts one of the few living branches of traditional Chinese culture. Liu's mission is to revive what he sees as authentic Chinese medicine, in contrast to the much-simplified version that has been taught in Chinese universities since the 1950s. But as the government has moved to restore traditions over the past decade, such as recognizing older ways of educating practitioners, Liu has become part of the mainstream. His visit to Wuhan was a dramatic effort to show that Chinese medicine isn't a relic of the past but can solve urgent medical problems today."
Dr. Liu is Professor Emeritus, Institute for the Clinical Research of Classical Chinese Medicine, Guangxi University of Traditional Chinese Medicine and Pharmacology.
Heiner Fruehauf, PhD, LAc, Founding Professor of the College of Chinese Medicine at NUNM, will offer his own talk at the Classical Chinese Medicine Symposium, as well as assist with translation and conversation with Dr. Liu and Master Wang.
Professor Fruehauf has researched East Asian civilizations and Chinese Medicine for more than 40 years. After studying comparative literature, philosophy, sinology, and Chinese Medicine at universities in Germany, China, Japan, and the United States, he received a PhD from the Department of East Asian Languages and Civilizations at the University of Chicago. During six years in China, he researched Chinese Medicine both within the institutionalized TCM model (Chengdu and Guangxi Universities of TCM), as well as the traditional lineage system that continues to function outside government schools.
Dr. Fruehauf is the Founding Professor of the College of Classical Chinese Medicine at NUNM, where he has taught since 1992. He also has an active private practice in the Columbia River Gorge, specializing in the treatment and prevention of chronic, difficult, and recalcitrant diseases with Chinese herbs. His interest in preserving some of the traditional features of Chinese Medicine led him to develop a database dedicated to the archiving of classical knowledge, and an herbal patent series for chronic and difficult diseases. A selection of his publications, as well as archived video lectures by him and other contemporary Chinese medicine practitioners can be accessed at this link.
Dr. Wang Qingyu with Heiner Fruehauf, PhD, LAc, translating and conversing
Wang Qingyu is Professor for Martial Arts and Nourishing Life Sciences at the Sichuan Academy of Cultural History. Born into an aristocratic family in 1937, he has lived through remarkable changes in fortune and circumstance. As a boy, he apprenticed with Master Li Jie, a wandering Daoist hermit whose abilities as a healer, scholar, and martial arts expert made him a living legend in China's Southwestern provinces. After 25 years of banishment in Eastern Tibet following the Communist revolution, he emerged as a finalist during a nationwide competition of folk healers and has since served as a physician for China's leaders and Olympic athletes. Professor Wang is the official lineage holder of the Jinjing School of Qigong and a principal motivator in the international effort to research and promote the Daoist roots of Chinese Medicine. Many contemporary experts in the field of Classical Chinese Medicine trained under his supervision, including Liu Lihong and Heiner Fruehauf.
Jeffrey Dann, PhD, LAc in conversation with Bob Quinn and Daniel Silver
Jeffrey Dann, PhD, LAc, is a member of what we might call North American Chinese Medicine generation 1.0 (i.e., he was in that early group of intrepid pioneers that established our profession). After earning his PhD from the University of Washington in medical anthropology (he studied the healing traditions associated with the martial arts in Japan — he achieved fourth dan in kendo himself), he went on to study acupuncture. He was in the first group of Westerners to study in Beijing with Wang Ju-Yi. When Dr. Wang celebrated his 50th anniversary in clinical practice some years ago, Dann was the only Westerner invited to present outside of Dr. Wang's core group of students. He was then invited the following year for a three-day presentation at the Beijing University of Chinese Medicine, demonstrating his structural approach — called Koshi Balancing — to Channel Theory. In his presentation he reintroduced to the Chinese audience the classical, non-insertive tool called the teishin (dizhen/tizhen in Chinese) and discussed how it was developed in Japan as a contemporary addition to Chinese practice.
Dann is a former editor of the North American Journal of Oriental Medicine and has published some of his scholarly work there. He has taught internationally, as well as all over the United States. He regularly teaches in various Chinese Medicine programs. His novel Koshi Balancing style of treatment is a fusion of Japanese bodywork systems including Sotai with osteopathic manual techniques. It is an approach with a central focus on the Shao Yang as a pivot for a structural appreciation of classical energetics.
Bob Quinn, MAcOM, DAOM, has been an eclectic student of Chinese Medicine from the start of his career. Although he studied for ten months with Zhu Ming-Qing, the world-famous scalp acupuncturist, Quinn is primarily known for his love of certain gentle styles of treatment that have been developed in recent decades in Japan. These styles are best termed neoclassical styles, because the principles underpinning them derive from Chinese classical texts, but they are at the same time open to modern insights (for instance, recent research into the skin and fascia). He counts among his main influences in the last ten years Iwashina Anryu Sensei, a famous blind practitioner from the north of Japan who has done pioneering work with the teishin for over 30 years; Jeffrey Dann, PhD, RAc, who has mentored him for 18 years now; and the Engaging Vitality core teachers, Dan Bensky, Marguerite Dinkins, and Chip Chase. Quinn is also a longtime student of numerous bodywork styles: traditional Thai massage, shiatsu, Sotai, Taoist qigong tuina (QGTN), and Seiki. In recent years he has focused on developing his own style of Sotai, called Yin Sotai and has continued his studies in QGTN and Seiki.
Daniel Silver, MTCM, LAc, joined NUNM in 2012, with a passion for the traditions of Japanese acupuncture. He studied at International College of Traditional Chinese Medicine before graduating from Five Branches Institute with a Master in Oriental Medicine, and prior to this, Asian Studies at UC Berkeley.
Silver is influenced by the healing arts traditions in Japan transmitted by visually impaired practitioners, and draws inspiration from classics such as Nan Jing, Nei Jing, and Shang Han Lun. Emphasis is on gentle hands-on perception and empirical applications. Careful palpation of the abdomen ("Hara") helps create a narrative of a person's life and condition, informing the acupuncture and herbal treatment; fine filiform needles are used, special gold and silver needles to contact the "qi" — though barely touch the skin; integrated bodywork addressing structural imbalances; and super pure direct moxa are often used.
Silver enjoys working with students while supervising intern and observation shifts at the NUNM Health Centers, and sees patients in private practice. He teaches courses in herbs as well as the practices mentioned above.
Dr. Jeffrey C. Yuen is a sought-after teacher of Chinese Medicine throughout the world. He is an 88th generation Daoist priest from the Jade Purity School, Lao Tzu sect, and a 26th generation priest of the Complete Reality School, Dragon Gate sect. He apprenticed for more than 20 years in Classical Chinese Medicine and other Daoist healing arts with Master Yu Wen, who transmitted his lineage to Master Yuen before Master Yu Wen's death at the age of 108. He also studied under the direct tutelage of Lu Xin-Zu, a Daoist priest of the Long Men tradition.
Master Yuen was a key figure in the development of the acupuncture program at the Swedish Institute in New York and the first PhD program in the field of Classical Chinese Medicine at the American University of Complementary Medicine in Los Angeles. He is recognized internationally as a Master of Acupuncture, Classical Chinese Medicine, Daoism, Chinese herbology, Tai Chi Chuan, and Qi Gong. He emphasizes the importance of Daoism in cultivating one's life and spirit to prevent illness, and the use of Chinese Medicine for understanding and treating illness.
Master Yuen conveys Chinese medicine from a profoundly spiritual perspective rooted in Daoism. His ability to elucidate and bridge Western medical thought within the context of Chinese Medicine offers an essential clarity to his students.
Master Yuen's teachings have significantly influenced NUNM faculty member Dr. Ken Glowacki, whose work has impacted students and faculty. We are grateful to him for connecting us with Master Yuen.
Ken Glowacki, DACM, LAc, will lead the panel discussion. He is a longtime educator who brings a rich background to his teaching. He graduated from the Pacific College of Oriental Medicine. There he was first introduced to a Daoist approach to Chinese medicine by his clinical supervisor. These are the teachings of Jeffrey Yuen. Over the years, Glowacki has continued to study with Jeffrey Yuen and is grateful for the opportunity to dive into the cultural and historical background of Classical Chinese Medicine.
Glowacki incorporates various modalities of many different teachers as he uses the foundations of Chinese Medicine found in the classical texts. Jeffrey Yuen often reminds his students to make the medicine their own, to understand it, practice it and grow from it. It is with this spirit that Glowacki endeavors to share with his students' ways of self-cultivation as they learn to apply the ancient knowledge of Classical Chinese Medicine.