Cooking in restaurants and her personal experiences with food insecurity inspire "Food Is Medicine" and "Kitchen-First" nutritional philosophies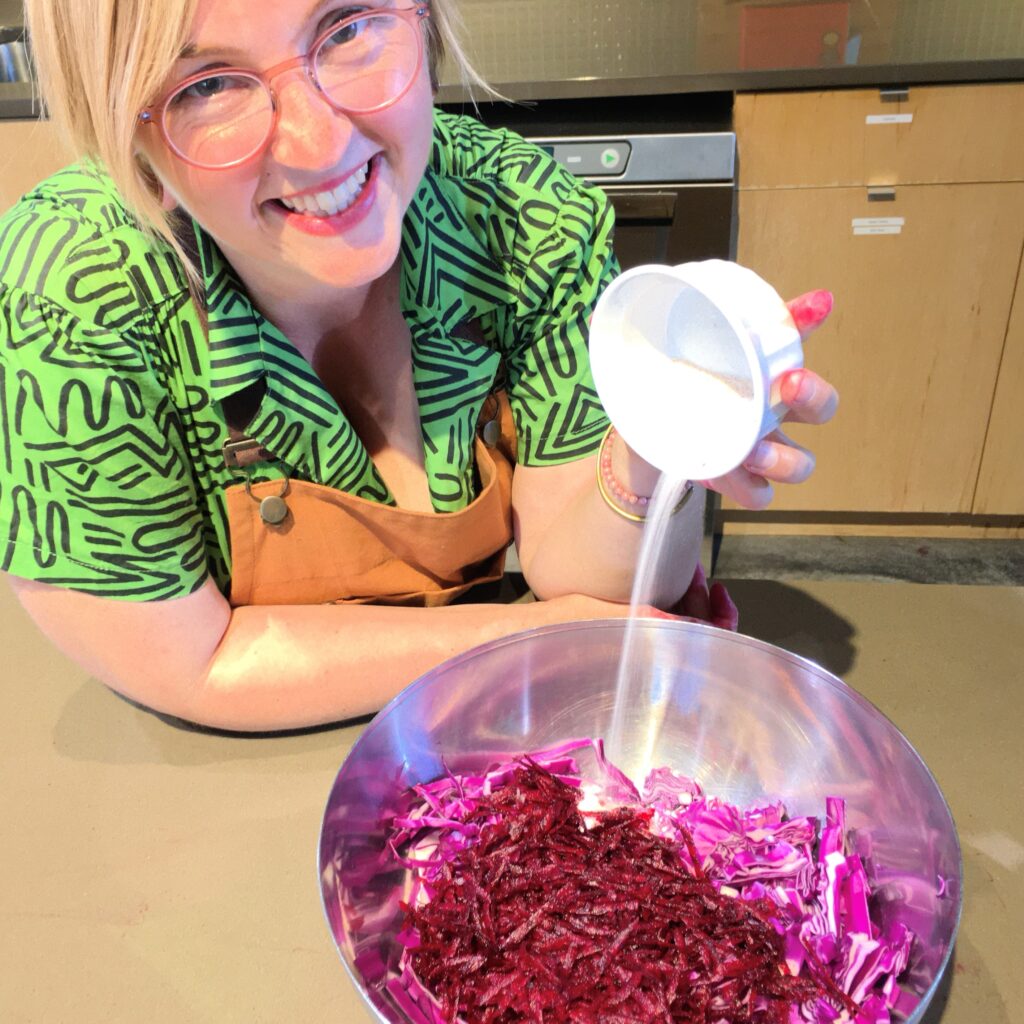 Trigger Warning: The following article includes a discussion of eating disorders.
"I'm the doctor that cooks," says Dr. Chelsie Falk (she/her). "I specialize in experiential learning of all kinds. I want to get students fully engaged in their education from learning cooking to visiting farms, or interning in a clinical setting."
Along with fellow professor and current Dean of the School of Undergraduate and Graduate Studies, Andrew Erlandsen, ND, Dr. Falk helped "cook up" the "Food Is Medicine" and "Kitchen-First" philosophies that guide the graduate and undergraduate Nutrition degree programs at National University of Natural Medicine (NUNM) today.
"We're looking at how food can be utilized as medicine, and how culinary medicine can be really impactful."
Food has had an impactful role on Dr. Falk, professionally and personally. In addition to helping create and shape the Bachelor of Science in Nutrition and Master of Science in Nutrition degree programs, Dr. Falk has been a freelance nutrition writer. Since the Nutrition program's inception in 2014, she has designed and taught several academic courses at NUNM. She has led the professional development coursework and the internship coordination for Nutrition program graduates.
Dr. Falk enjoys mentoring student capstone projects, especially when they involve writing, content creation, and business development. "It's important to me to be able to synthesize my professional experience in health and wellness with my love of cooking and food. It's been great to come to the table and bring those areas together for the Nutrition program at NUNM."
Working in Restaurants and Overcoming Eating Disorders
Dr. Falk's path to the Nutrition program at NUNM can be traced to her high school and college years when she worked in the food service industry – and even earlier. Born and raised in Oregon, she spent part of her childhood houseless and experienced food insecurity, resulting in eating disorders that she has since overcome.
"I had a really poor relationship with food for a number of years: I had anorexia and disordered eating while growing up and throughout college."
In high school, she started working in restaurants to earn some income, logging as many as 30 hours a week in addition to her classwork. Her hard work paid off when she earned a full scholarship to the University of Oregon, where she initially studied art and architecture, then pivoted to biology, environmental science, and ecology.
"I started as a barista, then worked at a sushi restaurant for long time. Over the years, I've worked in all phases, from dishwasher to the front of the house, barback … I was even the cook at a little honkytonk saloon – you name it, I've cooked it!"
All throughout her undergraduate and graduate education, she continued to work in restaurants. While earning her Doctor of Naturopathic Medicine (ND) degree at NUNM, she managed a catering company and catered events all over the Portland metro area.
It was around this time that she felt her eating disorders starting to recede.
"My experience with food was really tentative throughout the ND program, but somehow through learning to cook and, more specifically, doing this program, I ended up changing my experience and relationship with food. I found healing through a lot of those past traumas with food scarcity, eating disorders, and body image issues."
As a result of her own experience, experiential learning has become a cornerstone of her teaching philosophy.
"I healed by engaging with food, by planting a garden and working in the dirt. I learned to cook and take control over what food I intake and how I interact with it. Having access to food and to land, by owning my house now – these are all privileges that I didn't have growing up."
Transformation through Cooking and the Teaching Kitchen
Dr. Falk's commitment to the transformative power of nutrition goes hand in hand with her love of cooking, and she is passionate about teaching them in tandem.
"One of my goals is to do nutritional research out of our teaching kitchen using our clinic data in combination. How does learning cooking impact not only our students' academic performance and educational experience, but also impact clinical outcomes of our patients?"
Dr. Falk believes the best nutrition professionals understand that food, access, and education are fundamental human rights. Food is more than just vitamins, proteins, and nutrients: It is a vehicle for emotional connection, cultural exchange, and personal empowerment.
With food-focused, "Kitchen-First" skills, she believes nutritionists are better able to meet patients and communities where they are and guide them to better health outcomes.
"Where I find the magic in learning – and what's really special about our Nutrition program – is when we actually apply and experience what we're learning in a didactic classroom setting in a real-life active learning environment, or the community."
Students in the Nutrition program at NUNM deepen their connection with food by taking hands-on classes taught at organic farms with regenerative farmers, and by developing recipes on-campus in Charlee's Kitchen, sponsored by Bob's Red Mill, and in their home kitchens for online students.
"It's incredible to be able to apply the duality of my knowledge of medicine and biomedical science alongside my cooking experiences in an active teaching space. My goal is to make it possible for students to challenge the status quo. I want students to get into the world and make it better. I want them to feel empowered."
Dr. Chelsie Falk will be a featured speaker at the 2022 Food as Medicine Symposium, where she'll address how stress impacts digestion, microbiomes, and vice versa.

"I'm looking forward to showing the ways in which we experience life and how they impact our ability to digest food, and then looking at practical tips for managing stress. I'm going to do a fermentation class so people can interact directly with their food and ferment at home for good gut health."
More info
Bachelor of Science in Nutrition
Master of Science in Nutrition