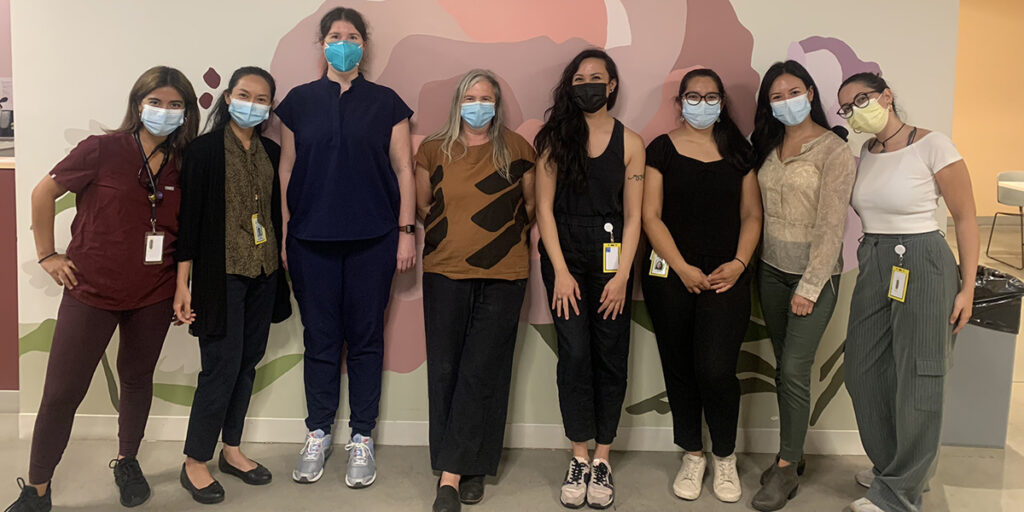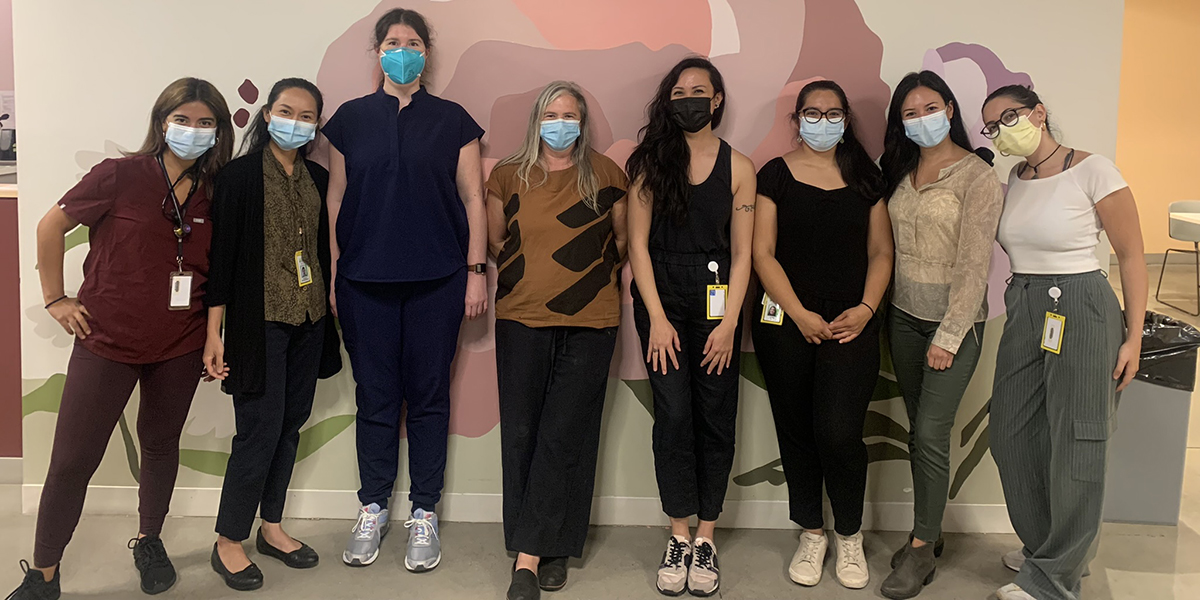 The community we live in is part of who we are. Even when we don't interact with our neighbors every day, our actions impact those around us. That's the philosophy underlying the Community Health Centers program at the National University of Natural Medicine (NUNM) in Portland, Oregon.
As an active member in the Coalition of Community Health Clinics, NUNM partners with other clinics, nonprofits and government agencies to provide naturopathic healthcare to the community of people they serve – and even more importantly, where they live within our community.
"There's tons of research that says people want their healthcare to be offered to them in their own communities, in their own neighborhoods," said Kate (Katherine) Patterson, ND, an associate professor in the Doctor of Naturopathic Medicine degree program at NUNM. Dr. Patterson is currently leading the community health project at Rose Haven — Portland's only community day shelter for women, children and marginalized genders.
"Being able to take our naturopathic student education into the community is so beneficial – to be able to meet patients where they are, where they already have established trust, hopefully that translates into a real lesson for our students around how to provide naturopathic healthcare to a more diverse population," Dr. Patterson said.
What is community health?
Community health focuses on the physical and mental well-being of the people in a specific geographic region. Initiatives such as NUNM's Community Health Centers program are designed to help community members not only maintain and improve their health, but also prevent the onset of new diseases through providing education and resources.
In Portland today, the services provided by NUNM's Community Health Centers program are needed more than ever.
Katie O'Brien, executive director of Rose Haven Day Shelter, along with the executive directors of other local nonprofits, Blanchet House and William Temple House, recently said they are struggling to continue providing services to the needy in Portland neighborhoods due in large part to the community's addiction and mental health crises.
"Our nonprofit organizations are the ones that people in need turn to for help, whether it's food, clothing, mental health counseling, showers, health care, shelter, housing or simply to find community with others," they wrote in a Sept. 4, 2002, editorial column published by The Oregonian.
"If the services we provide disappeared, the impact on our city would be immediate and glaring. Our organizations could disappear, but the people who need us will not," the executive directors wrote.
NUNM and Rose Haven Day Shelter have been community health partners for over a decade. Healthcare services were paused in 2020 due to COVID-19 but resumed this past summer. This fall, NUNM will continue providing primary healthcare services at Rose Haven from 4-9 p.m. every Wednesday.
NUNM's Community Health Centers program also provides naturopathic medical services at Volunteers of America's Men's Residential Center in Northeast Portland and Outpatient Services in Southeast Portland.
Listening is key when learning about barriers to health
Listening is often the first step to helping someone heal, and that's especially true when the person needing help is houseless or a victim of sexual trauma – or both.
"It has been very humbling to learn about all the external factors that greatly influence someone's health. Houselessness influences health status in such a profound way, and that's not something doctors can treat," said Sumner Van Brunt, a fourth-year student in the Doctor of Naturopathic Medicine degree program at NUNM. Sumner was part of the NUNM team of community health providers seeing patients at Rose Haven Day Shelter this past summer.
As Sumner noted, doctors can't simply prescribe their patients the resources to find a home, nor can they provide access to adequate food. "If a patient tells you they're houseless and have food insecurity, those are the foundations of health. There are socioeconomic factors of health that dramatically influence the patients we are seeing," Sumner said.
Dr. Patterson, who oversees the NUNM team of naturopathic students at Rose Haven, also emphasized that food insecurity is one of the major barriers to health encountered by those seeking help at the day shelter.
"Many of our guests are living in tents in Northwest Portland, so any nutritional recommendations we make are going to be really challenging because these people are oftentimes eating at Rose Haven or they're eating somewhere else where there's pre-prepared food. We must be very thoughtful about how we're going to connect people to resources, and thoughtful in our treatment plans to make sure that we're not making assumptions around resources," Dr. Patterson said.
While NUNM provides nutritional supplements that are either free or 50% off, healthcare providers must be aware of other potential barriers.
"Even if you can give them a supplement, the patient may not take it because they don't have a place to store it, or they may not have access to fresh water all the time to even take a pill. If we make nutritional recommendations, we must ask whether they are cooking, because chances are good that they don't have access to a kitchen," Dr. Patterson said.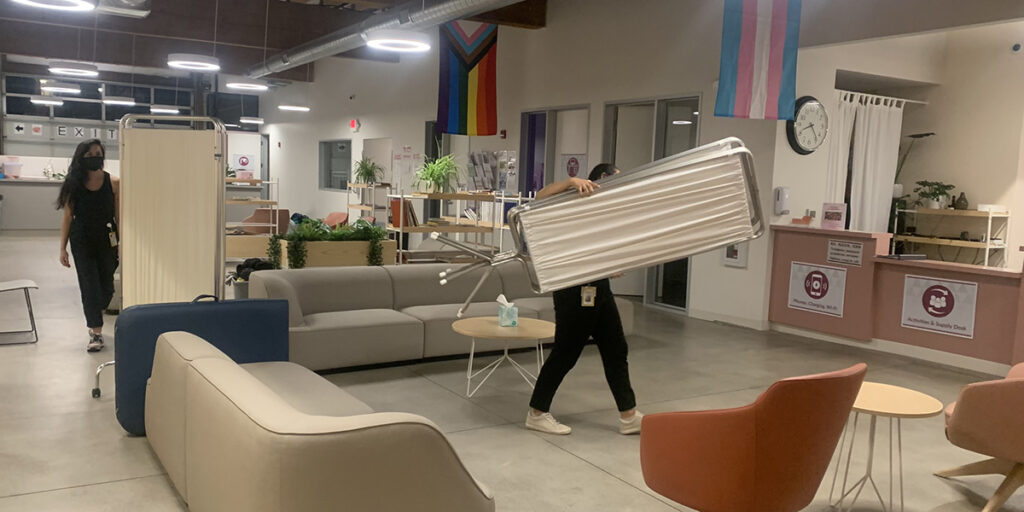 Caring for Portland's houseless and underserved communities
Located at 1740 Northwest Glisan Street in Portland, Oregon, Rose Haven Day Shelter provides a range of resources to a diverse group of women, children and gender nonconforming folks seeking help. There's a dining hall where two hot meals, breakfast and lunch, are served Monday through Friday. There are showers, restrooms and dressing rooms; laundry services, hygiene products, diapers and outdoor gear; computer access, device charging, and a boutique with lightly used clothes.
"It's a lot about dignity," Dr. Patterson said. "Imagine if you had to go to a hospital because you were sexually assaulted and your clothes were kept as evidence, and you ended up leaving the hospital in scrubs – something terrible like that. You can absolutely go to Rose Haven and get new clothes. Or perhaps you have a job interview and you need to dress up but don't have any business attire – Rose Haven's staff could help you pick out an outfit."
While Rose Haven has a nursing station to handle minor health issues, one thing Rose Haven is not fully equipped to be is a primary care health clinic. That's where NUNM has stepped in to help.
Every Wednesday, Dr. Patterson and her crew of naturopathic doctors, residents and medical students convert Rose Haven's dining hall, technology room and other areas of the facility into a clinic with screened-off areas to protect the privacy of their patients.
"We store massage tables, trifold screens and all our medical supplies in Rose Haven's basement amongst the donated diapers and bras and tents and whatever else has been donated and stored for future need," Dr. Patterson explained.
The hands-on experience of creating a clinic and addressing the healthcare needs of marginalized and vulnerable populations pays dividends in several ways for the naturopathic students, who accrue clinical shift credits that apply toward their doctorate by working at Rose Haven.
"One, it really feeds the soul. Two, it allows students to see pathology that they haven't seen before," Dr. Patterson said. "And three, it allows them to really, really embrace naturopathic philosophies and naturopathic tools and get creative with them – like, how we are going to work within this low-to-no-resource environment to really work to improve people's health."
Providing comfort, shelter for victims of domestic abuse and sexual trauma
Soledad Diaz earned her Master of Science in Nutrition degree from NUNM in 2022 and is on track to earn her Doctor of Naturopathic Medicine degree in 2023.
Born and raised in Dallas, Texas, Soledad was excited at the opportunity to provide community care at Rose Haven, as well as the opportunity to work beside one of her favorite professors, Dr. Patterson.
"Why I really want to work at Rose Haven, a women's shelter, is because there was a point in my life where my family had to seek shelter and a shelter was provided for us. I see the many resources that Rose Haven offers to its guests, and now this clinic, it's amazing," Soledad said. "Rose Haven is an example of how all shelters can be."
To meet the needs of women, children and people of marginalized genders experiencing the trauma of abuse, loss of home and other disruptive life challenges, Rose Haven was designed by Gensler, a global architecture firm with offices in Portland, Oregon. Gensler's team of designers and architects used color, lights, layout and functionality to be mindful of the wellbeing, autonomy and past traumas of Rose Haven's guests.
Making people feel safe and comfortable in their surroundings is critical when providing care to traumatized individuals.
"A big part of clinical skills is allowing patients to feel comfortable, so they feel safe to provide a good, detailed medical history. Making them feel seen can be therapeutic in itself – just providing that space and trust," Dr. Patterson said.
For Soledad, working at Rose Haven was her first professional experience providing primary care to a patient with a history of sexual trauma. "The patient was hesitant to answer questions, so how do I get a good history if they don't want to provide the details?"
Soledad said the mentorship and guidance of Dr. Patterson in this sensitive area was critical to gaining the trust of her patient.
"Dr. Patterson asked questions that I never would have thought about: for example, within the past two weeks have you had a sexual assault? If they had, then we can refer the patient to get a SANE exam, where all the physical evidence can be collected. And if it was a recent incident, there are additional resources they may be able to receive, such as mental health services, safety planning, shelter referrals or motel vouchers."
Dr. Patterson has received extensive training as a sexual assault advocate, and she has volunteered with the Multnomah County District Attorney as a sexual assault victim advocate for the past year.
"The population at Rose Haven experiences a lot of interpersonal violence. My training has really set me up with additional tools to serve people coming to the Rose Haven clinic shift seeking help," Dr. Patterson said.
Extending community health services at Rose Haven
Starting Wednesday, Sept. 28, the NUNM team will extend the range of services they provide and the hours they spend at Rose Haven. Dr. Patterson advocated for the team to arrive earlier, during regular business hours, so students can experience how the day shelter functions, and so they can build stronger connections with individuals seeking care there.
"When we come in for our evening clinic shift, Rose Haven is closed, so we've got the whole place to ourselves. I wanted to create more of a bridge of like, how do we get students and myself in there so we can start developing relationships with the staff and the guests during business hours?" Dr. Patterson said.
For starters, Dr. Patterson is planning for her team to perform blood pressure and blood glucose checks, basic wound care, and possibly provide foot soaks for relaxation.
Dr. Patterson has also enlisted the help of NUNM's Health Centers Laboratory. In the next few weeks, the NUNM team will be able to order lab services and offer more women's health services, such as gynecologic exams and Pap tests.
By offering more services onsite, Dr. Patterson hopes to eliminate the lack of transportation as a barrier to healthcare.
"Some patients can't just hop in their car and visit us at NUNM's Lair Hill Health Center or another place just to do a blood draw. It's all about removing barriers to care," Dr. Patterson said.
For Dr. Patterson, the care she provides at Rose Haven is a passion-driven project, and one she hopes will impact the students she mentors.
"I think the students really want to be at Rose Haven and feel they're contributing in some way. They really are learning about a pocket of our society that we don't often have direct access to help, and they're able to apply their skills not from a voyeuristic perspective but actually doing good," Dr. Patterson said. "I think this is especially important to most people and especially for healers – people who already constitutionally want to be able to help other people."
Future naturopathic doctors Sumner and Soledad agreed that working at Rose Haven has helped them gain clinical experience and much more.
"The stories patients share about their experiences broaden our perspective and ultimately make us better healers and better doctors. It makes me feel how after I graduate, I can still give back and what role I can still have in community clinics," Sumner said.
Soledad enjoyed working at Rose Haven during the summer so much so that she re-enlisted for the fall term.
"I'm learning a lot about how we can best serve the guest's needs while being mindful of their barriers. A lot of it is also motivational interviewing: we can give all these lifestyle, diet and nutrition recommendations, but we also have to realize what barriers they have and work with them," Soledad said. "My biggest takeaway is seeing the whole person."
For more information about NUNM's Community Health Centers program, visit https://nunmhealthcenters.com/community-health-centers/.