College and Programs Accrediting Organizations

National University of Natural Medicine is accredited by the Northwest Commission on Colleges and Universities.
Accreditation of an institution of higher education by the Northwest Commission on Colleges and Universities indicates that it meets or exceeds criteria for the assessment of institutional quality evaluated through a peer review process. An accredited college or university is one which has available the necessary resources to achieve its stated purposes through appropriate educational programs, is substantially doing so, and gives reasonable evidence that it will continue to do so in the foreseeable future. Institutional integrity is also addressed through accreditation.
Accreditation by the Northwest Commission on Colleges and Universities is not partial but applies to the institution as a whole. As such, it is not a guarantee of every course or program offered, or the competence of individual graduates. Rather, it provides reasonable assurance about the quality of opportunities available to students who attend the institution.
Inquiries regarding an institution's accredited status by the Northwest Commission on Colleges and Universities should be directed to the administrative staff of the institution. Individuals may also contact:
Northwest Commission on Colleges and Universities
8060 165th Avenue NE, Suite 100, Redmond, WA 98052
425.558.4224
For more information download:
NUNM underwent a site visit from NWCCU on April 10, 11 and 12, 2017, as part of ongoing reaffirmation of accreditation. The most recent evaluation was in 2014 upon the completion of our Year Three Self-Evaluation Report. This year NUNM completed a Year Seven Self-Evaluation report for a seven-year accreditation cycle.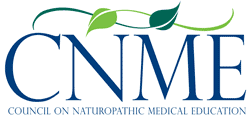 The degree program in naturopathic medicine is accredited by the Council on Naturopathic Medical Education, a professional accrediting agency for naturopathic medicine programs.
CNME
P.O. Box 178, Great Barrington, MA 01230
413.528.8877

NUNM's master's-level (MSOM) and professional doctoral (DSOM) programs in Oriental medicine are accredited by the Accreditation Commission for Acupuncture and Oriental Medicine (ACAOM). Institution/program accreditation history, notes, and dates of review may be viewed here. ACAOM is recognized by the United States Department of Education as the specialized accreditation agency for institutions/programs preparing acupuncture and Oriental medicine practitioners.
ACAOM
8941 Aztec Drive, Suite 2, Eden Prairie, MN 55347
Phone: 952.212.2434 | Fax: 952.657.7068 | acaom.org
Both programmatic accreditors are recognized by the U.S. Department of Education.
The Master of Science in Oriental Medicine degree program is additionally approved by the California Board of Acupuncture and the New Mexico Board of Acupuncture and Oriental Medicine (allowing graduates to sit for their state licensing exams).
State Authorization
See information about National Council for State Authorization Reciprocity Agreements here.