Greetings from the Office of the President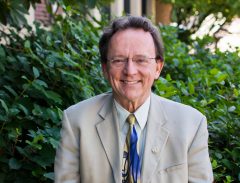 Dear Prospective Student,
Welcome! You've chosen the best place to begin your journey into the profession of natural medicine. You'll soon learn the reason why NUNM is North America's most respected and longest-thriving accredited institution of post-secondary and undergraduate education for natural medicine.
NUNM has been a leader and an innovator since 1956. As the parent institution of naturopathic programs taught in North America, NUNM has educated and trained generations of naturopathic physicians for more than 60 years. Our naturopathic graduates prove the adage that the apple doesn't fall far from the tree. Over the span of decades, they have developed and advanced the concept of holistic health care, challenging long-held biomedical philosophies of care. They are, first and foremost, physicians. But they're also entrepreneurs. Scientific researchers. Hospital administrators. Published writers. Motivational speakers. Professors. Above all, our NDs are healers. And they're changing health care one patient at a time.
NUNM offers a world of opportunity to students seeking to bring profound healing to patients. Our College of Classical Chinese Medicine, founded in 1995, provides the most profound training of classical Chinese medicine offered anywhere in the United States. Both of our accredited degree programs, the Master of Science in Oriental Medicine and Doctor of Science in Oriental Medicine, cultivate clinical practitioners rooted in the ancient tradition of the wise medical scholar. Together with China's Guangxi College, NUNM is leading a worldwide movement to return classical Chinese medicine to the glory of its ancient roots.
Our School of Graduate Studies provides an unparalleled learning environment for students who want to contribute new and exciting solutions to the healthcare challenges of today. NUNM's Master of Science in Integrative Medicine Research, Master of Science in Nutrition, and Master of Science in Global Health degrees all offer hands-on, experiential training, a learning experience unique to NUNM. Then there's NUNM's Helfgott Research Institute, internationally renowned for its groundbreaking research in natural medicine, where investigators champion critical evidence-based studies. Students and faculty collaborate with highly regarded Western medical schools on NIH-funded research and interdisciplinary studies, winning scientific awards and getting published in peer-reviewed journals as they advance the natural medicine profession with their innovative inquiry.
We now invite undergraduate students to pursue their dreams of becoming healers and health advocates at NUNM. Our undergraduate studies offer an integrative approach to traditional studies in nutrition, massage therapy and health sciences. Each degree prepares students for health careers or continued graduate study.
Join us and learn from the best. NUNM's outstanding faculty are celebrated for contributions in their fields as well as their classroom and clinical education excellence. They'll put you through your paces preparing you for an outstanding career in the natural health field—and they'll do it with skill and sensitivity. They are a powerful force individually and collaboratively in the professional formation of natural medicine. You will quickly learn what natural medicine has to offer.
All of this happens in the nation's most progressive city, known for its healthy lifestyle and leadership in sustainability. Portland is surrounded by the breathtaking beauty of the Pacific Northwest. You can see the snowy cap of Mount Hood from our classroom windows. It is one spot among many within the rich tapestry of natural environments, just an hour from our rapidly growing campus. Come join us. Bring your hiking boots, your snowboard or surf board—and your sense of adventure. Your life is about to transform.
NUNM will help you succeed in reaching your dreams, from the beginning of your educational journey and beyond, as you launch your career. Talk to our Admissions counselors; ask a thousand questions. Become a healer, a researcher, an educator, a nutrition coach. Make your mark as health care continues to evolve into a patient-centric model. More and more, everything depends on outstanding, holistic clinical and theoretical knowledge, all focused on the patient. It all starts in Portland. We're waiting for you.
David J. Schleich, PhD
President of NUNM