Questions? 503.552.1660 / Toll-free 877.669.8737 or admissions@nunm.edu
The clinical training objectives of the program are fundamentally aligned with the overall intention to train quality practitioners in the art and science of Chinese medicine. The clinical aspect is expected to be a refinement of the knowledge base acquired in the academic portion of the program, with the implicit understanding that many important skills can only be attained in an applied context of a practical learning situation. These skills include, but are not limited to:
Development of foundational knowledge and understanding of classical Chinese medical concepts and techniques
Evolution of interpersonal communication abilities
Refinement of problem-solving capacities and clinical judgment
Proficiency in executing the technical skills required to effectively apply treatments in Chinese medicine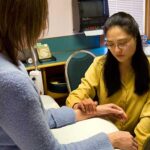 Clinical training consists of two sequential parts: Observation and Internship. Before clinical observation occurs, students receive training in Chinese diagnostic techniques as well as in the theory and philosophy of classical Chinese medicine. Before clinical internship commences, students develop their interpersonal skills and diagnostic abilities, and receive further training in point actions, needling technique and the Chinese herbal formulary. The content and sequence of the academic courses are designed to accomplish this goal.
To begin the first-year observation component, students must successfully complete all first-year courses including the Introduction to Clinic class, in which clinic policies and procedures are reviewed.
The second year of observation requires successful completion of all prerequisite courses from the second year of study.
Internship begins after successful completion of all third-year courses, observation shifts, and passing of the clinic entrance exam. An internship orientation is required before beginning the internship rotations.
Students are gradually led through the clinical experience in a sequential fashion, from active observation to being able to conduct a comprehensive patient intake and treatment protocol. In the spirit of the classics, emphasis is placed on recognition of Chinese syndrome pattern differentiation (rather than symptomatic prescribing), with the goal of creating individual treatment plans designed to assist patients in returning to a more harmonious and balanced state.