Travel courses have been suspended through fall 2020 due to Covid-19. Please check back for updates.
Anyone is welcome to participate in these travel courses – current NUNM students from all programs as well as other interested individuals. These courses provide students with an opportunity to immerse themselves in a culture different from their own and gain tangible experience in global health settings. Master of Science in Global Health (MScGH) program students are required to participate in at least one Global Health Experience course. Additional travel opportunities are available through the International Partnership for Service Learning (IPSL) Global Institute at NUNM.
Students and others who do not wish to receive course credit may pay the course fee plus 20% of the total tuition cost. Trip fees include lodging, meals, in-country transportation and activities.
Travel Courses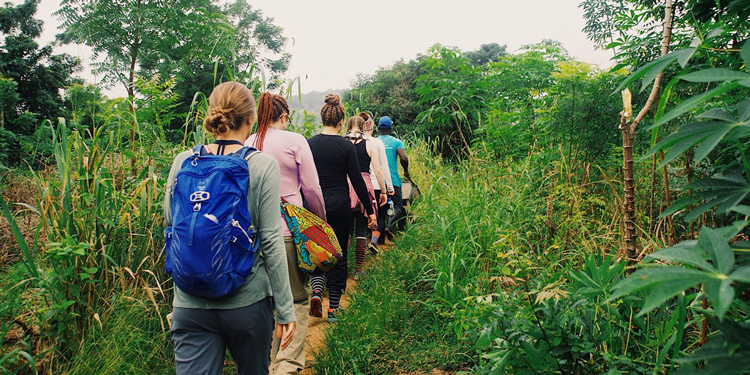 GSGH 821E: Tanzania Global Health Experience (6 credits)
This course is a three-week experience trip with a focus on examining the healthcare system in Tanzania, including locations in Moshi and Zanzibar. Students will have the opportunity to visit and stay in remote villages to learn about life and medicine in rural areas, observe in various urban and rural clinical settings, learn about traditional medicine, and provide public health education. For more information about the trip, contact Dr. Zwickey.
Faculty
Dr. Heather Zwickey is a professor and chair of the Master of Science in Global Health program at NUNM. She is an immunologist with expertise in infectious disease, as well as traditional medicines. Dr. Zwickey's interest in global health spans decades. Spending time in Mexico, India, Nepal, and Uganda stimulated a life-long interest social justice and interprofessional education. Dr. Zwickey earned her PhD in Immunology and Microbiology from the University of Colorado Health Sciences Center in Denver and completed a post-doctoral fellowship at Yale University School of Medicine.
Lisa Regan-Vienop, MPH spent two years as a Peace Corps Volunteer in Malawi, Africa after completing a BA in Communication Studies and Biology from California State University, Sacramento. Her time in Africa inspired her to continue her studies, and she completed an MPH at Tulane University School of Public Health and Tropical Medicine. Lisa has worked at state and county health departments, nonprofit organizations and university health centers. Her focus of work is chronic disease prevention, maternal and child health, breast cancer early detection, community outreach, tobacco use prevention, and environmental health. She is also an adjunct faculty member at PCC in the health studies department.
GSN839E: Mediterranean Diet Immersion in Croatia (4 credits)
Trip location: Dubrovnik, Hvar and Brač
Croatia is one of only seven countries recognized by UNESCO in representing the Mediterranean dietary pattern as part of the Intangible Cultural Heritage (ICH) of Humanity. With the country transitioning to a market-based economy as late as the 1990s, many age-old food and lifestyle traditions remained embedded in daily practice until this time. Croatia's more recent entry into the European Union in 2013, further positioned it as one of the strongest economies and fastest growing tourism industries in Southeastern Europe, providing both a challenge and an opportunity for the preservation of traditional culture practices. This makes Croatia a unique location for exploring the practice, research, and theory of the Mediterranean dietary pattern – as it once was and is today – and examining how to translate learnings into the U.S.
During this 10-day trip, students immerse themselves in the emblematic communities of the Croatian Mediterranean dietary pattern where they participate in discussions with a food anthropologist, numerous public and private representatives, engage in professional chef-led cooking workshops, a guided herb walk, visit organic food, olive oil, and wine producers, local markets, and several cultural and historic sites. If you'd like to learn more about the trip, email Zrinka Glavas.
Faculty:
Zrinka Glavas, MScN, MEd, attained her Master of Education at the University of Zagreb, Croatia, where she first developed an interest in experiential and transformative learning. Her love of traditional cultural practices and evidence-based nutrition led her to complete a Master of Science in Nutrition at NUNM, and an internship with the Institute of Anthropological Research, working on a large-scale NIH-funded longitudinal study on the island of Hvar, Croatia, looking into epigenetics, genetics, and metabolic syndrome. She has lived in Croatia, Canada and the U.S., each for over a decade, and has traveled extensively throughout the Mediterranean region. As an Adjunct Faculty member at NUNM and in her private clinical practice, her passion lies in sustainable dietary patterns and regenerative nutrition.
GSGH 836E: Ghana Global Health Experience (4 credits)
Trip location: Accra, Ghana and surrounding areas
Ghana is one of Africa's fastest growing economies where large hospitals in the capital epitomize the impact of globalization, while rural villages live by centuries-old cultural traditions in resource-poor settings. This makes Ghana an ideal location for students to experience health care delivery first-hand. During the trip, students are fully immersed in the rich Ghanaian culture—from local cuisine to clinical observation. They participate in a variety of activities from hiking through jungles with local herbalists, to shadowing doctors and nurses in both urban hospital and rural clinic settings. Through these experiences, students gain a deeper understanding of how traditional medicine and biomedicine interrelate to influence local healthcare practices.
This course is primarily focused on clinical experiential learning and includes traditional West African herbal studies and cultural healing methods. In between course content, students have time to sight-see and participate in the rich culture. If you'd like to learn more about the trip, please email Dr. Tuson-Turner.
Optional Post-Trip Travel
From Accra, it's easy to travel to Cape Coast, Kumasi, as well as other parts of West Africa. If you wish to continue your travels after the trip, you can explore the jungles and waterfalls of central Ghana, the beaches of the Gulf of Guinea, or go on safari in the country's largest wildlife park, Mole National Park.
Faculty
Dr. Madeleine Tuson-Turner has lived and worked in Ghana since 2009. She has a deep love for Ghanaian culture and facilitating student experiences in various cultural settings. She is passionate about the ethics of global educational engagement, women's health, reproductive health justice, and integrative medicine.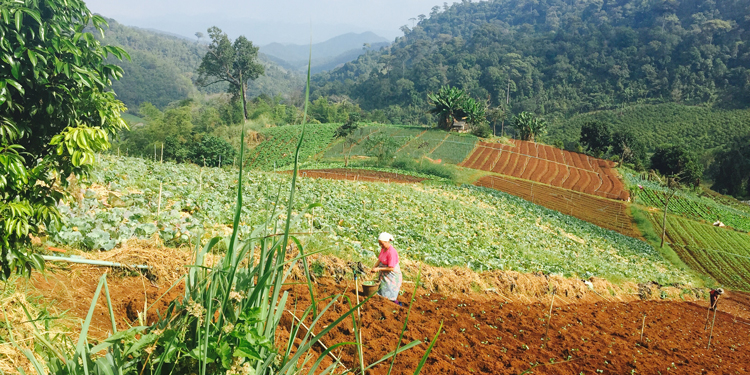 GSGH 832E: Thailand Global Health Experience (4 credits)
Trip location: Chiang Mai, Thailand and surrounding areas
Thailand is unique in the world of traditional medicine. Because of its central location between China and India,two similar but different forms of medicine merged there. Classical Chinese medicine combined with Indian Ayurveda and Thai folk medicine to form Thai-vedic medicine. On this cultural immersion trip, students study Thai herbal medicine, nutrition and cooking, Thai massage and bodywork, and how Buddhist theory influences Thaivedic medicine. This global health experience is rooted in traditional medicine and provides a personal, experiential understanding of the Thai culture and the modalities of traditional Thai medicine.
We will be traveling around Chiang Mai and the Thai countryside to learn about world health issues, including:
Traditional Thai cuisine and nutrition
Migration and refugee issues
Human trafficking
Organic and sustainable agriculture
Health and social influences of Buddhism
Each day starts with a morning lesson and experiential learning, and ends with an evening reflection. In between course content, students have time to sightsee. Located in the northwestern part of Thailand, Chiang Mai is known for its temples, creative shops, and incredible street food. In Chiang Mai, students will explore food as medicine, Thai physical medicine, and how spirituality influences Thai-veda.
If you'd like to learn about the trip, please email Laura or Marne.
Optional Post-Trip Travel
From Chiang Mai, it's easy to travel to Pai, Bangkok, the Thai islands, or Cambodia. If you wish to continue your Asian travels after the trip, you can explore the canals and Golden Buddha in Bangkok, the beaches of the Thai islands, or Angor Wat.
Faculty
Laura Scher, EdM designed and led workshops for the Harvard Humanitarian Initiative in Bangladesh, Malaysia, Switzerland and Turkey prior to teaching global health at NUNM. She brings a love of Thai culture to this trip, along with a background in contemplative practice, psychology and systems thinking.
Marne Minard, MS, graduated from NUNM's Master of Science in Nutrition program in 2017. She is an adjunct faculty member, as well as the MScN program's Nutrition Internship & Kitchen Coordinator, overseeing nutrition internships along with the operations of the culinary classes in Charlee's Kitchen. Marne also runs a holistic nutrition practice, Joule Health + Wellness, offering therapeutic diets based meal planning and one-on-one nutrition counseling. Marne's travel experience includes trips to Thailand, Latin America, Mexico, Panama and Costa Rica.
Capstone I-II: Fieldwork Experience (GSGH 691, GSGH 692)
The Capstone I and II courses provide students with advanced practical experience in a global health-related local, national or international setting over an eight-to-ten-week period. This supervised experience allows students to apply the knowledge and skills they have acquired during their didactic training to a practice, research or policy-related project that incorporates a public health framework, systems approach, traditional medicine philosophy and cultural humility.
Students demonstrate program outcomes and competencies through the design and implementation of their fieldwork project, realization of their learning objectives, and the dissemination of a final product that benefits both the student and the host site.
Fieldwork projects involve diverse activities such as ethnographies, educational program development, secondary data analysis, environmental health assessment and community activism. Students can use their fieldwork projects as a launch point for future employment. Students find the fieldwork experience meaningful and often life changing.