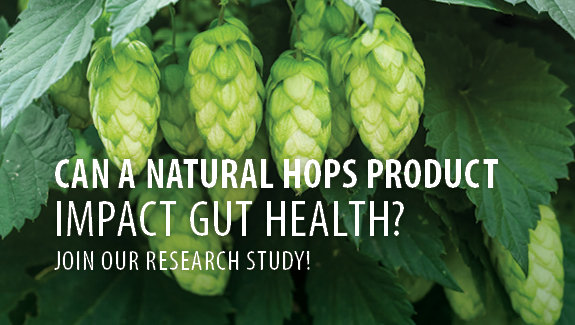 Can a Natural Hops Product Impact your Gut Health?
Join a study on hops potential to impact gut health. NUNM is conducting a research study to assess the impact of an experimental natural product on the microbiota (gut bacteria) in healthy volunteers.
You may be eligible if you:
Are age 21–50 years
Are willing to be randomized to a placebo or an experimental natural product
Are willing to have blood drawn and fast for 10–12 hours before blood draws once every two weeks
Are willing and able to collect stool and 24-hour urine samples at home once every two weeks
Do not drink more than 1 beer a day
Do not take any prescription medications, including oral contraceptives
Can attend a screening visit and 5 study visits at the Helfgott Research Institute in Portland
If you are eligible and enroll in the study, you could be compensated with up to $550. To learn more, please call 503.552.1777 or email microbiome@nunm.edu. You may also contact the Clinical Investigator, Dr. Ryan Bradley at 503.552.1862.
This study is being conducted by the Helfgott Research Institute at National University of Natural Medicine.
IRB # RB9718
Approval Date: 9/13/2018
Principal Investigator: Ryan Bradley, ND, MPH