Traditional Roots Institute Hosts Herbal Conference May 16-18
PORTLAND, Ore. (April 24, 2014) — NCNM's Traditional Roots Institute today announced its inaugural herbal medicine conference to be held May 16-18 at the National College of Natural Medicine in Portland, Ore.
NCNM has a celebrated history of leadership in medical education. Herbal medicine, a foundation of the medicine taught at NCNM, is regaining popularity throughout the nation. In addition to educating medical students, NCNM now offers educational resources to both healthcare practitioners and laypeople interested in learning more about natural medicine under the auspices of NCNM's Traditional Roots Institute.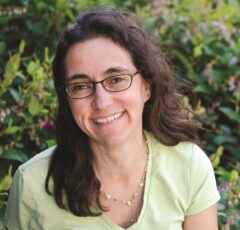 "Herbal medicine is the people's medicine," said Dr. Orna Izakson, lead physician of the Traditional Roots Institute. "As such, we have created a conference to reconnect both clinicians and the public to their herbal heritage."
Session topics will include constitutional evaluation; herbal energetics; hands-on medicine making; gardening with medicinal plants; traditional and scientific research supporting herbal prescribing; clinical case reviews; bioregional herbalism and harvesting wild herbs; herbal anthropology and more. Notable speakers include: Tori Hudson, ND; Martha Libster, PhD;  Paul Bergner; Jillian Stansbury, ND; Eric Yarnell, ND; Glen Nagel, ND; Nome McBride; Lori Beth Stargrove, ND; and Mitchell Babel Stargrove, ND, LAc.
"As interest in plant-centered healing surges around the country, NCNM and the wider herbal community are deeply indebted to the companies that so generously help us create high-caliber educational opportunities for practitioners and the public," Izakson said. Three of those sponsors – HerbPharm, Gaia Professional Solutions and Oregon's Wild Harvest – also are underwriting conference scholarships for eight NCNM students.
Said HerbPharm's CEO Marc Allen, "The Traditional Roots Institute and NCNM align perfectly with our values of educating people about medicinal herbs and inspiring a love and respect for nature. We thank them and celebrate their success in deepening the understanding of herbal medicine, advancing its clinical practice and giving herbal knowledge back to our communities."
ABOUT NCNM
Founded in Portland in 1956, NCNM is the oldest naturopathic medical school in North America and an educational leader in classical Chinese medicine and CAM research. NCNM offers three accredited four-year graduate medical degree programs in naturopathic and classical Chinese medicine, as well as a Master of Science degree in Integrative Medicine Research and a Master of Science degree in Nutrition. NCNM practitioners and students attend to approximately 40,000 patient visits per year at the campus-based NCNM Clinic and numerous low-cost community clinics located throughout the Portland area. Until July 2006, NCNM was known as the National College of Naturopathic Medicine. The name change reflects the diversity of the college's programmatic degree offerings.