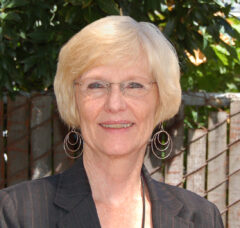 PORTLAND, Oregon (Dec. 12, 2014) — National College of Natural Medicine (NCNM) and the Oregon Association of Naturopathic Physicians (OANP) honored Rita Bettenburg, ND, with the organizations' highest honor, the 2014 Living Legend award. The award was conferred at a banquet held Dec. 6 at the Portland Marriott Downtown Waterfront Hotel. The award recognized Dr. Bettenburg's outstanding leadership, commitment to excellence, and longstanding contributions toward the advancement of the naturopathic profession in Oregon.
"What distinguished Dr. Bettenburg from other nominees is the extraordinary breadth of how she has served the profession," commented Laura Culberson Farr, executive director of the OANP, during the presentation of the award. "From teaching, to advocacy, to accreditation, at the state and the national level, Dr. Bettenburg has been there for 25 years."
Bettenburg's dedication to deepen and expand the scope of practice of naturopathic medicine ran parallel to her commitment to raising the standards of medical education for naturopathic physicians.
After earning a Master of Science in Medical Technology in 1974 from the University of Minnesota, Bettenburg launched what would become a nearly 40-year career in medical education by combining her love of health care with a passion for knowledge. After teaching immunology and clinical chemistry at a hospital in Minneapolis, she enrolled at NCNM. Bettenburg graduated from the naturopathic medicine program in 1989 and completed a residency in family practice. In 1990, she began her private practice while also rekindling her dedication to education as she accepted a teaching position at NCNM. In 2004 Bettenburg was appointed dean of the School of Naturopathic Medicine, where she was instrumental in establishing NCNM's national reputation for academic and clinical excellence until her retirement from NCNM in 2011.
Her influence in advancing the naturopathic profession went well beyond NCNM and Portland. With a zeal for legislative advocacy on behalf of the naturopathic profession, Bettenburg was well suited to serve as president of the board of directors for the Oregon Association of Naturopathic Physicians, an organization she served in various capacities for almost 25 years. Nationally, she was a board member of the American Association of Naturopathic Physicians, and served as Speaker of the House of Delegates for the organization. Bettenburg served for 12 years on the Council on Naturopathic Medical Education (CNME) in a number of capacities, including president from 2009-2013. The CNME is recognized by the U.S. Department of Education as the national accrediting agency for the naturopathic medicine profession.
NCNM's president, David J. Schleich, PhD, expressed his gratitude to Bettenburg for her decades of service to the profession of naturopathic medicine and for her contributions to NCNM. "As dean of our naturopathic program, Dr. Bettenburg set high standards at NCNM for years—for both our faculty and students. Her vast programmatic knowledge while serving as president of CNME continues to benefit all North American medical colleges seeking naturopathic accreditation or seeking to maintain accreditation."
The Living Legends award dinner also celebrated the accomplishments of three other accomplished NCNM alumni who were inducted into the NCNM Hall of Fame. Noel Peterson, ND; Steven Sandberg-Lewis, ND, DHANP; and Ravinder Sahni, ND, DC, were inducted into the NCNM Hall of Fame. NCNM established the Hall of Fame to honor members of the natural medicine community who have a long record of service to the college and have played a vital role in the advancement of the profession and in the pursuit of professional excellence.
Peterson has practiced naturopathic medicine for 36 years and is an expert in regenerative medicine and prolotherapy. He had been professor of clinical neurology at NCNM and served as the college's clinic director, and as OANP president, AANP board member, a member of the Oregon Board of Naturopathic Examiners, as well as a number of other distinguished appointments, including service to the Institutional Review Board of the International Cellular Medicine Society.
Sandberg-Lewis, selected by his peers earlier this year as one of Portland's "Top Docs" in the annual issue of the Portland Monthly magazine, is a professor of gastroenterology, diagnostic imaging and pathology at NCNM, where he has been teaching for nearly 20 years. The author of a textbook for naturopathic physicians, Functional Gastroenterology, Sandberg-Lewis spearheaded the launch in 2013 of the SIBO Center for the diagnosis and treatment of small intestine bacterial overgrowth at the NCNM Clinic.
Sahni, who passed away in September 2014, was an esteemed naturopathic and chiropractic doctor in Portland, where he helped thousands of patients during the nearly 50 years that he practiced. Prior to coming to the United States, Sahni was also a doctor of homeopathy in his native country of India. In addition to his service as chair of the NCNM Board of Directors for several years, Sahni had been the director of NCNM Clinic and a professor at both NCNM and Western States Chiropractic College during the span of his long career.
ABOUT NCNM
Founded in Portland in 1956, NCNM is the oldest accredited naturopathic medical school in North America and an educational leader in classical Chinese medicine and CAM research. NCNM offers four-year graduate medical degree programs in naturopathic and classical Chinese medicine; a Master of Science in Integrative Medicine Research; Master of Science in Nutrition; Master of Science in Global Health; and soon will offer a Master of Science in Mental Health. Its community clinics provide low-cost medical care throughout the Portland metropolitan area. In addition to the campus-based NCNM Clinic, NCNM practitioners care for approximately 37,000 patient visits per year.
ABOUT OANP
Founded in 1909, the OANP is the oldest naturopathic association in North America. Its mission is to support naturopathic doctors and improve the health of Oregonians through the advancement of naturopathic medicine.