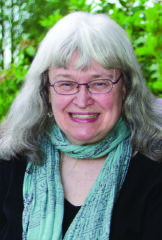 PORTLAND, Oregon (Dec. 11, 2014)—The Accreditation Commission for Acupuncture and Oriental Medicine (ACAOM)   announced that Andrea C. Smith, EdD, was elected last week as an academic member of the Commission. The appointment of Dr. Smith, provost and vice president of Academics Affairs at National College of Natural Medicine, is effective immediately. ACAOM is recognized by the U.S. Department of Education as a specialized and professional accrediting agency. ACAOM's primary purposes are to establish comprehensive educational and institutional requirements for acupuncture and Oriental medicine programs, and to accredit programs and institutions that meet these requirements. ACAOM currently has over 60 schools and colleges with accreditation or candidacy status.
During her 22-year tenure at NCNM, Smith has held many senior administrative positions, including dean of Institutional Research & Assessment; dean of the School of Classical Chinese Medicine; dean of Student Services; and educational consultant. As provost, Smith has presided over a growing number of academic programs while continuously raising the bar on academic standards at NCNM.
Smith, who holds a doctorate in education in curriculum & instruction from Portland State University, presently oversees six doctorate and master's degree programs in NCNM's Schools of Naturopathic Medicine, Classical Chinese Medicine and Research & Graduate Studies; the departments of Student Life and Institutional Research & Compliance; the Helfgott Research Institute and NCNM Library; and the offices of the chief medical officer and the dean of Academic Progress.
In announcing Smith's appointment as a new Commissioner, ACAOM Chair Catherine Niemic, JD, LAc, expressed her delight in having Smith join the organization, noting that Smith brings "a depth of experience and knowledge to the Commission that is of great value as ACAOM continues to provide the highest quality of accreditation services while preparing for the future of the profession."
Smith has long been active in the acupuncture and Oriental medicine educational community, including her work with the Council of Colleges of Acupuncture and Oriental Medicine and ACAOM's task forces for its first professional doctorate, which was announced in 2013, and its current re-conceptualized master's programs.
ABOUT NCNM
Founded in Portland in 1956, NCNM is the oldest accredited naturopathic medical school in North America and an educational leader in classical Chinese medicine and CAM research. NCNM offers four-year graduate medical degree programs in naturopathic and classical Chinese medicine; a Master of Science in Integrative Medicine Research; Master of Science in Nutrition; Master of Science in Global Health; and soon will offer a Master of Science in Mental Health. Its community clinics provide low-cost medical care throughout the Portland metropolitan area. In addition to the campus-based NCNM Clinic, NCNM practitioners care for approximately 37,000 patient visits per year.