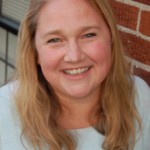 Hujambo!
Tanzania is always an adventure, and this year has started no differently. While the group activities have been limited to retrieving people from the airport, never underestimate the excitement that can happen when 18 people take flights through a dozen countries on their way to a tiny airport at the base of Kilimanjaro.
Elizabeth, one of our Global Health faculty who completed this journey with me last year, arrived first. As we were preparing to go pick her up, I could hear a band out the window of the hotel. As any good Midwestern gal will tell you, a brass band is a sign of a parade. (Well, it's either a parade, or a football game.) Julius was quick to correct me. "It's not a parade," he said, "it's a wedding." Sure enough, as we started to drive to the airport, we were soon in the wedding brigade. There were cars decorated with orange flowers and purple and green ribbons. And leading the merry crew was a brass band of 10 in the back of a tiny ancient pick-up truck. Trombones and drums hung over the side; trumpets blew straight up into the air. There's nothing like a little band music to get you excited for a trip.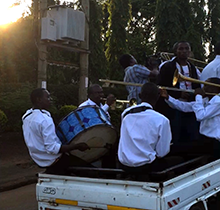 It turned out the band was the least of the music we'd experience with picking up our group. There was a miscommunication with one of our students, Tessa, and she arrived at the Kilimanjaro airport eight hours before she had informed us she would be there. Thus, there was no one there to pick her up. Now, let me explain something about the Kilimanjaro airport. There's nothing there. It's halfway between Moshi and Arusha, and it's literally nowhere. It's where the Maasai used to graze their cattle. There's one arrivals gate, and when you walk out of the airport, that's it. You are now in Africa. There's no coffee shops, benches, airport malls, taxis, or internet. At the far side of the parking lot, there are a couple of storage sheds where people are selling soda. However, there's nowhere to exchange money, so there's no way to buy soda. There's you, and a parking lot.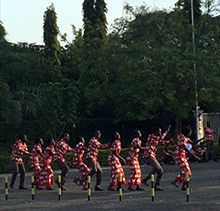 Fortunately for Tessa, what was happening in the parking lot yesterday was pretty entertaining. They were filming two Tanzanian music videos, complete with three different sets of dancers. The tunes were catchy, and Tessa found herself dancing along. Next thing she knew, Tessa was invited to dance in the music video! I haven't seen her dance, but she must have good moves if she was invited to dance with this crew. By the time I arrived, they had started filming the second video, and Tessa was back on the sidelines, but not without feeling like she had the best welcome to Tanzania ever. I think maybe she did.
Some of our other students were not so lucky. For them, it was more like a filming of Land of the Lost. On their way to Tanzania, students lost iPhones, cameras, luggage… and yes, we even lost one student. To his credit, he was not lost himself, he was just lost to us. This student was scheduled to arrive at 4 a.m. – not an ideal time to make the one-hour drive to the airport. But Julius and I headed out at 3 a.m., and then waited while every passenger went through customs between 4 and 5:30 a.m. And then they closed the airport, but our student hadn't arrived. And we had no way to know where he was. Julius drove us back to Moshi, as started frantically texting our team at home to help me locate the student.
Our trusty dean of students at National University of Natural Medicine got on the case. She called friends of his, family members, and airlines. We finally located him in Ethiopia. It took more than 24 hours to retrieve him, but he's now eating on the roof of the hotel with the other students, watching the sunset over Kilimanjaro. And our dean deserves a medal. He'd be sitting in the parking lot in the middle of nowhere without her help because we would have had no way to know when he had been rerouted and when he would arrive. I have to admit, losing a student is not a level of stress that I really wanted to start the trip with. However, I felt so lucky to have colleagues I can rely on when we have "This is Africa" (TIA) moments.
We're having one of those moments right now. The rooms of the guest house don't have any blankets, and the temperature is dropping to 57 degrees at night. Why are there no blankets? No one is exactly sure. TIA. But I'd sure like to have my students warm at night. And it seems reasonable to have blankets on the beds.
I guess that means that I need to be a little more aggressive in my insistence on blankets. It's always walking a fine line between cultures when you're in Tanzania. I try to be respectful of the culture – always greeting someone before you ask for what you need, expressing gratitude fully, and asking for things a little sideways. "Hello my friend, so sorry you are working today. If it wouldn't be too much trouble, and if you are able, we would wish for blankets." I can hear my friend Matt in my head right now. I think he'd be a little more to the point. "Blankets. NOW." Time to bring out my inner Matt.
Keeping warm in Kili!
Heather