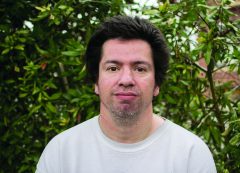 Colin Anderson, at 23 years of service and counting, is one of NUNM's longest-tenured employees, but it's likely you haven't met him.
That's because he starts early in the morning each day and quietly goes about his work sorting the mail in the Academic Building or filing in the Administration Building. He's usually done by 10 and then it's time to catch a bus for home to indulge in his real passion: trains. New trains like the MAX Orange line, old trains like the steam engine at Oaks Park. Trains in books, model trains. "I like all of them," he said, adding that he spends a lot of time in the public library studying trains and hanging out at hobby shops.
His pride and joy, in fact, is a new O-scale model steam engine of the vintage #700 at Oaks Park—that's the larger size model, not the small HO trains most people think of, he said. Anderson got his interest in trains from his grandfather, a train engineer. "He worked on various railroads and I got to ride with the engines," he said.
Anderson initially worked in the clinic and for facilities. Officially listed as an office assistant, in addition to working in the mailroom, he has done filing in the Registrar's Office for the last 18 years where he reports to Registrar Kelly Garey. "I like it. It's a good place to work."
His workplace returns the compliment: Said Garey, "Colin has been a longstanding and integral part of the Registrar's Office for 18 years. I can always count on him to arrive on time and be ready to work. Without his support we would be drowning in filing."