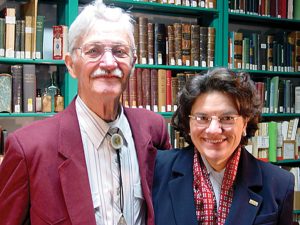 Susan Hunter had been at NCNM for about three years, when she made a startling discovery.
Hunter, now vice president of Advancement, was reading Nature Doctors, Pioneers in Naturopathic Medicine, by longtime college librarian Friedhelm Kirchfeld and Wade Boyle, when she ran across a passage describing the early years of the college, and how a man named Dr. Frank Spaulding had played a key role in its founding.
"I saw the word 'Spaulding' on the page and bam—I thought, it couldn't be." She went home that night and called her mother, who confirmed the Dr. Spaulding in the book was indeed a family member—his mother and Hunter's grandmother were sisters— making them cousins.
Hunter hadn't seen her cousin since she was a child; her father and Spaulding had a falling out when the latter became a naturopathic doctor and chiropractor. The boys had grown up together farming wheat in North Dakota and both had served in World War II. In fact, in an echo of the "Saving Private Ryan" movie in which Private Ryan is called home after his brothers are killed, Spaulding was discharged when his brothers were also killed in action in Europe. It was on the long journey home that Spaulding decided to become a doctor, said Hunter, feeling he had been spared for a special purpose.
He didn't want to become a "regular" doctor, though, said Hunter. "He remembered living on the farm and an herbalist giving him lobelia, which significantly helped his asthma. He was looking around for a college that taught herbology and found Western States." Western States College in Portland, Oregon, now known as University of Western States, was one of the few colleges teaching naturopathic medicine along with its chiropractic degree program. When the college dropped its program in 1955,Spaulding and fellow Western grads Drs. Charles R. Stone and W. Martin Bleything established NCNM. (See "The Mothership" p. 8.)
So, when Hunter phoned her mother, she found out that Spaulding was alive and well, and living in Fairbanks, Alaska, where he had long been practicing medicine. Her mother also had his phone number. "Little Susie, the last time I saw you, you were maybe five years old," Hunter recalled Spaulding saying over the phone. Her cousin was thrilled to learn that Hunter was at the college he had helped found. "Every time I come back stateside, I visit the campus," he said.
Spaulding then told her the story about how he had borrowed a car and traveled the country for a year, trying to drum up support and money for the new school. He traveled to Chicago, Pennsylvania, Maine and Vermont, to New York and down through the Carolinas, and into Florida visiting naturopathic doctors, gaining pledges and cash totaling around $100,000, Hunter said. She recalls that Spaulding felt that preserving naturopathic medicine was in part a struggle for medical freedom—that people should be able to choose what they want in medicine. Returning to Portland, Hunter said Spaulding tried one more time to try to get Western States to preserve its naturopathic program, to no avail.
"So I grabbed Bleything and Stone, and the next day we drove to Salem," Hunter recalls him saying, "We're going to start our own damn naturopathic college."
Spaulding, who died in 2009, was on hand for commencement in 2005 where he received an honorary doctoral degree for his service. Hunter recalls her cousin didn't say anything to the crowd upon receiving his degree, but she could tell he was moved—and a bit in awe. He told her, "I have never seen so many naturopaths in my life!" On his way out of the room, he said to her, quietly, "Well honey, thank you. Just deeply from my heart, thank you."