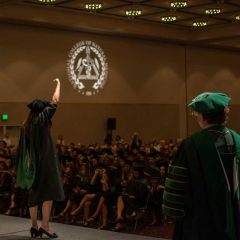 Two years ago, at NUNM's 2016 commencement ceremony, about 200 happy graduates trooped across the stage amid cheers, whistles and shouts from the crowd. The grads soaked in their few seconds in the spotlight, some bowing deeply, others offering a curtsy, others fairly skipping as they received hugs from the dignitaries, and finally, that coveted degree.
About halfway through the procession, after all the standalone master's degrees had been awarded and right after the doctors of naturopathic medicine with master of science in oriental medicine got their degrees, a little history was made. Rachel "Raye" Elizabeth Oristano became the first NUNM graduate to receive two doctoral degrees at commencement. After six years of hard work, she had earned a Doctor of Naturopathic Medicine degree and a Doctor of Science in Oriental Medicine degree.
The road to that day in Portland began many years before, when as a girl of just five, she developed a range of food allergies. Instead of drugs, the family opted to follow the advice of a naturopathic physician who recommended, among other things, an elimination diet. Her mother, she said, was always open-minded about alternatives to surgery and pharmaceuticals, and her father, a biotech company CEO, was interested in nutrition and herbal medicine. It's not surprising then, that as a girl of 12 she wrote a paper about Chinese medicine. "I thought that was the coolest thing ever," she said, "I knew then I wanted to do Chinese medicine," as a career.
While still in high school Oristano did an internship with Margo Longnecker, a naturopath who was then dean of the naturopathic school at NCNM. She learned a lot, including how to handle her own migraines using natural therapies.
She then spent a year at the University of Pennsylvania studying Amyotrophic lateral sclerosis (ALS), also known as Lou Gehrig's disease. While working on an undergraduate degree at Haverford College in Pennsylvania, "I did everything I figured would help," toward her eventual natural medicine studies, including lots of hard science and research courses. She also learned Chinese. "I always had a bad habit of overwhelming myself," she said. "I always want to do everything and took an excessive amount of courses." For example, she once took 20 credits in one term, including a science course and three language courses.
"I just like too many things," she admits. "I have a vast array of interests and it's hard to pick one over the other. I want to do all of those things." Fortunately, she said, naturopathic and Chinese medicine has helped her gain focus but is so varied and deep that it appeals to her love of science and scholarship. She finds inspiration in the natural medicine philosophy of drugs and surgery as a last resort, its emphasis on nutrition, herbal and non-invasive therapies. "It's simple but very effective. It can make a big difference in someone's life. That's a philosophy that really resonates with me."
When it came time to go to medical school, she wanted to get away from her home state of Connecticut for a while so only looked west. She considered NUNM and Bastyr University in Seattle, but chose NUNM because of its classical Chinese medicine program. The admitted overachiever was accepted into the naturopathic doctoral program and the Master of Science in Oriental Medicine program, but eventually shifted to the DSOM program. She explains that she wanted to take the extra courses anyway and had a significant portion done or on track to be done, so the shift seemed natural.
"It was tough, very, very grueling, but very rewarding," she said. "There's a little bit of pride in there too, I admit." She's quick to rattle off a significant portion of the faculty whom she credits for helping her stay on track, including capstone advisor Adjunct Professor Charles Lev; Associate Professor David Berkshire, who gave her insight into the different stages a physician passes through; Chief Medical Officer Regina Dehen, ND ('96), for her emphasis on managing patients who are often overlooked; Adjunct Professor Sabine Wilms and Professor Rihui Long for their "amazing expertise"; Professor Bob Quinn for his acupuncture and moxibustion acumen; Assistant Professor Paul Kalnins, ND, MSOM ('98), and Loch Chandler, ND, MSOM ('01), for insight on dual practitioners; and Chinese medicine dean Laurie Regan, ND ('97), for helping navigate a complicated class and clinical schedule.
These days she's sharing clinic space in New York City running her Water + Bone Wellness clinic. She specializes in making natural medicine house calls to offices and residents, something that few, if any other doctors are doing, she said. Dr. Oristano also recently was appointed to a prestigious acupuncture fellowship in the Department of Integrative Medicine at Mount Sinai Hospital in the city. Oristano will provide acupuncture to patients at Mount Sinai and work towards developing a research topic or presentation based on the experience.
Since Dr. Oristano's pioneering double doctorate, three additional students have earned a Doctor of Naturopathic Medicine degree and a Doctor of Science in Oriental Medicine degree simultaneously. Cheers to all of our upcoming 2018 NUNM graduates!