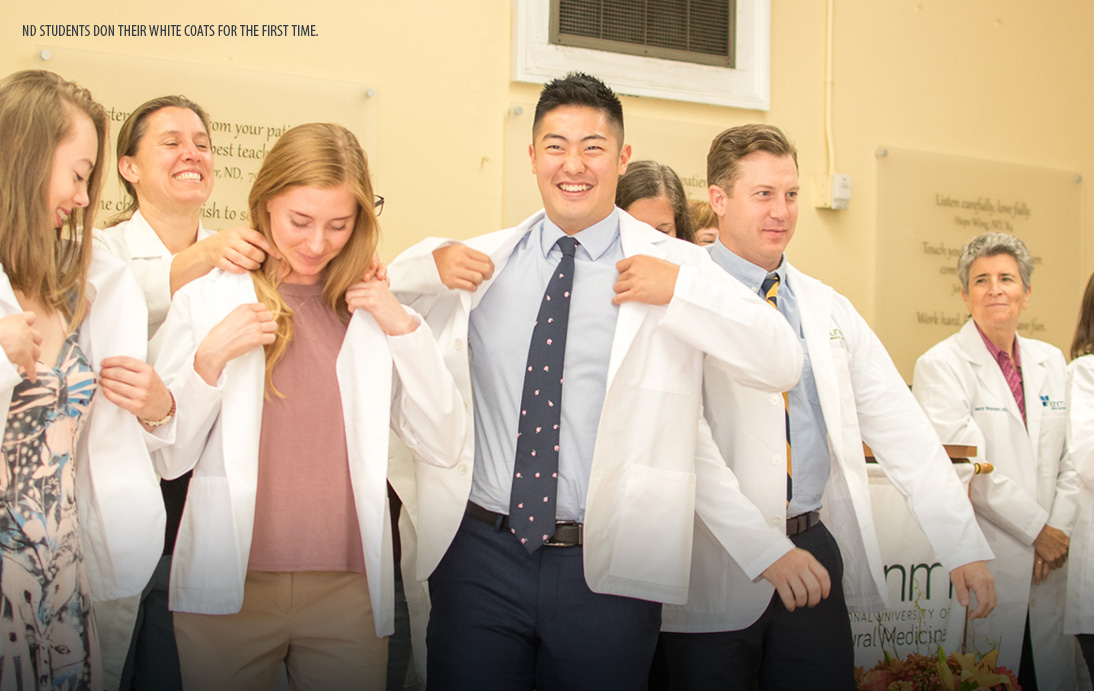 If you're asking this question, it might be because you know that the public is demanding a different medical model. Patients want to be heard by their physicians and they want to be involved and participate in their own health and healing processes. More and more patients are learning about holistic health and lifestyles—and they're seeking qualified natural medicine practitioners. NUNM's naturopathic medicine (ND) program provides a rigorous education, delivered through evidence-informed practice, research, naturopathic philosophy, ethics, professionalism and cultural literacy. Every course prepares you to be the physician of tomorrow, to treat the root causes of disease, to treat patients with compassion, to thrive in the current and challenging environments of health care in the United States—and to provide the preventive health care more patients are seeking.
NUNM's ND School is a 4-Year Accredited Medical School
The first two years being very similar to allopathic medical school-you will be enrolled in anatomy, biochemistry, immunology, microbiology, pathology and physiology courses. In the first year, you will enter our community healthcare clinics in an observational capacity and begin your preceptorships with a licensed practitioner who will supervise your clinic shifts.
Unlike Allopathic Medical Programs, Our Students Take Over 300 Hours in Nutrition
Naturopathic students study the microbiome, and incorporate nutrition into every diagnosis. Naturopathic medical education also differs in that NDs avoid symptom suppression as it can interfere with the healing process, and instead work to determine the root cause of symptoms. In addition to being trained as primary care physicians, NDs use "Nature Cure" or traditional naturopathic medicine modalities to activate the body's capacity for self-healing and self-regeneration, which supports the healing process and leads to improving the state of overall health. Here are the main modalities NDs practice: clinical nutrition, mind-body medicine, botanical medicine, minor surgery, midwifery, pharmaceutical medicine, nature cure/vitalism, physical medicine, IV therapy, hydrotherapy.
Six Philosophical Principles of Natural Medicine
One of the biggest differences between allopathic medicine and natural medicine is characterized by the six philosophical principles of natural medicine: 1. First Do No Harm, 2. The Healing Power of Nature, 3. Identify and Treat the Cause, 4. Treat the Whole Person, 5. Physician as Teacher, 6. Prevention. At NUNM, our students spend a considerable amount of time with their patients in order to make a thorough assessment as they identify and address the underlying root cause behind patients' complaints and presenting conditions.
Naturopaths Work on Their Own and in Tandem with Allopathic Medical Doctors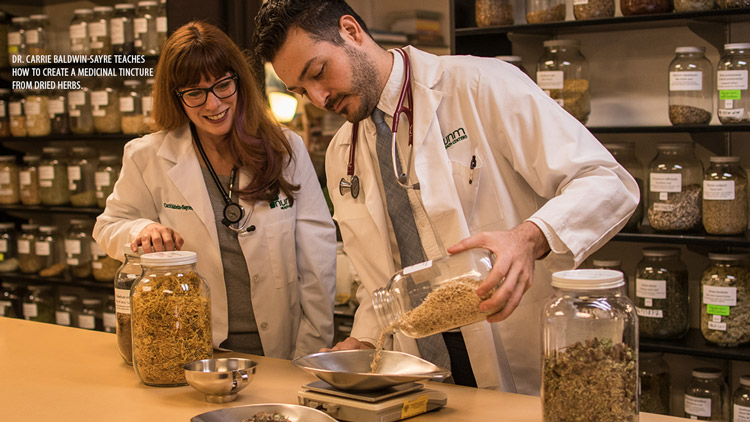 At NUNM, we are training the doctors of the future our students and ND faculty provide a holistic approach to health by working in unison with MDs and other medical practitioners, including specialists, behavioral and mental health providers, and a large community of healthcare partners. NDs are primary care physicians who treat the entire gamut of health conditions, and major medical insurance providers are now extending coverage to NDs in varying degrees in licensed states. And while naturopathic doctors are experts in optimizing health and treating primary care conditions using natural treatments, allopathic medical doctors have different strengths. At NUNM, we view MDs as allies to our NDs and students, with the goal of better patient outcomes and care. We believe the future of health care is working together.
NUNM is the Leader in Natural Medicine Research
Since 2013, NUNM has received over $3 million in funding from the National Institutes of Health (NIH), making us the #1 recipient of NIH grants in natural medicine in the United States. NUNM has built a strong and respected reputation for research through funding by NIH's National Center for Complementary and Integrative Health.
That support has helped NUNM become the leader in complementary and integrative health research, as well as a pioneer in collaborative research within the integrative medicine community. The studies at NUNM's Helfgott Research Institute are known for their rigorous science and adherence to natural medicine philosophy—setting a standard for integrative medicine research the world over. But NUNM doesn't work in silos. We have formed strong research collaborations at major regional medical research centers like Oregon Health & Science University and the University of Washington. Through its clinical trials and observational studies, NUNM is building a compelling evidence-based research database that can be adapted to different research questions, helping drive integrative medicine research forward while continuing to contribute to excellent patient care—the ultimate result of well-designed research.
Our Clinics are State Credentialed Patient-Centered Primary Care Homes
Widely recognized for our research, on-site clinic and curriculum, NUNM is carving out new frontiers within the healthcare system. Our Lair Hill and Beaverton Health Centers are Tier 4 Patient-Centered Primary Care Homes (PCPCH), a prestigious rating that signifies the coveted recognition of excellence in medical care by state authorities, which sets us apart from other naturopathic medical schools. The PCPCH rating verifies for patients that our clinics are accessible, accountable, comprehensive, collaborative, continuous, high value, and patient- and family-centered. NUNM students enter our clinics in an observational capacity and begin preceptorships within their first year of school. NUNM also has the largest residency program in the country—and it's growing every year as more naturopathic and integrative clinics throughout the country learn about the benefits of bringing our residents aboard.
NUNM is Proud to Offer Primary Care with a Heart
Our students learn by helping the underserved in our urban clinics. This exposure to a broad diversity of patients and conditions—from common ailments to acute disease—is what sets NUNM apart and makes our graduates unique and confident. Our alumni enter practice stronger and more prepared. If you're thinking about going to ND school, it's because you want to be a different kind of doctor. NUNM is the leader in naturopathic medical education, training, and research for a reason. We are graduating the physicians that patients are seeking. Come join us.
NDs are fully licensed in: Alaska, Arizona, California, Colorado, Connecticut, District of Columbia, Hawaii, Kansas, Maine, Maryland, Massachusetts, Minnesota, Montana, New Hampshire, North Dakota, Oregon, Pennsylvania, Rhode Island, Utah, Vermont and Washington. They are also licensed in the U.S. territories of Puerto Rico and the Virgin Islands, and in the Canadian provinces of Alberta, British Columbia, Manitoba, Ontario, Nova Scotia and Saskatchewan.