Every year NUNM offers several Global Health trips to different developing nations across the world.  Students in the Master of Science in Global Health (MScGH) program must participate in at least one Global Health Experience course, and all NUNM students are welcome to enroll as well. Heather Zwickey, PhD and trip leader, recounts their time at the Chai Lai Orchid elephant sanctuary during the 2018/2019 Global Health Trip in Thailand.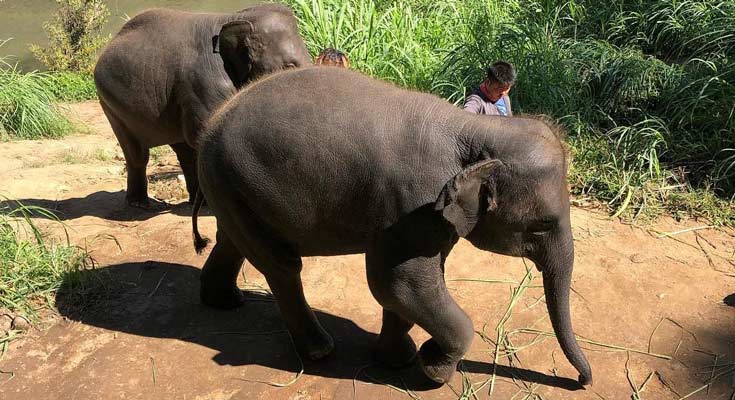 Christmas Eve was what Laura and I had called a 'free day' – meaning the students were free to explore some activity that we hadn't planned. Five students took a cooking class where they made a 7 course Thai meal: Tom Ka, Tom Yum, Kao Soi, Pad Thai, Pad See Ew, Thai Basil Chicken, and a Papaya Salad. They had such a good time and learned a ton. In fact, they may be able to open their own Thai restaurant when we return.
Two of the students spent the afternoon at a hydrotherapy spa that another had previously found. They went through hot tubs and cold plunges, places where water jetted at your back or gushed onto your shoulders. They steamed and sauna'ed and came back looking refreshed. The last student located the local Chinese Medicine school, and went to chat with one of the practitioners. As it turns out, the guy was so busy that he didn't have time to even talk to her. She was disappointed, but also interested in the fact that he was busy. That's a good sign. She wound up getting Swedish massage instead.
I found a garden that I had discovered the last time I was here where they restore old Buddha's and other Hindu gods like Ganesh. You know, Buddha's head is not supposed to be on the ground and shouldn't be damaged. This clay studio brings in cracked and chipped statues for repair. It's a beautiful, jungle-like setting. I spent the afternoon making short videos in the garden, and then wandering home through the streets of Chiang Mai.
We had a special Christmas Eve. A local chef, Yao, who is quite famous in Thailand, made us and other 'ex-pats' Christmas dinner. It was delicious. She's quite clever. We ate warm yellow and purple potatoes, with coconut milk, and dried apricots. We had duck with a berry compote (not unlike cranberry sauce). There was a thick heavy rosemary focaccia bread, and a green salad. And for vegans, she had made a vegan version of everything, using jackfruit instead of duck. And then dessert! Chocolate cake, pumpkin pie, gluten free chocolate cake, peach almond tart… Needless to say, we did not starve.
On Christmas morning, we packed our bags for an excursion, and headed for Chai Lai Orchid – a local elephant sanctuary. The elephants in Thailand are actually Indian elephants that have made their way through Burma. These elephants have bigger heads and smaller ears than African elephants. Elephants have been exploited for centuries – used to build houses, to do logging, and to carry large numbers of people places. They became part of the tourist trade many years ago, with people coming to Thailand to ride the elephants. However, the elephants were often abused in these situations. They were beaten with metal rods, poked with big metal stakes, and kept chained in dirt huts. Now there are sanctuaries where abused elephants come to be loved. That's what Chai Lai is.
In Portlandia, there was an episode where the characters made new products by taking a bag and putting a bird on it or taking a skirt and putting a bird on it. In Thailand, there's already elephants on everything. There are statues of elephants everywhere, elephant t-shirts, elephant tattoos, elephant print pants, elephant bags… After spending a day with the elephants, I think we all understand why.
The elephants we met were sweet and funny. And hungry. We fed them loads of bananas. We met a four-year old and five-year old first. Then a couple of mamas joined them. We met a real baby – only 5 months old. She was 90 pounds when she was born, and she's over 400 now. Her baby hair is not like human baby hair. It's more like a wire brush. Her mother was a doll and is also the mother of the 4-year old. The father has an infection, so he is quarantined off across a ravine where he was eating grasses and bamboo – his huge white tusks and enormous body were still impressive, even though we were 20-30 yards away from him. After feeding the 4 and 5-year olds, we walked them down to river and gave them baths. They laid in the water while we rubbed sand on their backs, bellies, and behind their ears. Then they would squirt themselves (and us) and roll in the water to get clean. In their finale, they gave the students elephant kisses with their trunks, and then squirted water in their faces. Well-trained little buggers. If adopting an elephant were an option, I think we'd all be bringing home pets.
—Heather Zwickey, Adjunct Faculty