Every year NUNM offers several Global Health trips to different developing nations across the world.  Students in the Master of Science in Global Health (MScGH) program must participate in at least one Global Health Experience course, and all NUNM students are welcome to enroll as well. Heather Zwickey, PhD and trip leader, recounts their time on Pun Pun Farm during the 2018/2019 Global Health Trip in Thailand.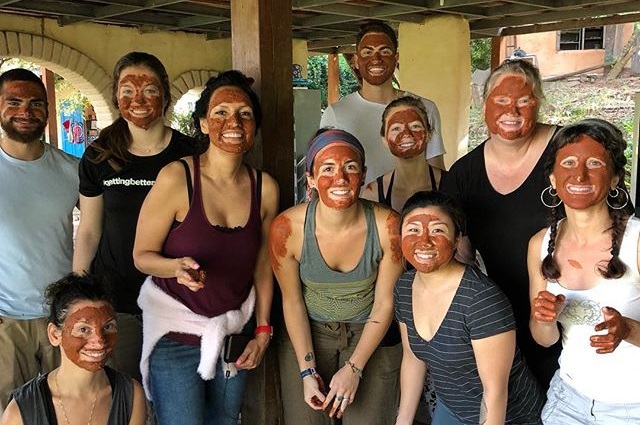 Today, you find me overlooking the jungle, mountains and the farming valleys outside of Chiang Mai, in north western Thailand. We're not too far from the Burmese border on the Pun Pun farm. Pun Pun, which translates to "1000 ideas," is an organic community farm.
Wow. Who knew so much happened on an organic farm in Thailand? Pun Pun was planted Permaculture style. That means that the crops aren't planted in rows – that's called monoculture. Instead, the plants are planted how they would normally grow in the wild. There are beans, lettuce and garlic living in harmony! I know that's hard to believe, but it's true. They keep chickens (about 100 of them), but not for meat. The chickens are for eggs, and more importantly, for fertilizing the soil. Apparently chicken poo is quite the stuff!
We had an evening session that was quite intense. One of the community members is from Burma and lived in the refugee camps for more than 20 years. His wife is a community health worker who worked with Burmese migrants. She spent a lot of time treating injuries caused by escaping the conflict – knife and gunshot wounds, starvation, and infectious disease. They talked to us about sources of the conflict, how the military is the one leading the coup. International aid used to help the refugees, but because Burma is rich in natural resources, big businesses have moved in. Now the aid goes to the government, and it doesn't reach the people. That's a common problem with international aid. People donate money thinking they are helping those in need, when most of the money goes to those who are oppressing the community.
School is unusual for Burmese refugees. One grade level may be taught in one refugee camp if there's a teacher there who can teach it. For example, one camp may have a 4th grade teacher, and a different camp has a 6th grade teacher. However, there are no educational resources, like textbooks. If you want to learn every year's material, you go from camp to camp trying to piecemeal together your education. Most refugee children get very little education, which just continues their poverty. There are more than 100,000 Burmese refugees in Thailand. And because there have also been conflicts in Laos and Vietnam, there are more than 600,000 refugees in Thailand total. And the US thinks it has a refugee problem?
What I liked most about the Burma conversation is that it humanized the issues for the students. No longer was it the abstract conversation about people leaving war zones and places where they aren't safe. It became real. Our conversation also covered the reality of resource limited places trying to deal with refugees. What has been most successful for Burmese refugees who have made it to the US is for them to revitalize some of the small towns in Nebraska, Iowa, and South Dakota – places where the towns were dying because all of the young people have moved to cities. Perhaps that's a strategy that can be employed for other refugees. Hard to say. Our students felt a bit helpless after the talk. They want to be able to do something. However this conflict has been ongoing since 1988. Likely no NUNM student is going to solve it. Furthermore, it's not a westerner's job to solve the Burma crisis. They need to come up with their own solution. This is one of those situations where you have to let the world change you because you can't change the world. We had a great conversation about how to let go of the 'savior complex.'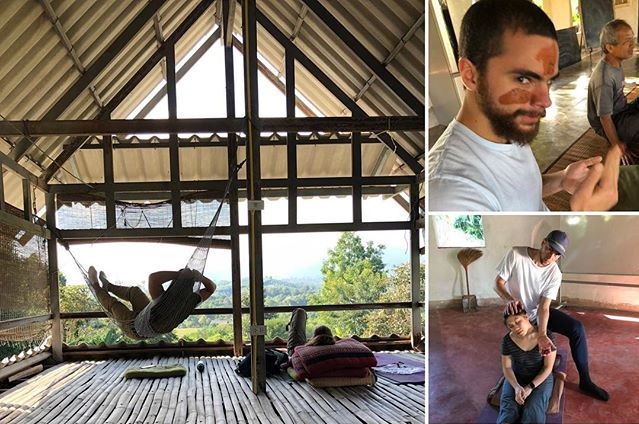 Our students also learned from one of the guys who started the farm, Jo. Jo spouts naturopathic philosophy in every breath. It's not intentional. It's just who he is. The students hung on every word. Heck, he even had me writing down quotes. Here's one:
He talked about the importance of mindfulness, of drinking water, of using what's available for medicine. We made mud masks and discussed medicinal properties of mud. Jo talked about happiness and love, suffering and letting go of material things – Buddhist theory. In Buddhist philosophy, the desire for things is the cause of pain and suffering. If you can let go of desire, you can reach nirvana. Jo was raised Buddhist. After the 3 hour class was over, most of the students just continued to sit and ask Jo questions for another hour.
We learned Thai massage techniques – mostly how to do the Royal Massage, which focuses on head, neck and shoulders. Our teacher, Ram Pai (whose name means sunshine after rain), asked our students what their favorite body part was. Most of them struggled to answer. When she asked them why, they said it was because they usually only focus on what they don't like about their body. Isn't that just like an average American? And how sad! After 2.5 hours of practicing Thai massage on each other, we were all fairly blissed out.
Our last lesson was from Khurt and focused on Food as Medicine. In Thailand, all of the herbs with which they cook have medicinal properties. So food is truly medicinal (if you aren't visiting the local Burger King.) The students wandered the farm with Khurt harvesting herbs and vegetables. They tasted chili peppers until their eyes watered and rubbed kaffir limes on their hands. Then they went to the kitchen and made a delicious Tom Yum soup. Lemongrass, galangal (a form of ginger), garlic, lime leaves, mushrooms, tomatoes and chili peppers. It was too spicy for me to eat, but they loved it. What a great way to have medicine!
Evenings at the farm reminded us that we were in a Thai rainforest. The geckos whooped, and if you haven't heard that, you need to. It's insane. The frogs chirped and sang. And the spiders the size of your hand showed up in the bedrooms. It turns out that some of my students are less than excited about spiders, especially when they are baseball mitt sized. Are they poisonous? Yes. Are they going to bite you? Probably not.
The students are meditating at a temple all day today. Then they will do a 'monk chat' where they discuss things like "What is the difference between kharma and fate?" Meanwhile, Noi, our translator, and I will visit several markets to get some great Thai foods for a little feast when the students return.
—Heather Zwickey, Adjunct Faculty