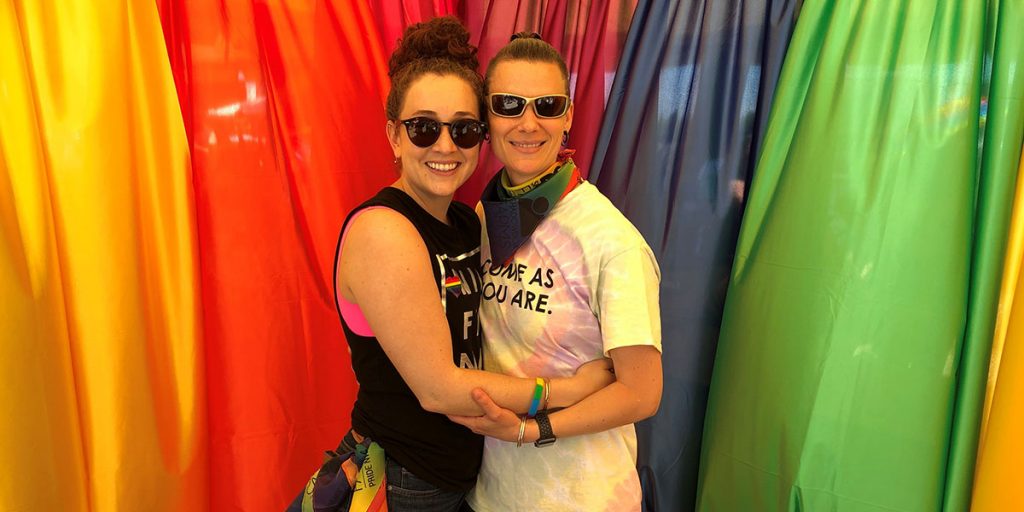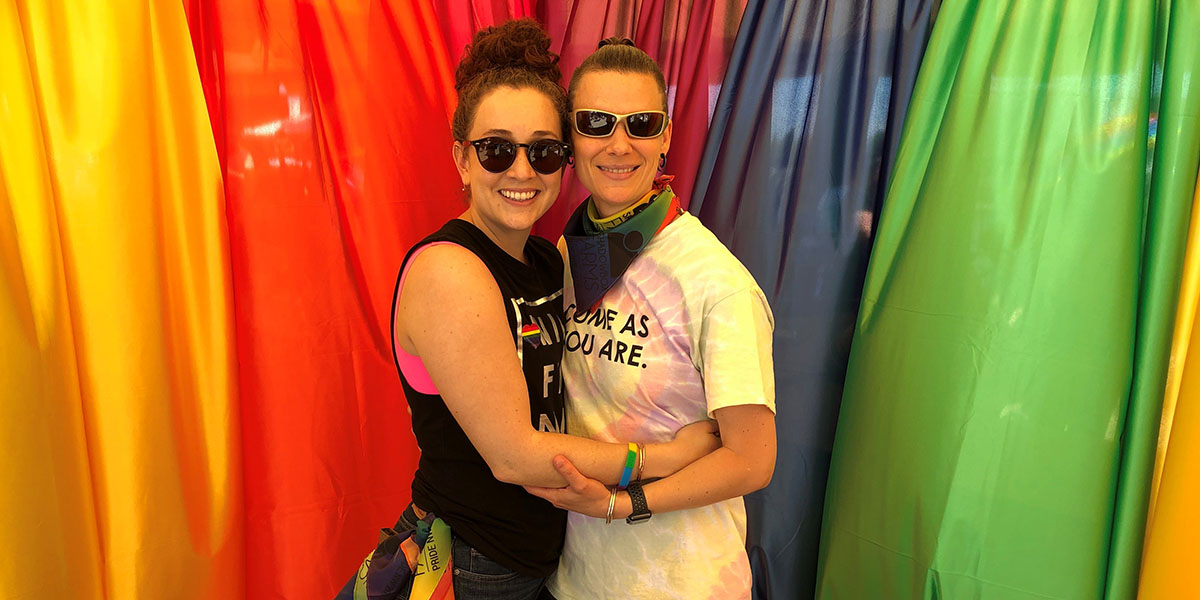 AR Jackson '21 and Malina Montenegro '21 are the type of couple that finishes each other's sentences. Ask them a question, and both burst out saying the exact same thing at the exact same time.
What was it like completing their fifth and final year of naturopathic medical school during Covid-19?
"We were lucky," Jackson begins to say. "We had each other – to help each other," they say in unison, gazing into each other's eyes and holding hands.
The classmates met five years ago as first-year students pursuing doctorates in natural medicine. Malina had already decided on the five-year track, whereas Jackson – a wiry professional fitness trainer who lifts weights and rock climbs – was determined to earn her degree in four years.
"I was going to push through no matter what, and then I changed my mind," says Jackson, looking lovingly at Malina.
From the City of Roses to the City of Love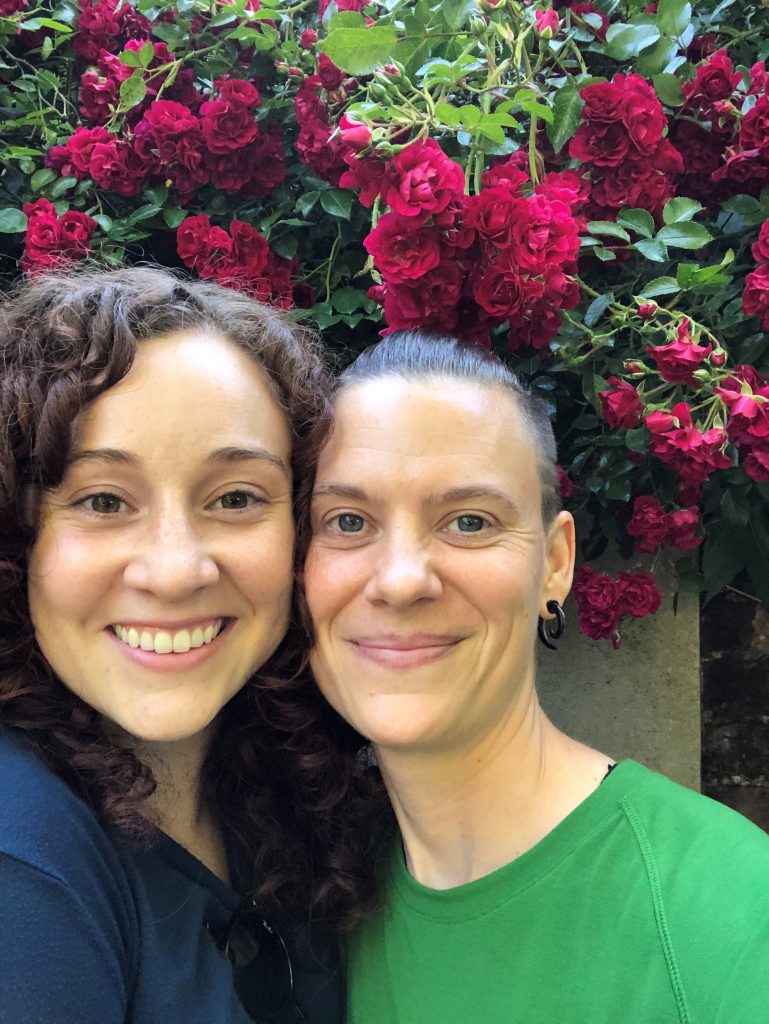 Malina came to Portland specifically to attend the ND program at National University of Natural Medicine. Previously, she earned her bachelor's degree in microbiology from the University of Arizona in Tucson.
She and Jackson knew each other only peripherally during their first year of college. Then fate brought them together in year two when they signed up for the same musculoskeletal class and lab.
Their academic friendship slowly evolved into something more, starting the summer between their second and third years. They joined a group of about 20 NUNM students, alumni, and faculty members traveling together on the Euromed trip arranged by Dr. Chip Halverson '11.
"The Euromed trip was magical!" Jackson says. "We went to Germany to study naturopathic medicine. Dr. Halverson has a lot of connections in Europe, and he made the whole trip happen."
For her first trip to Europe, Malina also wanted to see Paris, France, so she booked an early flight and planned a three-day stay in the City of Love prior to joining the others in Germany. When Jackson heard of Malina's plans, she asked to tag along.
"Paris is where Jackson and I officially started to get to know each other," Malina says.
"Then we got to spend another nine days traveling all through Germany," Jackson quickly adds to the story. "We came back to Portland just knowing much more about each other, liking each other, and a solid friendship."
Their relationship turned solidly romantic shortly after the start of their third year.
"It was really amazing, and also hard," Malina says. "I had to come out to my family. I had never identified as queer ever in my life. My family had no clue that I was with Jackson."
Before coming out to her family, Malina tested the waters by telling her closest friends at NUNM, who were mostly supportive.
"It was a torment for many months. I think it was month nine that we had been together before I told [my family]," Malina says. "It was a journey. I lost a friend in the process. That was hard. It was a growing pain, I think. She was the first person I told, and that was my first experience into coming out, which didn't go so good. It made it hard to talk to my family about it, but once I talked to my family, everything was better than I thought it would be. I told them we were moving in together and that we were engaged."
After learning of their relationship, Malina's family invited Jackson to spend Christmas with everyone that year.
"Jackson met my whole family, which is big!" Malina says. "She met, like, 20 people in one night, …"
"… And then her mom was traveling through Idaho and went to meet my mom," Jackson says. "And my mom will meet her dad at graduation. We were very lucky."
Setting Up Practice and Settling Down Together after NUNM
Jackson and Malina consider themselves fortunate in many other ways. In addition to their supportive families, they enjoyed each other's companionship during the coronavirus pandemic, and they also kept each other on track at medical school.
"Navigating the medical school experience with someone else who is in medical school, I just think that it can't really be overestimated," Jackson says. "A lot of students were lonely during Covid and not able to get together with their people, and we've always had each other to practice on, to help each other with their assignments. It's been a gift in that way."
With graduation day finally in sight, the couple is starting to turn their attention toward setting up a medical practice. Their plan is to focus on women's health, pelvic floor therapy, and bodywork, based on learnings from a six-month mentorship with Dr. Kathryn Kloos '10.
Although Malina originally hails from Arizona and Jackson arrived from Idaho, the couple hopes to settle down here in Portland.
"The best option is definitely staying here in Portland — personally and professionally," Malina says. "We'd lose a huge network of mentors we've found here."
Once graduation is behind them and they've taken the next step in launching their professional medical careers, then they'll consider setting a date for their wedding – perhaps next summer?
"We really want to have some money saved up so we can have a nice get-together. It's complicated with starting a business too," Jackson says. "We don't want to do the Covid mask thing. We thought about getting married during graduation and quickly pushed that aside. It was just too much to plan."
"We're exhausted," Malina says.
"And why dull the celebration of one with another? Let's have a graduation celebration, and then a wedding celebration. We all need more celebrations in life."