NUNM President/CEO Melanie Henriksen, ND, LAc, CNM, announced that the campus of National University of Natural Medicine (NUNM) is officially up for sale. A citywide search for a new campus is underway.
"NUNM's current campus in downtown Portland, Oregon, has served our community well since 1996," Dr. Henriksen said. "Now, we have an opportunity to create a new, integrated home for the next generation of naturopathic doctors and researchers, nutritionists, and classical Chinese medicine practitioners."
Founded in 1956, NUNM is the longest active accredited natural medicine school in North America, which is why NUNM is sometimes referred to as "The Mothership."
Relocation Inspiration
NUNM's current campus is based at the Josiah Failing Elementary School Building. Built in 1912, the historic structure has always been dedicated to education, serving as the first location of Portland Community College until 1996 when NUNM purchased the property. Over the past 25 years, NUNM has graduated thousands of natural medicine healthcare providers from this campus location.
But in 2020, as the COVID-19 global pandemic moved many classes online, NUNM administrators reevaluated current campus facilities.
After significant dialogue with students and staff, faculty, clinicians, and the NUNM Board of Directors, as well as a rigorous examination of building infrastructure, the NUNM community reached a consensus to relocate.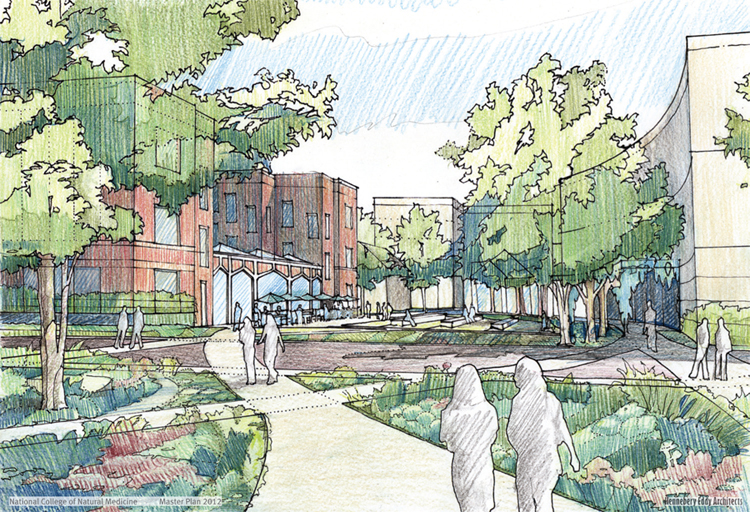 Campus Vision 2023
Dr. Henriksen believes the time is right to propel the university into a new era of growth and healing.
"In consulting with NUNM's community, what's common is the collective vision to heal the world. To do that, we need better integrated facilities that are connected to nature, large teaching kitchens, well-equipped research laboratories, and outdoor green spaces."

NUNM President Dr. Melanie Henriksen
The plan is to fully move all university operations by 2023.
"We are confident we can locate a campus setting that affords patients and students cutting-edge research and learning spaces, along with continued clinical excellence and patient care," said Dr. Henriksen, who earned her doctorate at NUNM in 2005. "Tying those pieces together is a big part of what drives me and our students."
Prior to her current role as president, Dr. Henriksen was in clinical practice as a Naturopathic Doctor, Certified Nurse Midwife, and acupuncturist. She also previously served as NUNM's Chief Medical Officer, Dean of the Naturopathic Medicine program, and Residency Director.
The Future of Teaching and Healing at NUNM
Cushman & Wakefield, a global real estate services firm, will manage the sale of NUNM's current campus and future purchase. GBD Architects has been retained to help NUNM redefine its new physical location to maximize campus identity, community engagement, and academic achievement.
"The students we attract understand that they are walking into an integrative medical world," said Dr. Henriksen. "As we prepare to move to a new campus, this is something I hope becomes clear: We are educating natural medicine practitioners and primary care providers who have a robust background in a diverse range of therapeutic modalities."
Dr. Henriksen will host open forum sessions regularly with NUNM's community to share updates on the campus sale and relocation. The first session will take place on Friday, Oct. 22, 2021. All current NUNM faculty, staff, and students will receive an invite via email.
"This momentous move will spur our collective, positive growth. Our journey to the future of natural medicine starts today, and I am so excited for the changes that we can make together – not only for ourselves and our careers as healers, but for the overall health of the world," Dr. Henriksen said.