If you're finding it hard to get a good night's rest, Yoga Nidra might be the answer, according to a series of research studies conducted at NUNM's Helfgott Research Institute. Findings from the studies were featured in an article published recently by U.S. News and World Report.
Yoga Nidra is one of the easiest yoga practices to develop and maintain. A person simply lays on their back and listens to a teacher talk through a script meant to induce relaxation.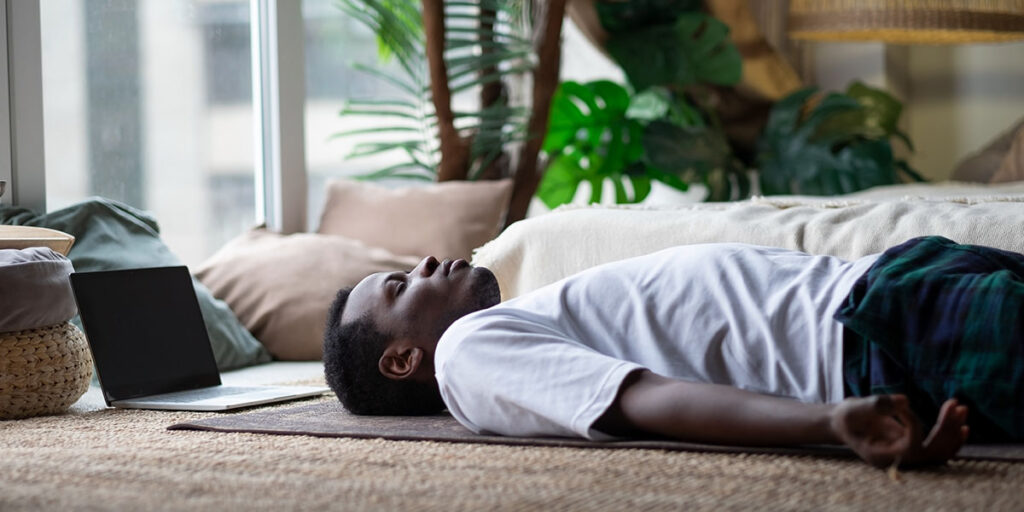 "As a teacher leads you through awareness of your body and breath, you create vivid mental experiences of your own memories and emotions," said Erica Sharpe, Ph.D., the principal researcher on the studies, along with NUNM Director of Research Ryan Bradley, ND, MPH.
"Dr. Sharpe's research is applying rigorous methods of research to traditional practices, like Yoga Nidra, to determine if they are legitimate treatment candidates for people suffering from conditions such as insomnia. There has been a lot of use historically, but very little hard data. We aim to change that trend," said Dr. Bradley.
Dr. Sharpe has been studying the effects of Yoga Nidra as part of her postdoctoral fellowship, funded by a National Institutes of Health National Center for Complementary and Integrative Health (NCCIH) grant supporting the Building Research across Interdisciplinary Gaps (BRIDG) clinical research training program, at the National University of Natural Medicine (NUNM) and the University of Washington. She also teaches chemistry, botanical medicine and music at State University of New York at Canton.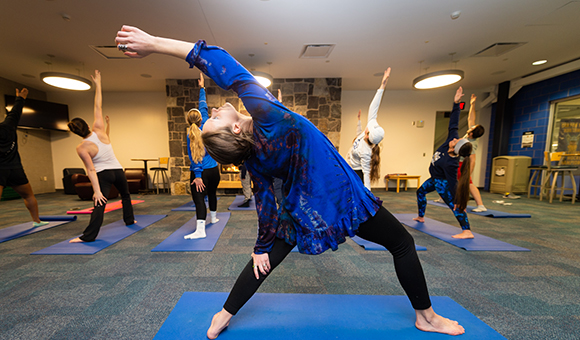 The Helfgott research team has conducted three studies on Yoga Nidra so far: a qualitative study on personal experiences surrounding a single community practice, a sleep lab study that monitored physiological changes during an in-clinic practice, and a remotely-delivered study assessing changes to anxiety and sleep following a virtual at-home practice.
In the sleep lab study, participants with trouble sleeping made two visits to NUNM's Helfgott Research Institute. During the visits, the participants completed questionnaires and were split into two groups that practiced Yoga Nidra (intervention) vs. lying quietly (as control). Both groups were monitored by three instruments which measured brainwave patterns, heart rate variability and respiratory rate as measures of whether or not Yoga Nidra actually induces sleep or relaxation. The study was completed in March 2019. The protocol is published in the International Journal of Yoga Therapy, and findings will be published soon.
In the remotely-delivered study, carried out during the spring of 2020, Dr. Sharpe delivered Yoga Nidra remotely, online, immediately before bedtime and measured effects on anxiety and sleep after a single practice. Select findings were published as an abstract in the journal SLEEP in July 2021.
"We found improvement after just one practice in the time it took someone to fall asleep and also in self-reported anxiety," Dr. Sharpe said. "That's really promising for us to start using Yoga Nidra as a long-term, consistent practice and how that might affect someone who has insomnia."
In the qualitative research study, published in the Journal of Alternative and Complementary Medicine, participants in a community Yoga Nidra class reported mental, physical and emotional relaxation. They also reported feelings of rejuvenation and experiences of sleep and dreaming, even though in many cases they also could list back the activities they completed during the practice – a unique aspect of the effects Yoga Nidra may have on consciousness and awareness.
Dr. Sharpe noted that insomnia and related anxiety affect 30% to 50% of the U.S. adult population. These conditions often coexist and contribute to increased mortality from depression, heart disease and stroke. Yoga Nidra may offer a low-risk treatment to augment current standards of care, including cognitive behavioral therapy and pharmaceutical use.
"[Yoga Nidra] is a very passive and easy practice that targets physical, mental and emotional relaxation," Dr. Sharpe said. "Releasing all three of those and entering a state of deep relaxation, we propose, is why this is therapeutic for so many aspects of wellness."
Dr. Sharpe is recruiting for another study hosted by NUNM on remotely-delivered Yoga Nidra for mild to moderate depression and insomnia. Those interested are invited to fill out a survey to determine if they are eligible to participate. For more information, contact Dr. Sharpe at esharpe@nunm.edu.