Last month, Ryan Wexler, a dual-degree student in the ND and MSIMR programs, attended the International Congress on Integrative Medicine and Health in Phoenix, Arizona, to present baseline findings of his study evaluating the usefulness of a mindfulness-based intervention called Mindfulness-Oriented Recovery Enhancement in treating pain, physical function, depression, and other symptoms among patients with lumbar radiculopathy, more commonly known as sciatica.
Among his traveling companions were four of his nine research assistants – Devon Fox, Danielle ZuZero, Johnny Lemau, and Melissa Bollen – fellow student Lydia Norby-Adams; and Ryan's thesis mentor, Dr. Katie Pickworth; the all-NUNM group represented every NUNM program save two.
Ryan's research into lumbar radiculopathy was born out of personal experience. With more than a decade of meditation practice behind him, his history with radiculopathy – a broad term used to describe a range of symptoms produced by the pinching of a nerve root in the spinal column – goes back even farther. While most mindfulness intervention studies on lower back pain deliberately exclude nerve-based issues like sciatica, Ryan chose to focus solely on it. For the randomized, controlled trial, his team studied 71 patients over the course of an eight-week intervention and a year-long data collection period, a hugely successful number given his relatively modest means as a student researcher.
Heather Zwickey, PhD, who mentored Ryan closely throughout the process and also attended the conference, notes that his project was remarkable in more ways than one.
"It's rare that a student researcher can complete an entire clinical trial while also in medical school," says Dr. Zwickey. "A few exceptional students have pulled it off. Ryan put together a team to assist with recruitment and study visits. While his research skills will take him far, his team leadership skills will make him truly successful."
Though the first of his results won't be published for a few more months, Ryan and the entire team's efforts were recognized widely in Phoenix. As the only ND students in attendance, they were able to network with future peers and colleagues as they learned more about the direction the field is taking and, importantly, what kind of research is fundable.
Ryan considers himself an introvert, but says conferences are a great way to get to know people. "It can be overwhelming at first, but after a few days you've seen the same people multiple times and you naturally become familiar with them." As he warmed up to others, he was able to drum up interest in his work, and even found himself exploring potential postdoc positions.
"This was the best conference I've ever been to," says Ryan. "As I've grown in my studies, I've gotten to where I can be more targeted in my questions and seek out specific people in my networking process."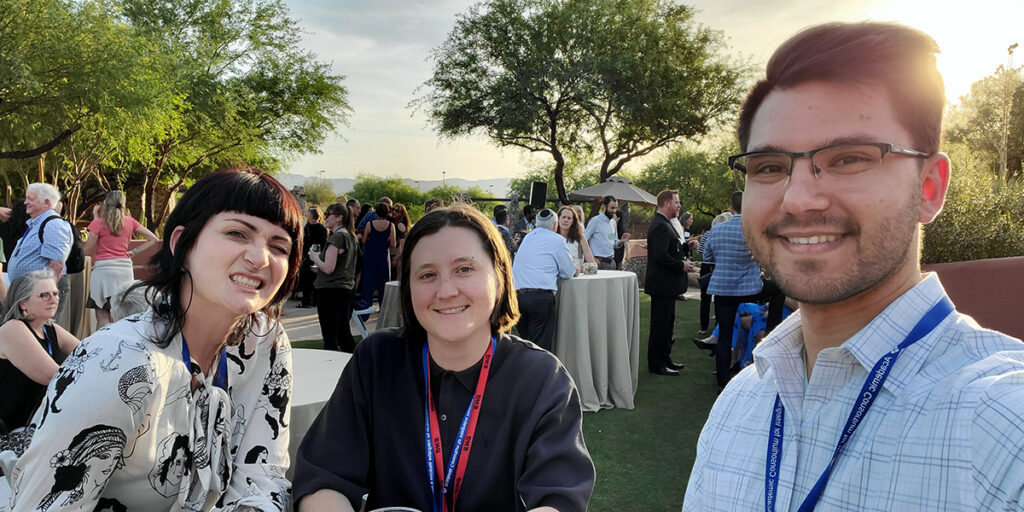 Given that Ryan's already attending another conference this week – the application-based Mind & Life Institute's Conference on Othering, Belonging, and Becoming – it's probably safe to surmise that this bar will just get higher and higher as his talents take him further and further.
Ryan's research was made possible by generous funding from the Naturopathic Medical Student Association's Anna MacIntosh Junior Investigator Research Fellowship.