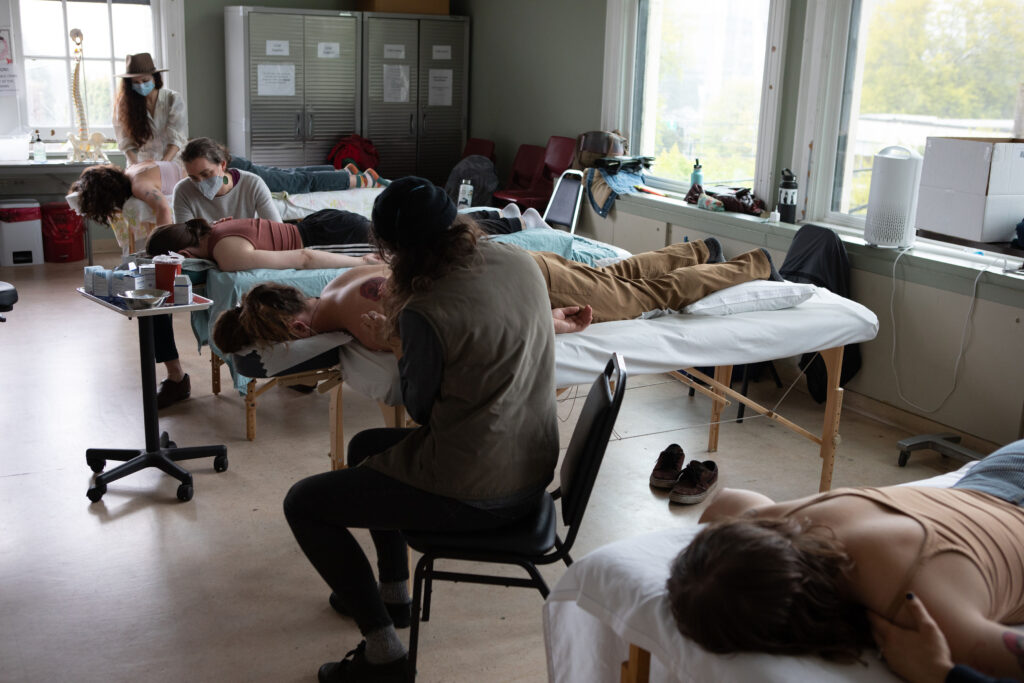 Acupuncture is a form of integrative medicine that involves the insertion of thin needles into specific points on the body to promote overall health and well-being. However, acupuncture is much more than this. As National University of Natural Medicine (NUNM) faculty member Brandt Stickley explains:
"Acupuncture is a modality that harnesses the power of awareness to transform body, mind and spirit. It is a non-pathologizing model that harmonizes centers and peripheries and empowers one's resources to dynamically adapt to stress."
If you have a passion for helping others and are interested in pursuing a career in acupuncture, here are some steps you can take to become an acupuncturist.
Step 1: Research your state's requirements
The first step to becoming an acupuncturist is to research the requirements in your state. Acupuncture is regulated at the state level, and the requirements for licensure can vary from state to state. Most states require that acupuncturists be licensed, which typically involves completing an accredited acupuncture program and passing a certification exam.
Step 2: Choose an acupuncture program
Once you have researched your state's requirements, the next step is to choose an acupuncture program. Finding a program involves more than a quick Google search! According to Andy McIntyre, Dean of the Classical Chinese Medicine Program at NUNM, you should consider:
The program's authenticity, or how well it teaches true Chinese medicine
The overall design of the program and how well it has been designed
The quality of the faculty
 Strength and design of the clinical program
NUNM students get more clinical experience in the clinic because they enter the clinic the second term they're on campus. As they progress in their education at NUNM, students observe the supervisor performing all phases of the treatment. In contrast, many schools will have new students observe more advanced students – not experts – performing treatments. As such, NUNM students have a more solid foundation for practicing clinical medicine.
NUNM faculty member Christine Pearson describes how she knew the acupuncture program at NUNM was for her: "When [the admissions counselor] talked about Classical Chinese Medicine, there was a scroll painting of two koi fish and the air from her heating vent would catch it and it would move. The scroll was dynamic. It was art. It was dedication. It was tradition. At the end of the conversation, I had to turn in one application, and I took a deep breath and chose the medicine that moved me. I joke that I am a recovering scientist, but I have always been an artist in love with the natural world. Chinese medicine drew me in, and I fell in love."
There are a variety of acupuncture programs available, including master's and doctoral programs. It's important to choose a program that is accredited by the Accreditation Commissions for Acupuncture and Herbal Medicine (ACAHM).
Step 3: Complete your acupuncture coursework
After you've chosen an acupuncture program, the next step is to complete your coursework. Most acupuncture programs include coursework in anatomy and physiology, traditional Chinese medicine, acupuncture techniques and herbal medicine.
The program at NUNM differs from other programs in coursework. In addition to the foundational biomedical knowledge, the NUNM program offers a historical perspective, utilizing classical texts of Chinese medicine. NUNM faculty member Daniel Silver explains, "Many students want to know the 'why' when they're learning, and without the classical perspective (i.e., looking backwards to understand the way forward), it is extremely difficult to do so. Classics frame the 'what' as well as the 'why' of Chinese medicine. If you demand structure and rigor in your understanding, you will find it, and if you're seeking the expansive, you will bump up against the mystical… it is both 'prickles and goo,' to borrow from Alan Watts. If we are lucky, that is also the kind of experience we will have on a daily basis with the people we work with in clinic. Combine the mundane with the mystical, an everyday expansiveness of shared presence."
Step 4: Complete the clinical hours
After you have completed your coursework, you will need to complete your clinical hours. In some cases, this occurs as an internship, but at NUNM this is part of the educational program. Clinical hours involve working with patients under the supervision of a licensed acupuncturist to gain hands-on experience and develop your acupuncture skills.
An advantage of the program at NUNM is the variety of practitioners on faculty. This richness is outlined by Daniel Silver who states, "A feature of the NUNM program that can be confusing to beginners but incredibly useful in shaping context is that there has always been a range of practitioners who at times seem to be at opposite ends of the spectrum, with just as much dissimilarity as overlap in theoretical underpinnings and skills in practice. A prevailing fallacy of Traditional Chinese Medicine is that there is a single unitary or unified medicine without conflict or disagreement, rather than an ever evolving and informed tradition encompassing a breadth and diversity of practices rooted in East Asian ethics and medical culture now spanning millennia and continents."
Faculty diversity also serves students well. Students have the opportunity to complete clinical rotations with faculty who have differing philosophies and skills. This allows the students to broaden the set of skills they are developing, and apprentice with faculty who see a wide range of patients and diagnoses.
Step 5: Obtain your license
Once you have completed your acupuncture program and clinical internship, you will need to obtain your license to practice acupuncture. This typically involves passing a certification exam, which is administered by the National Certification Commission for Acupuncture and Oriental Medicine (NCCAOM).
Step 6: Start your practice
After you have obtained your license, you are ready to start your own acupuncture practice! This may involve working as a solo practitioner, joining an existing practice, or working in a hospital or other healthcare setting.
In summary, becoming an acupuncturist requires dedication and commitment to learning about traditional Chinese medicine and the techniques used in acupuncture. By completing an accredited acupuncture program, gaining hands-on experience through a clinical internship, and obtaining your license, you can pursue a rewarding career in this growing field.
A career in acupuncture is special. It's unlike other forms of medicine. Stated poetically by Brandt Stickley:
"Acupuncture is a neolithic seed, nurtured and cultivated in the rich loam of a centuries-old literary and philosophical tradition. It is the fruit of profound perception and observation within a process-oriented systems model of great symbolic richness. It represents knowledge severely tested through centuries of development and poised to lead a paradigm shift in medicine."
Compiled by NUNM faculty and staff.