Thanks in part to the legislative advocacy of NUNM's community, Oregon Gov. Kate Brown officially proclaimed Oct. 24, 2022 "Acupuncture and Herbal Medicine Day." This official day of observance is an effort to raise awareness about the over 35,000 licensed acupuncturists practicing today across the United States, and to establish acupuncturists as a Medicare provider group through passage of the Acupuncture for Our Seniors Act.
News of the Oregon proclamation was shared by Blake O. Langley, ND ('19), MS, LAc, EAMP, affiliate investigator at NUNM's Helfgott Research Institute.
"This was a concerted effort between students, institutions and leadership organizations, and I couldn't be prouder!" Langley said. "I especially want to give a shout-out to Cassady Morris and Miquella Young who were the thought generators behind this – a big congrats to the both of you."
Representing the NUNM Class of 2023, Cassady Morris is a dual-degree student in the Doctor of Naturopathic Medicine (ND) and Master of Global Health (MScGH) programs at NUNM. Cassady is also earning her midwifery certificate, is a teaching assistant, serves as legislative chair with the Naturopathic Medical Student Association (NMSA), and is a student representative of Ayush Herbs, among other extracurricular activities.
Fellow dual-degree student Miquella Young is currently in year four of six working toward her ND and Master of Acupuncture with a Chinese Herbal Medicine Specialization (MAcCHM). In addition to her studies, Miquella is a member of the NUNM Health Policy Leadership Club (HPLC) and Herb Society Club.
Oregon Proclamation the Fruit of a Year's Work and Many Hands
Getting the governor to officially proclaim Oct. 24 as Acupuncture and Herbal Medicine Day was a community-centric effort that took dozens of devoted NUNM students, faculty and staff, as well as coordination with affiliated organizations, including the National Certification Commission for Acupuncture and Oriental Medicine (NCCAOM), American Society of Acupuncturists (ASA), Oregon College of Oriental Medicine (OCOM) , Oregon Association of Naturopathic Physicians (OANP) and Oregon Association of Acupuncturists (OAA).
Under the guidance and mentorship of Dr. Langley, who is well connected in the regional and national naturopathic community, Miquella and Cassady led a letter campaign petitioning Gov. Brown to officially recognize the date. In addition to Dr. Langley, Cassady and Miquella, the letter campaign encompassed the advocacy and legwork of Andy McIntyre, Dean of the NUNM College of Classical Chinese Medicine, as well as non-acupuncture faculty and staff, 23 practitioners and over 40 acupuncture students.
"Nothing can be done without a group of devoted people. We recruited other students at our school for the HPLC Club to get the project rolling and make it happen. Students and faculty helped submit letters to Gov. Brown, and they supported the petitions that we sent around school by signing on students," Miquella said.
Raising awareness about the role of Chinese medicine was also crucial to the success of the joint effort.
"Chinese medicine, especially the kind of Chinese medicine we study at the school, has a much wider scope than it's given credit for or that practitioners can bill for. So, the fact that it's termed 'Acupuncture and Herbal Medicine Day' automatically helps to broaden the idea of what Chinese medicine is and what it can offer," Miquella said.
With Gov. Brown's proclamation, Oregon joined a list of states with active proclamations, including New Mexico, Arizona, Missouri, Michigan, Washington, Nebraska and Massachusetts, and Washington, D.C.
"We found it really important that Oregon be added to the list of states that celebrate Acupuncture and Herbal Medicine Day because of the reputation Oregon has and the coverage of acupuncture and herbal medicine here in the state," Cassady said.
According to a 2018 study by the American Traditional Chinese Medicine Association (ATCMA), Oregon has the second highest number (34.88) of acupuncturists per 100,000 population in the U.S., trailing only Hawaii (52.82) and ahead of Vermont (30.79), California (30.69) and New Mexico (30.27).
"It's really important to support the awareness effort and hopefully make it so that by 2025 we have more representation of naturopathic and herbal medicine and acupuncture nationwide. It seems to be cascading into being possible because more people are keeping that fire of awareness there to make sure it's on everybody's minds," Cassady said.
The American Association of Naturopathic Physicians (AANP) has set 2025 as their goal to achieve full-scope legal recognition of the naturopathic profession in the United States. Meeting that goal will require the ongoing sustainability of this awareness movement, according to Miquella.
"It's most likely that [the proclamation] will have to get approved every year annually. So even after Cassady and I graduate, how can we build a sustainable community that's really devoted to health policy and legislation?" Miquella questioned.
2022 Acupuncture and Herbal Medicine Day Celebration Events
Celebrating its 20th anniversary this year, Acupuncture and Herbal Medicine (AHM) Day has been observed annually on October 24 since its initial commemoration on October 24, 2002. The day of observance is part of a coordinated effort to increase public awareness of the progress, promise and benefits of acupuncture and herbal medicine. Over 14 million U.S. citizens are estimated to use or try acupuncture and herbal medicine annually.
Licensed acupuncturists and students in NUNM's acupuncture and herbal medicine degree programs are encouraged to participate in this year's AHM Day activities, as follows:
The National Certification Commission for Acupuncture and Oriental Medicine (NCCAOM) and American Society of Acupuncturists (ASA) will co-host a virtual Town Hall meeting on Sunday, October 23, 2022 at 4 PM Pacific/6 PM Central/7 PM Eastern. Jewel Thais-Williams, MSOM, LAc; Arthur Fan, CMD, PhD, LAc; and Effie Chow, PhD, RN, LAc will share their inspiring stories highlighting the contributions of practitioners in the United States whose work significantly impacts advocacy, community outreach and the laying of the foundation of the acupuncture profession. To register for the virtual Town Hall, visit https://www.surveymonkey.com/r/TH_PreReg.
The NCCAOM will host another virtual Town Hall on Wednesday, Oct. 26 to unveil an updated NCCAOM Code of Ethics and Grounds for Professional Discipline. To register, visit https://www.surveymonkey.com/r/COE_2022.
For more information on this year's full suite of AHM Day events, visit the AHMDay.org website.
Read the official press release.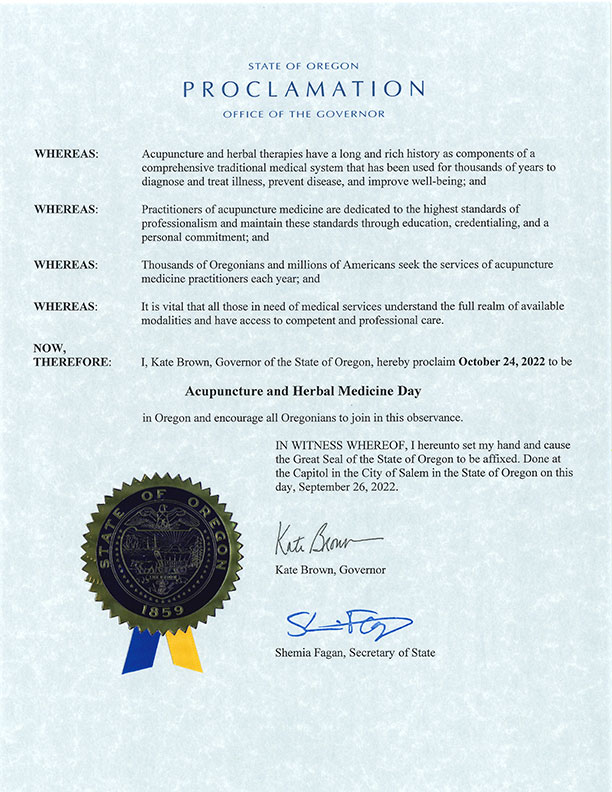 The Oregon proclamation reads:
WHEREAS: Acupuncture and herbal therapies have a long and rich history as components of a comprehensive traditional medical system that has been used for thousands of years to diagnose and treat illness, prevent disease, and improve well-being; and
WHEREAS: Practitioners of acupuncture medicine are dedicated to the highest standards of professionalism and maintain these standards through education, credentialing, and a personal commitment; and
WHEREAS: Thousands of Oregonians and millions of Americans seek the services of acupuncture medicine practitioners easy year; and
WHEREAS: It is vital that all those in need of medical services understand the full realm of available modalities and have access to competent and professional care.
NOW, THEREFORE: I, Kate Brown, Governor of the State of Oregon, hereby proclaim October 24, 2022 to be Acupuncture and Herbal Medicine Day in Oregon and encourage all Oregonians to join in this observance.