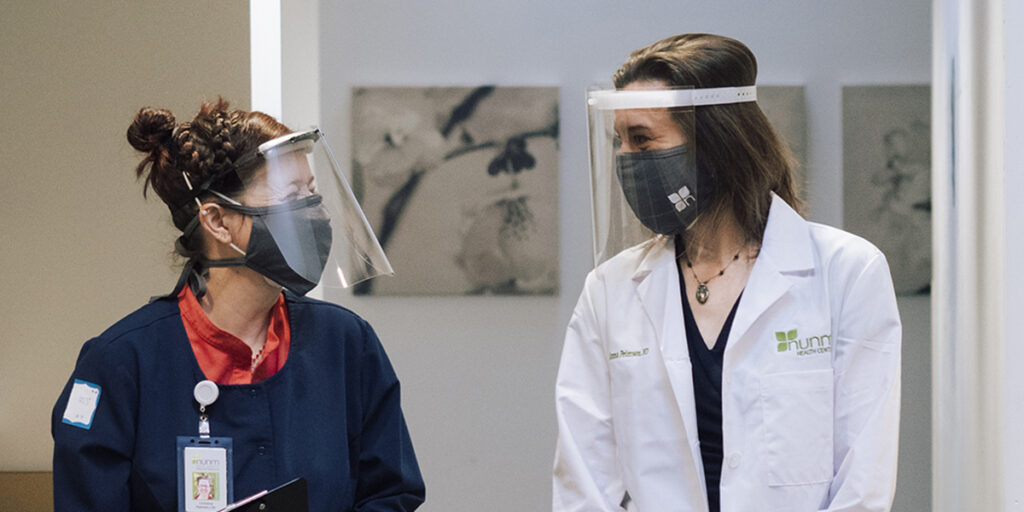 Updated July 5, 2022
DO NOT COME TO CAMPUS IF YOU ARE ILL, REGARDLESS OF THE REASON. If you are symptomatic and test negative for COVID-19, do not return to campus until your symptoms have resolved.
The National University of Natural Medicine (NUNM) is committed to protecting the health of our campus community against COVID-19. Labs and clinical rotations require appropriate personal protective equipment (PPE).
All NUNM community members must demonstrate proof of vaccination status or submit a weekly negative COVID-19 test to participate in clinical settings on campus. For more information visit Vaccinations and Testing requirements.
Weekly testing is not required for students and staff in non-clinical settings.
Latest Statistics
---
Facemask Requirements
Due to the high rates of transmission in Multnomah County and the increasing numbers within our own community, NUNM has reinstated its campus-wide facemask requirement. NUNM will continue to require facemasks in non-clinical settings until Multnomah County is in moderate to low rates of transmission. For more information, visit the Oregon Health Authority's Community Transmission tracker.  
Facemasks have been one of our most effective tools against COVID-19. As cases rise across the state, our priorities are to minimize the spread and protect our community.
It is strongly recommended that you wear a surgical mask, N95 or KN95 mask (i.e., no cloth masks). Facemasks are available on the NUNM campus in several locations including Student Life, the business suite, Human Resources and the NUNM Library.
---
COVID-19 Reporting Form
The university created a COVID-19 Reporting Form as a tool to monitor COVID-19 cases on campus. We ask all NUNM students, faculty and staff members to complete this form to help keep track of and respond to COVID-19 cases on campus.
Please use the form to:
Notify the university you are symptomatic and need help – or –
Notify the university you have tested positive.
The form will require you to log in with your NUNM email account. 
Upon reporting, students will be contacted by Dean of Students Rachael Allen and employees will be contacted by Vice President of Human Resources Kathy Stanford for further guidance.
---
Quarantine and Isolation Guidelines
JAN. 10, 2022 – Per the Centers for Disease Control and Prevention, please note these new regulations for the general population, including all NUNM non-clinical program students and employees, and healthcare workers, including all NUNM students enrolled in a clinical program, and non-clinical program students working or learning in a clinical setting.
Healthcare Workers
The following guidelines apply to all NUNM clinical employees and students, and non-clinical employees and students working or learning in a clinical setting.
Effective Monday, January 10, 2022, NUNM will implement the isolation and quarantine guidelines in accordance with CDC Interim Guidance for Managing Healthcare Personnel with SARS-CoV-2 Infection or Exposure to SARS-CoV-2.
In general, asymptomatic healthcare workers who have had a higher-risk exposure do not require work restriction if they have received all COVID-19 vaccine doses, including booster dose, as recommended by CDC and do not develop symptoms or test positive for SARS-CoV-2. The duration of protection offered by booster doses of vaccine and their effect on emerging variants are not clear; additional updates will be provided as more information becomes available.
Please visit the CDC website for more information.
Non-Clinical Students and Employees
Effective January 10, 2022, the following quarantine and isolation guidelines apply to all non-clinical students and employees.
Quarantine
You must quarantine for at least 5 days (day 0 through day 5) from your last date of contact if you are exposed to someone with suspected or confirmed COVID-19 and are in one of the following groups:
You completed the primary series of recommended vaccine but have not received a recommended booster shot when eligible.
You received the single-dose Johnson & Johnson vaccine over 2 months ago and have not received a recommended booster.
You are not fully vaccinated. 
You do not need to quarantine if you are exposed to someone with suspected or confirmed COVID-19 and are in one of the following groups:
You have received all recommended vaccine doses, including boosters.
You had confirmed COVID-19 within the last 90 days.* 
*Documentation must be provided demonstrating a positive COVID-19 rapid antigen or PCR test performed by a qualified facility and have completed the COVID Reporting Form indicating your illness at the time of the positive test. 
Everyone with an exposure regardless of vaccination status should be tested 5 days after the last close contact with someone with confirmed or suspected COVID-19.  If you develop symptoms or test positive, begin isolation and follow the protocol for isolation below.
Isolation
You must isolate if:
You have had a positive viral test (PCR or Antigen) for COVID-19, regardless of presence of symptoms.
You have symptoms of COVID-19 including people awaiting test results or have not been tested. People should isolate even if they do not know if they have been in close contact with someone with COVID-19. 
Do not come to campus for any reason during your isolation. While you isolate, monitor your symptoms, stay in a separate room from other household members and wear a mask if you are around other people. Isolation begins the first day of your symptoms or if asymptomatic, the day of your positive test result (day 0).  Stay home and isolate for at least a full 5 days (0 through day 5). You can end your isolation after 5 full days if you are fever-free for 24 hours without the use of fever-reducing medication and your other symptoms have improved.  If you continue to have fever or your other symptoms have not improved after 5 days of isolation, you should wait to end your isolation until you are fever free at least 24 hours and your other symptoms improve. 
Students in a COVID-related quarantine or isolation will be able to participate in their academic courses remotely when this option is available (likely most classes with exception of some labs or tutorials where remote participation is not possible) unless under an interim suspension. Any missed required in-person activities will be made up on an individual basis with assistance from the Office of Student Life and instructors. 
Missed clinic shifts are not able to be made up virtually at this time for ND and CCM students. 
ND students may submit up to two modules per shift for credit.  Faculty will work with students who have needs for additional absences on a 1:1 basis. 
---
Clinical Requirements
Per the Oregon Healthcare Worker Vaccine Mandate, effective October 18, 2021, any clinical student who does not have an approved exemption will not be able to participate in clinical activities.
Many of our partner institutions do not allow unvaccinated individuals to participate in patient-facing care, regardless of weekly testing, including many clinical placements, preceptorships and off-campus rotations.
All students and employees who attend at the Lair Hill Health Center during the Winter 2022 term are required to watch the following video on clinical infection control measures prior to arriving to their first scheduled shift: COVID Infection Control Protocol (nunm.edu)
To remain in compliance with Oregon OSHA's Temporary Rule regarding COVID-19, all individuals who work, learn, or volunteer at NUNM Lair Hill Health Center must complete a COVID-19 attestation before presenting.  Each day before arriving to the Lair Hill Health Center, please complete the Daily Attestation Form (NUNM login required). Responses will be monitored and non-compliance may result in clinical suspension.  If you're unsure about your reply to any of the questions, please email covid@nunm.edu and a COVID operations team member will assist you.
---
In-Person Events and Gatherings
Beginning April 4, 2022, NUNM students and employees can gather for in-person events and clubs. All gatherings must be registered and submitted to Student Life for approval at least two weeks prior to the event. Learn more about the specific requirements and register your gathering here.
Employees: Please work with your supervisor to make sure that your gathering meets all safety requirements.
---
Travel Guidelines
NUNM students and employees are asked to avoid nonessential travel.  
NUNM follows the international and domestic recommendations for travel from the CDC.
NUNM requires unvaccinated individuals who are not considered healthcare workers (not enrolled in a clinical program or participating in clinical learning or work) returning from domestic travel to other states complete COVID-19 testing 3-5 days after travel and self-quarantine for a full 5 days even if results are negative.  
Students and employees who are considered healthcare workers should treat their last day of travel as they would an exposure.

If an individual is fully vaccinated (including booster) they do not need to isolate and should test on days 2 and 5-7. 
If an individual is not fully vaccinated, they should test 5 days after travel and isolate for 7 days after travel. If they opt out of the day 5 testing, they should isolate for 10 days after travel.  
---
Additional COVID-19 Resources
NUNM, in conjunction with the Naturopathic Academy of Primary Care Physicians (NAPCP), supports the ongoing efforts from state and federal entities to ensure the safety of all people. As such, NUNM and NAPCP endorse the requirements and recommendations for the immunization of all healthcare personnel against COVID-19 to protect themselves, their patients and families, and their communities.
NUNM's campus, Health Centers, and Helfgott Research Institute continue to follow Centers for Disease Control and Prevention Guidance for Institutions of Higher Education for non-clinical education and Interim Infection Prevention and Control Recommendations for Healthcare Personnel for clinical activities. All clinical activity must additionally follow guidance from the Oregon Health Authority, Multnomah County, and Oregon Occupational Safety and Health Division.
We will continue to update protocols based on executive orders and recommendations from Gov. Brown, State of Oregon, CDC, OHA, and the Higher Education Coordinating Commission for Oregon Department of Education. 
---
Campus Tours
Campus tours are held by appointment only Mondays from 2-3:30 p.m. and Thursdays from 9-10:30 a.m. All visits must be scheduled at least two weeks in advance to ensure quality time during a visit.
All campus visitors are required to wear a surgical mask, N95, or KN95 mask (i.e., no cloth masks). Facemasks have been one of our most effective tools against COVID-19. Our priorities are to minimize the spread of COVID-19 and to protect our community.
To schedule a campus tour, email Admissions@NUNM.edu or call 503.552.1660 / Toll-free 877.669.8737.
---
For More Information 
Email covid@nunm.edu and we will direct your question to the appropriate individual.