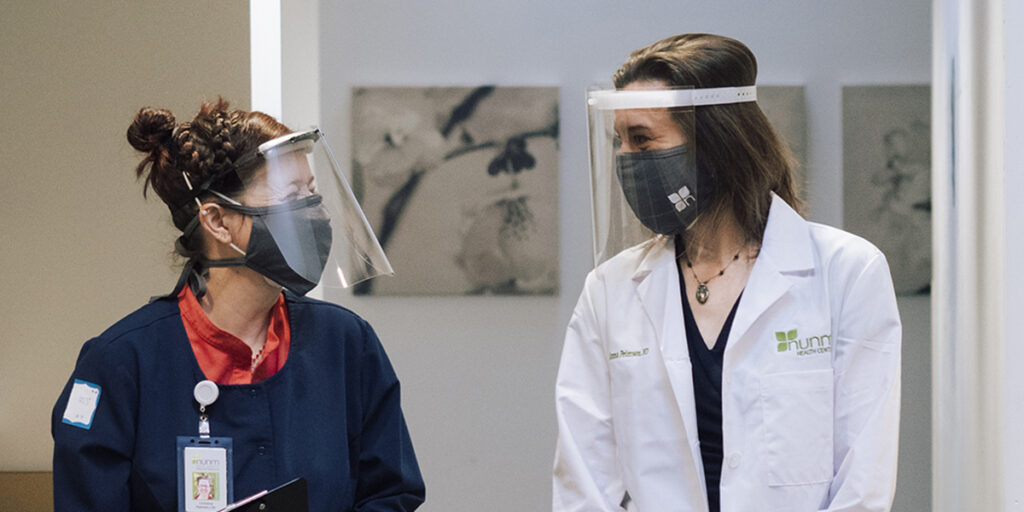 The National University of Natural Medicine (NUNM) is committed to protecting the health of our campus community against COVID-19. Lecture classes, labs and clinical rotations require appropriate personal protective equipment (PPE).
As of October 18, 2021, all NUNM community members must demonstrate proof of vaccination status or submit a weekly negative COVID-19 test to be on campus. For more information visit Vaccinations & Testing requirements.
Weekly COVID-19 testing is required for those who are unvaccinated and, in the case of clinical students/staff, who have met and been approved through the vaccination exemption process. 
Mask Requirements
The State of Oregon requires individuals ages 5 and older, regardless of vaccination status, to wear masks in all indoor public spaces. Read the full Oregon Administrative Rule here.
Masks are not required in crowded outdoor settings. However, masks are strongly recommended for higher risk people or when in a crowded area for an extended period of time.
Clinical Requirements
IMPORTANT: Per the Oregon Healthcare Worker Vaccine Mandate, effective October 18, 2021, any clinical student who does not have an approved exemption will not be able to participate in clinical activities. 
In addition, many of our partner institutions do not allow unvaccinated individuals to participate in patient-facing care, regardless of weekly testing, including many clinical placements, preceptorships and off-campus rotations. 
Travel
NUNM students, employees and volunteers are asked to avoid nonessential travel. We support international and domestic recommendations for travel from the Centers for Disease Control and Prevention, asking unvaccinated individuals returning from domestic travel to other states complete COVID-19 testing 3-5 days after travel and self-quarantine for a full 7 days after travel even if test results are negative. Unvaccinated individuals who do not get tested are to stay home and self-quarantine for 10 days after domestic travel. Vaccinated individuals do not need to quarantine but should watch for symptoms for 14 days after domestic travel and test/quarantine appropriately.
Individuals returning via international air travel must follow CDC testing and quarantine guidelines.
Quarantine Exceptions
Quarantine recommendations do not apply to individuals returning from travel if they have no COVID-19 symptoms and it has been at least 2 weeks after completing the 2nd dose of Pfizer or Moderna OR 4 weeks after the Johnson & Johnson vaccine.
COVID-19 Reporting Form
The university created a COVID-19 Reporting Form as a tool to monitor COVID-19 cases on campus. We ask all NUNM students, faculty and staff members to complete this form to help keep track of and respond to COVID-19 cases on campus.
Please use the form to:
Notify the university you are symptomatic and need help or
Notify the university you have tested positive
The form will require you to log in with your NUNM email account.
In addition to reporting potential exposure(s), students and employees should contact their primary care provider for quarantine and testing recommendations. Individuals should remain quarantined until their provider determines they are able to return to the NUNM campus according to Multnomah County Health Department guidelines.
Upon reporting, students will be contacted by Dean of Students Rachael Allen and employees will be contacted by Vice President of Human Resources Kathy Stanford for further guidance.
Fully vaccinated individuals should continue to watch for COVID-19 symptoms for 14 days following COVID-19 exposure. If symptoms develop, these individuals should begin to quarantine and be evaluated by a healthcare provider.
Latest Statistics
Additional COVID-19 Resources
NUNM, in conjunction with the Naturopathic Academy of Primary Care Physicians (NAPCP), supports the ongoing efforts from state and federal entities to ensure the safety of all people. As such, NUNM and NAPCP endorse the requirements and recommendations for the immunization of all healthcare personnel against COVID-19 to protect themselves, their patients and families, and their communities.
NUNM's campus, Health Centers, and Helfgott Research Institute continue to follow Centers for Disease Control and Prevention Guidance for Institutions of Higher Education for non-clinical education and Interim Infection Prevention and Control Recommendations for Healthcare Personnel for clinical activities. All clinical activity must additionally follow guidance from the Oregon Health Authority, Multnomah County, and Oregon Occupational Safety and Health Division.
We will continue to update protocols based on executive orders and recommendations from Gov. Brown, State of Oregon, CDC, OHA, and the Higher Education Coordinating Commission for Oregon Department of Education.
For More Information
Email covid@nunm.edu and we will direct your question to the appropriate individual.