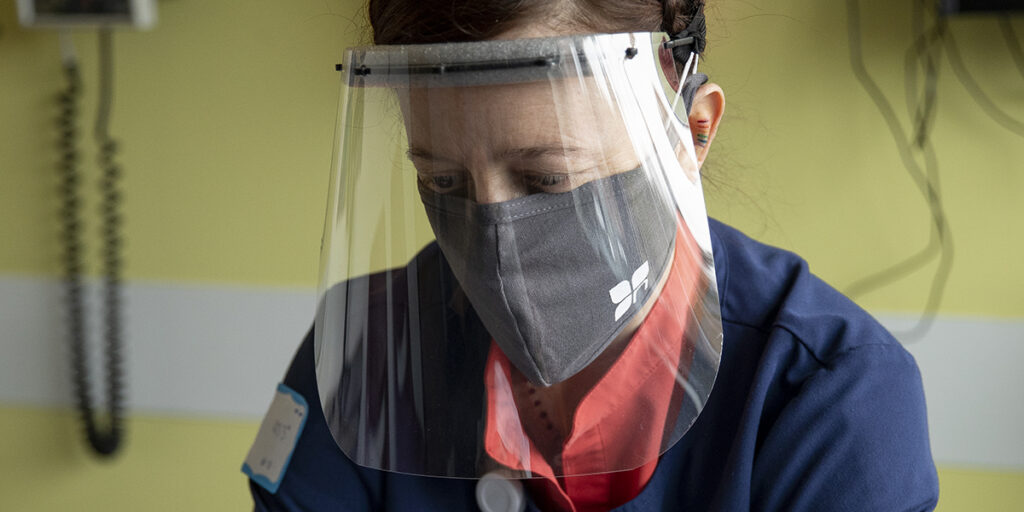 According to the Oregon Healthcare Worker Vaccine Mandate, healthcare students and staff who participate in clinical activities at NUNM for any portion of their employment duties are required to be fully vaccinated for COVID-19 by October 18, 2021.
Individuals can apply for medical or religious exemptions to the COVID-19 vaccination by filling out this form. If you have any questions while filling out the form, please refer to the FAQ below.
For any additional questions, email covid@nunm.edu, and we will direct your question to the appropriate individual.
Frequently Asked Questions (FAQ)
A healthcare provider or staff person may not work, learn, study, assist, observe, or volunteer in a healthcare setting unless they are fully vaccinated or have provided documentation of a medical or religious exception.
An employer of healthcare providers or healthcare staff, a contractor, or a responsible party may not employ, contract with, or accept the volunteer services of healthcare providers or healthcare staff persons who are working, learning, studying, assisting, observing, or volunteering at a healthcare setting unless they are fully vaccinated against COVID-19 or have a documented medical or religious exception.
October 18, 2021. This mandate supersedes the prior date of September 30, 2021.
Documentation of vaccination or exemption must be submitted by October 8, 2021.
All NUNM students and staff must complete a Vaccine Survey by September 10, 2021. Vaccine verification should be uploaded at the time of the survey.
NUNM follows the criteria set forth by the Centers for Disease Control. Individuals requesting an exemption must complete each of the following steps:
All exemption requests will be reviewed by a panel of three (3) individuals, including a representative from Human Resources, Student Life, and the office of the Chief Medical Officer. Outcomes of the exemption review will be delivered via email. Individuals with approved exemptions will be required to participate in weekly testing.
Per state mandate, unvaccinated individuals who do not meet exemption requirements (as well as any required testing requirements) will be unable to participate in clinical activities at NUNM.
ND and CCM students: This will mean pausing your education and taking a leave of absence or transferring into a non-clinical program.
Employees: NUNM will ;work with you one-on-one to determine if there are alternate work assignments, but we recognize that this mandate may necessitate a leave of absence for you.
Please send questions to covid@nunm.edu, and we will direct your question to the appropriate individual.
Definitions
Medical Exemption
A medical exemption must be "corroborated by a document signed by a medical provider, who is not the individual seeking the exception, on a form prescribed by the Oregon Health Authority, certifying that the individual has a physical or mental impairment that limits the individual's ability to receive a COVID-19 vaccination based on a specified medical diagnosis, and that specifies whether the impairment is temporary in nature or permanent."
Medical exemptions will only be accepted from providers whose license and scope of practice includes immunizations (ND, MD, DO, NP, and PA).
NUNM will follow CDC approved exemption criteria: Interim Clinical Considerations for Use of COVID-19 Vaccines | CDC . Please note the contraindications for vaccination are found near the bottom of this webpage.
Outside of CDC criteria above, exemptions will be considered on a case-by-case basis. Please note, the CDC considers the following groups to be high risk for COVID: People with Certain Medical Conditions | CDC . Exemptions for these groups would be uncommon and must be accompanied by a note from a specialty physician (i.e., an oncologist, who notes that the patient is undergoing chemotherapy and advises against vaccination during a specific timeframe).
Religious Exemption
A religious exemption must be corroborated by a document, on a form prescribed by the Oregon Health Authority, signed by the individual stating that the individual is requesting an exception from the COVID-19 vaccination requirement on the basis of a sincerely held religious belief and including a statement describing the way in which the vaccination requirement conflicts with the religious observance, practice, or belief of the individual.
NUNM is committed to providing a safe, inclusive, and supportive experience for all and recognizes true and genuine observance of faith as it pertains to the practice of immunization.
Social, political, or economic philosophies are excluded.
A religious belief should be part of a "comprehensive" belief system versus being an isolated teaching.
Religious exemptions must be requested annually. If approved, the exemption will remain in effect for the duration of the current academic year.
Supporting documentation is not required but may be submitted. Common examples include:

Letter from clergy or religious leader.
Documentation supporting no prior vaccinations in adulthood.
A personal statement including any supportive information pertaining to the ways in which the religious belief prohibits the use of the COVID-19 vaccines.
Questions?
Please email covid@nunm.edu and we will direct your question to the appropriate individual.