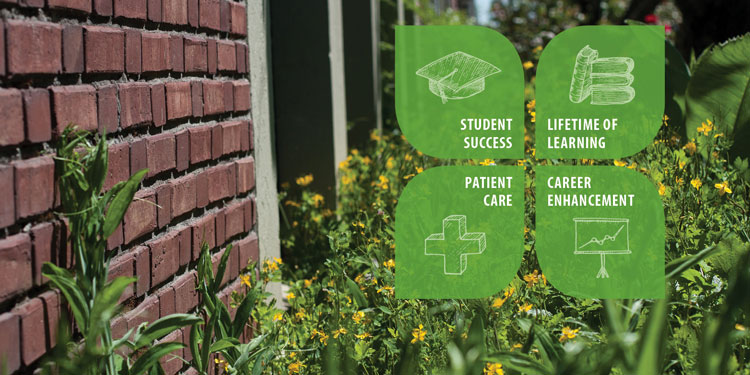 National University of Natural Medicine (NUNM) is the oldest accredited naturopathic medical university in North America and a leader in natural medicine education and evidence-based research. As one of the most respected universities of natural medicine in the world, our participation in global medical education impacts many lives. We believe in the healing power of nature and that food is medicine.
Corporate Giving at NUNM is rooted in four core themes:
Student Success
Lifetime of Learning
Patient Care
Career Enhancement
When you give to NUNM, you directly impact our students, patients and community. Specifically, your gift enhances our mission by providing funds to sustain and innovate programming for our faculty, students, and alumni. You can help our patients thrive by giving financial and in-kind donations to our community clinics that support our goal to provide culturally affirming care within many different communities locally and globally.
Giving to NUNM includes cash gifts, in-kind donations or a combination of the two.
Many thanks to NUNM's Corporate Partners!
Giving Levels
Bronze: $1,000 – $2,499
Unlimited Continuing Education table discounts (a value up to $1250)
Company name and webpage link listed on NUNM website
Employment advertising via MyCareer job portal on NUNM website
Grad gift fair product donation
Silver: $2,500 – $4,999
Bronze benefits +
Submission to quarterly student Newsletter
Monthly marketing opportunities
Lunch & Learn Sponsorship
Health Biz Expo table
Gold: $5,000 – $9,999
Silver benefits +
Exhibitor table at one Continuing Education Conference
Advocate event sponsorship or Continuing Education event scholarships for students
Platinum: $10,000 – $24,999
Gold benefits plus your choice of:
Champion event sponsorship
Helfgott Research Institute partnership opportunities
Academic student scholarships
Continuing Education event scholarships for students
President's Circle: $25,000 +
Customized partnership
Download Corporate Giving information.
NUNM at a Glance
A nonprofit university of natural medicine, NUNM offers medical education programming in naturopathic and classical Chinese medicine, and in related health sciences disciplines.
NUNM has more than 400 students and 3,000 alumni.
NUNM's Lair Hill Health Center is a Tier 4 Patient-Centered Primary Care Home (PCPCH)—a top-level certification from the state of Oregon.
NUNM's College of Classical Chinese Medicine, established in 1995, provides the most comprehensive classical Chinese medicine training in the U.S.
NUNM's Helfgott Research Institute is home to world-renowned research investigators who champion critical studies in natural medicine. Students and faculty collaborate on research and interdisciplinary studies funded by the National Institutes of Health.
For more information about Corporate Giving and details about benefits, please contact Ashley Hardt.