Collaboration will create first fully prepared, medically tailored meals subscription plan featuring fresh ingredients and nutrient guidelines focused on disease prevention
The shared belief that "Food Is Medicine" underscores the new partnership between National University of Natural Medicine (NUNM)'s Food as Medicine Institute (FAMI) in Portland, Oregon, and The Good Kitchen in Charlotte, North Carolina. The collaboration was created to produce an innovative new line of medically tailored meals featuring research-based nutrient guidelines for disease prevention.
Nutrient guidelines will focus on four medical conditions:
Congestive heart failure (CHF)
Type II diabetes mellitus (TDII)
Chronic kidney disease (CKD)
Chronic obstructive pulmonary disorder (COPD)
"The Good Kitchen and NUNM share the same mission – 'Food Is Medicine,'" said Dr. Andrew Erlandsen, Director of NUNM's Food as Medicine Institute and Dean of the graduate and undergraduate Nutrition programs at NUNM. "This partnership is an exciting opportunity for us, as educators and researchers, to provide evidence-based research that will, in turn, promote healthy eating for disease prevention."
Over the next 12-18 months, Dr. Erlandsen and his research team will also evaluate the nutritional values for the 130 meals currently produced by The Good Kitchen. Kira Freed, MEd, MScN, will lead the research, assisted by current NUNM degree-seeking students using Galley, a dietary analysis program.
"We'll develop a standardized testing system to test the nutrient density of foods grown in different conditions to show that foods grown in sustainable, more holistic ways are more nutrient-dense. There's already research showing organic, versus conventionally grown, produce is healthier to eat," Dr. Erlandsen said.
Nutrient guidelines will be based on current standards and recommendations by government and other health organizations, as well as the current evidence-based literature.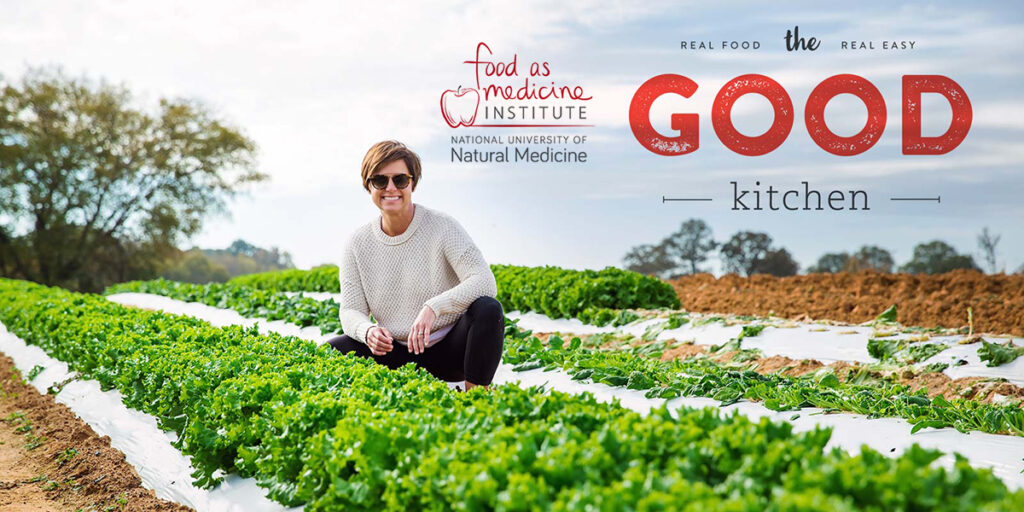 The Good Kitchen Goes Fresh with New Medically Tailored Meals
Since 2011, The Good Kitchen has crafted healthy frozen, pre-packaged, ready-to-prepare meals, available online and through retailers like Walmart and Amazon.
"We're equally excited to be collaborating with a leader in nutritional education for our new line of medically tailored meals," said Kris Reid, VP of Culinary Innovation at The Good Kitchen. "Providing nutrient guidelines will be a gamechanger for people who have diseases that are treatable by following clinically proven diets."
The Good Kitchen's founder, Amber Lewis, was inspired to create the company by her mother, who suffered from severe heart disease. The new partnership with FAMI builds on her commitment to craft healthy, easy-to-prepare, medically tailored meals. Previously, The Good Kitchen has offered meals following the popular Paleolithic diet and Whole30 elimination diet.
"My hope is for everyone to have access to the freshest, most nutritious possible ingredients to sustain physical, psychological, and spiritual health," Lewis said. "I believe our partnership with the Food as Medicine Institute will help us reach more people and spread our shared philosophy that 'Food Is Medicine.'"
Using only 100% grass-fed and grass-finished beef, pastured pork, lamb and turkey, and antibiotic- and hormone-free poultry and eggs from vetted farms, The Good Kitchen follows a "farm to front door" ethos, working with farmers like Hickory Nut Gap in Fairview, North Carolina, who utilize Animal Welfare standards and GAP certifications. All produce is organic, GMO-free, and all seafood items are Seafood Watch compliant.
"Our meals are designed to be nutritious, delicious, and easy to prepare, so our customers can enjoy more of their life. We want as many as people as possible to eat well to live better," Lewis said.
Subscriptions for the medically tailored meal plans will be available on a weekly or customizable basis and can be ordered at thegoodkitchen.com.
---
Established in 1956, National University of Natural Medicine (NUNM) is the country's premier accredited naturopathic university. A leader in the field of naturopathic medical education and evidence-based research, its mission is to educate and train physicians, practitioners, and pre-professionals in the art, science and research of natural medicine.
NUNM's Food as Medicine Institute was created to help expand community-based nutrition education and promote better dietary choices to reduce chronic diseases.