It's springtime on the campus at National University of Natural Medicine (NUNM), which means the cherry trees are blossoming, the herb gardens are sprouting, and graduating seniors are busy working on completing their capstone projects.
From initial proposal to final presentation, NUNM faculty members like Lindsay Marshall help guide undergraduate students to success in completing their capstone projects – even if they have no idea what a capstone project is.
"When students start at NUNM, they're thinking, 'Oh, what is this thing I have to do at the end of my time here?'" Marshall said.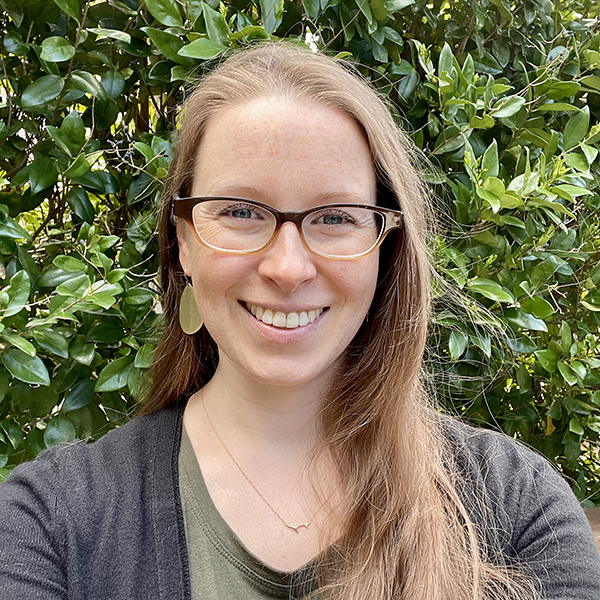 "I help students really think through their capstone projects, why it's relevant to their interests and perhaps career goals, and how it's going to be intellectually robust."
— Lindsay Marshall, NUNM adjunct faculty member
What Are Capstone Projects?
The undergraduate capstone project is the culmination of an NUNM student's academic and intellectual experience. It represents a student's journey through the Bachelor of Science in Integrative Health Sciences (BSiHS) program. (Capstone projects are also part of the Bachelor of Science in Nutrition degree program.) Over the course of 10 weeks during their final term, students pursue a project or inquiry of their choice that combines their academic education with real-world application.
Capstone projects can take many different forms depending on a student's interests. Some examples of recent projects include documenting the effects of exercise on chronic conditions and diseases, compiling homeopathic resources for allopathic healthcare providers, creating an e-book on sexual health, explaining the physiological and psychological factors that impact pain and suffering, and researching the up-and-coming field of psychedelic science.
"NUNM is great for students who want to work in health care but the traditional version of pre-med isn't quite doing it for them," Marshall said. "At NUNM, you have the chance to explore all those things – all the macro- and micronutrients – but you're also going to learn food systems and how the healthcare system impacts you based on intersectional identities and much more."
The Advantage of Learning from Adjunct Faculty
A Certified Mentor and Mentee Trainer by the National Research Mentoring Network, Marshall teaches core courses including Medical Anthropology, Nutritional Anthropology, and Introduction to Research Methods. She also teaches Careers: From Undergrad Degree to Employment, in addition to mentoring students on their all-important capstone projects.
"As their capstone advisor, I work with each student, checking in to troubleshoot any issues and answer questions. It's definitely more of a mentoring process than me lecturing or teaching a topic: It's a guided project that is led by the students," Marshall said.
Marshall came to NUNM from the University of Iowa Center for Research by Undergraduates, where she was associate director and worked with students across all disciplines in mentored research and scholar development.
In addition to her teaching responsibilities at NUNM, Marshall works full time in local government, regularly focusing on issues that impact heath equity. She emphasized the advantage NUNM students receive by learning from educators who also practice in real-world settings.
"Many adjunct faculty at NUNM, like myself, are working professionals, and many of us are working in the professional field that we're teaching in, so students are getting not only just an academic perspective, they're also getting a working professional with practical application – they're learning from a nutritionist who is teaching them about nutrition!" Marshall said.
Anthropology Informs Approach to Education, Reflection
Marshall earned a Bachelor of Science in Anthropology from James Madison University and a master's degree in Applied Anthropology from Oregon State University. This foundation has proved valuable to her work not only as an educator, but especially as a mentor.
"My background in anthropology makes me look at people and try to understand why they do what they do," Marshall said. "Humans are a mix of our biology, our culture, and our surrounding environment – that is who humans are, and that is especially important in our health."
As an undergraduate student, Marshall focused on medical and nutritional anthropology. Her master's work shifted to exploring the connection between modern food and our evolutionary bodies, and their mismatch in today's environment, to maternal-infant nutrition, with a focus on breastfeeding and out-of-hospital birth.
"Most students want to be practitioners of some kind, typically, so I encourage them to think beyond biology – it's also important to think about health from an evolutionary perspective. We are all biological beings, but who are we in our modern day with all our identities, and how does that affect our health in the long run and the big scope of things?" Marshall said.
As part of their capstone project, students put together a personal portfolio comprised by a series of curated reflections. Students think deeply on the most impactful courses that they've taken over their undergraduate time at NUNM, reflecting on why they chose NUNM and their future goals.
The process of reflection is integral for exploration of all kinds, from intellectual and critical thinking, to self-care and career development, in Marshall's mind.
"A lot of students come in with an idea for a capstone project that they've held onto for a couple years and then they end up being able to do it, while others totally change gears. What's unique about NUNM is our students come out of the program with a new or more nuanced way of thinking about things, down to the questions you think to ask that you maybe wouldn't have before you came here. This is a health-focused institution that really sees the intrinsic value and essential nature of a holistic approach. It's a pretty unique opportunity for someone who wants to work in health care, but in a way that looks at the bigger picture," Marshall said.
Click here to view additional past examples of Integrative Health Sciences capstone projects.