Accelerated

Bachelor to

Master of

Science in

Nutrition – Online
Questions? 503.552.1660 / Toll-free 877.669.8737 or admissions@nunm.edu
Earn both degrees at a lower cost, and gain faster entry into the employment market with the Accelerated Bachelor to Master of Science in Nutrition degree. By offering the program online, future integrative health practitioners have a more affordable and accessible option for their education.
Food truly is medicine. Our nutrition program is focused on whole, unprocessed foods and traditional diets, and our philosophy that Food is Medicine is represented in every course. Become an expert in holistic nutrition with our accelerated program.
Highly qualified students may apply for acceptance into the three-year bachelor to master's program. Upon successful completion of the requirements, students will earn a BScN degree at the end of the second year and a master's in nutrition (MScN) degree at the end of the third academic year.
Student Experience
Online BScN-MScN Degree FAQ
The workload is intensive and equivalent to the in-person BScN and MScN programs but allows for flexibility of when coursework is completed throughout the week. Most classes are asynchronous with optional, live sessions for faculty and students to connect. Students will be enrolled in four (4) to six (6) classes per term throughout the program.
Yes. Most of the instructional delivery takes place in an asynchronous manner, providing students the freedom to access the courses and their instructional materials at any time they choose. A few classes will be conducted synchronously via virtual meeting. The schedule of synchronous activities will be provided well in advance of the start of each term, allowing students to create their own schedule and complete most of their coursework independently.
Yes, Portland residents may enroll in either the online or the in-person program. While our traditional in-person program may be desired for those who learn best in a more structured environment with a fixed schedule, the online program is also available to anyone who prefers a more flexible schedule. Students in the Portland metro area may also register for in-person elective courses should they want to take classes on campus.
Questions? 503.552.1660 / Toll-free 877.669.8737 or admissions@nunm.edu
Learn more
Program News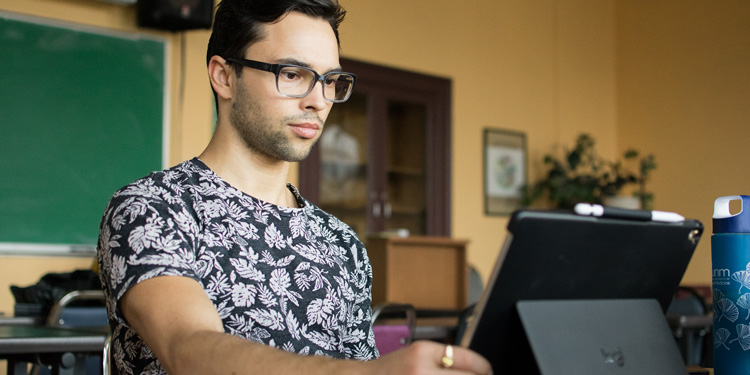 AANMC put together nine tips for those suddenly studying at home because of COVID-19.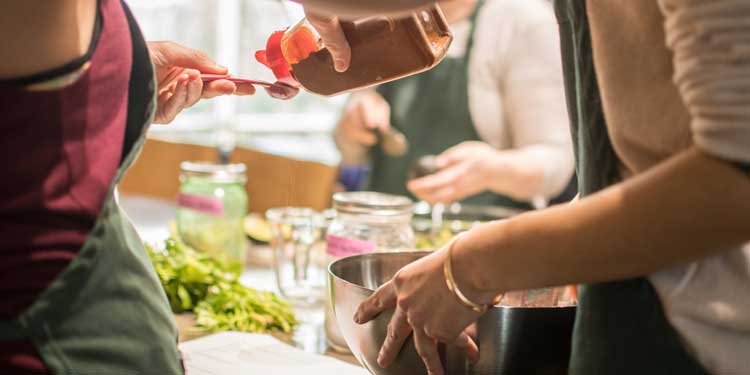 Kate Stoddard, MScN '17, partners with Boise restaurant to launch four new cricket salts.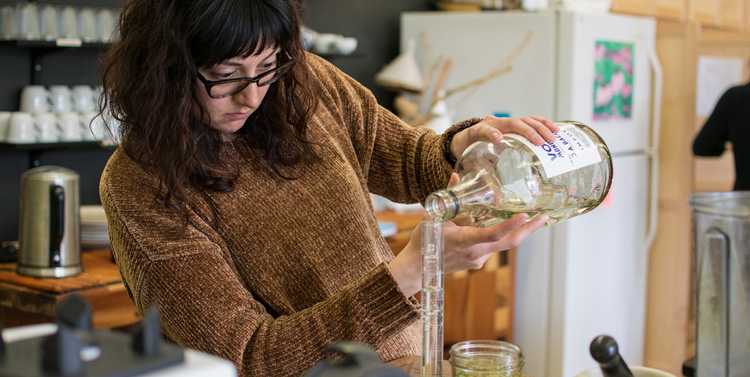 Nutrition Capstone Projects
BScN-MScN

Admissions Requirements for BScN-MScN

A GPA of 3.0 or higher

Prerequisite Courses

Prerequisite courses are designed to ensure entering students are academically prepared for the curriculum of the program. Prerequisite courses may be substituted with comparable coursework if the learning objectives are met at the determination of the Admissions Committee, utilizing the evaluation procedures set by that committee.

| | | |
| --- | --- | --- |
| General Biology | 3 | One academic year of General or Principles of Biology. These courses must be designed for science majors or pre-med students and include labs. Students on a semester system, only need to complete two courses in this subject. |
| General Chemistry | 3 | One academic year of General or Principles of Chemistry. These courses must be designed for science majors or pre-med students and include labs. Students on a semester system, only need to complete two courses in this subject. |
| Mathematics | 1 | Must be algebra, calculus, or math-based statistics at the college level. |
| English Composition | 2 | |
| Social Sciences | 3 | Courses in the areas of anthropology, archaeology, economics, geography, history, law, linguistics, politics, psychology and sociology will satisfy this requirement. One of these courses must be psychology. |
| Humanities | 3 | Courses in the areas of art, religion, philosophy, literature, music and other related fields will satisfy this requirement. |

General Biology — 3 Courses
One academic year of General or Principles of Biology. These courses must be designed for science majors or pre-med students and include labs. Students on a semester system, only need to complete two courses in this subject.
General Chemistry — 3 Courses
One academic year of General or Principles of Chemistry. These courses must be designed for science majors or pre-med students and include labs. Students on a semester system, only need to complete two courses in this subject.
Mathematics — 1 Course
Must be algebra, calculus, or math-based statistics at the college level.
English Composition — 2 Courses

Social Sciences — 3 Courses
Courses in the areas of anthropology, archaeology, economics, geography, history, law, linguistics, politics, psychology and sociology will satisfy this requirement. One of these courses must be psychology.
Humanities — 3 Courses
Courses in the areas of art, religion, philosophy, literature, music and other related fields will satisfy this requirement.

A grade of C or better is required for all prerequisite coursework. Candidates may apply while in progress.

Credit Requirements

Students must have a minimum of 90 undergraduate quarter credits (60 undergraduate semester credits), including coursework in basic sciences and general education. Please contact an admissions counselor for details.

Documents and Essays

Applicants are required to submit essays to be considered for admission. Essays provide applicants the opportunity to share their background, abilities, interests and experiences, and how these will make them a good candidate for the programs at NUNM. Applicants should share some personal experiences and genuine thoughts in their essays. Explaining why you are applying to NUNM and how you would enrich that community is also helpful. The Admissions Committee will look for writing ability, as well as content when reading the essays.

Required Documents and Essays for the BScN-MScN Program

Personal Statement

Please share a little bit about yourself and your background along with what interests you about receiving your undergraduate degree from NUNM. (maximum of 1200 words, double spaced)

BScN-MScN: Qualifications

What do you believe makes you a quality candidate for the 3-year BScN to MScN program? (1 page, double spaced)

Estimated Program Cost

First-Year Tuition & Fees for BScN-MScN*

| | |
| --- | --- |
| Credits | 44 |
| Cost/Credit | $268 |
| Tuition | $11,792 |
| Fees** | $715 |
| Total | $12,507 |

* The prices listed above reflect an estimate based on the 2023-2024 academic year.

Total BScN-MScN Degree Credits

Core program credits

110

Elective credits

18

Total required credits

128