Starting the Spring 2022 term, the National University of Natural Medicine (NUNM) invites its students, faculty, and staff to take advantage of free pronoun pins, made available in the Office of Student Life (Suite 221/222 in the Academic Building).
Wearing a pin is voluntary, and may be done for several reasons, including to identify yourself to others, signal solidarity with non-cisgender allies, challenge heteronormativity, and foster a safer, more inclusive environment.
Regardless of where folx land on the gender spectrum – male, female, non-binary, fluid, or elsewhere – the current offering of four pins – "He/Him," "She/Her," "They/Them" and "Ask Me" – is designed to represent as many people as possible. Additional pronoun pins may be offered in the future.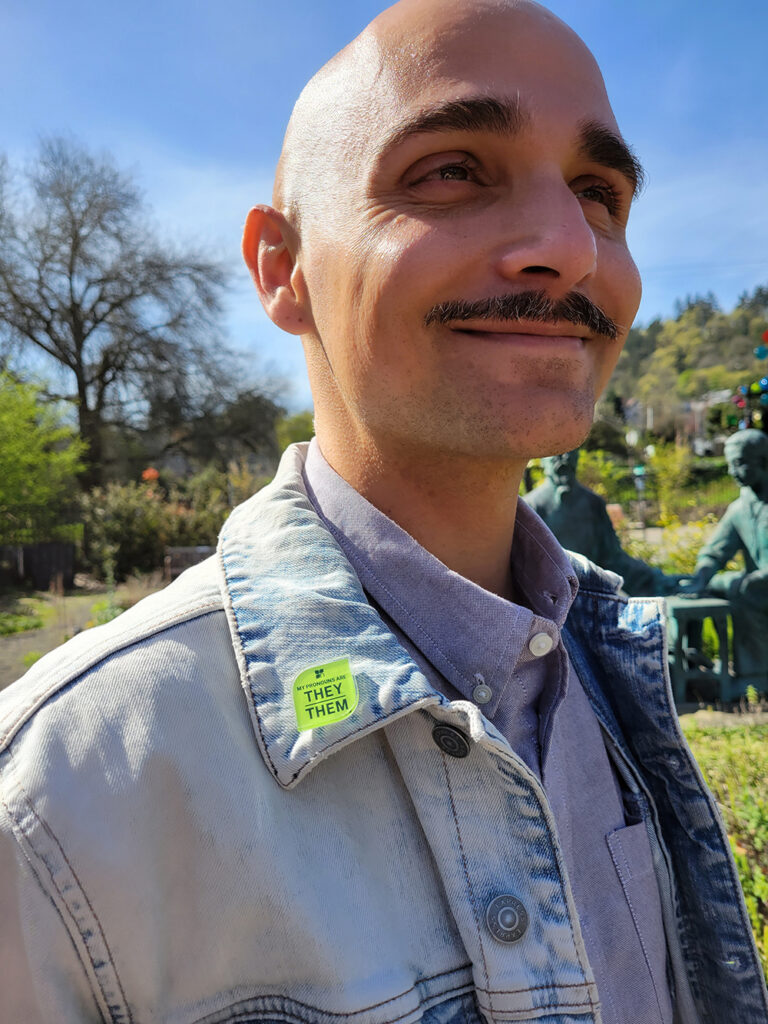 Respecting someone's pronouns serves to create an inclusive environment and foster belonging, but it can take some practice. One way to create an opening to ask about someone's pronouns is to open a conversation by sharing your own; this signals that you're familiar with the concept of pronouns and that you are safe to talk to. Actively choosing to not use the pronouns someone has shared is harassment and implies that intersex, transgender, non-binary and gender-nonconforming people do not or should not exist.
Lydia Norby-Adams (they/them) is a second-year Doctor of Naturopathic Medicine student and a member of the NUNM LGBTQIA+ Affinity Group.
"In general, I think pins are useful because they acknowledge that you can't determine someone's gender by looking at them," Lydia said. "The pins feel like a big step in an environment where people aren't regularly sharing their pronouns and where there's no policy in place to do that in classroom settings."
If integrating pronouns into conversation is new for you, just remember that, as allies, it's always important to check assumptions, stay curious, and take the risk of making a mistake.
"I would love if there was a more intentional culture of understanding in the classroom setting that gender is expansive – you don't know how someone identifies without asking them – and that people's pronouns change," Lydia said. "While people's pronouns are just a small part of their larger experience, it is important to honor them. It's also okay to make mistakes, just keep trying and learning."
Ada Catanzarite (they/them) is the Community Engagement and Patient Services Manager at NUNM. They also facilitate the LGBTQIA+ Affinity Group on campus.
"These pins will not only help foster a more compassionate environment for our students, staff, and faculty, they will be a symbol of support and recognition for our gender-diverse patients," Ada said. "We want to foster a welcoming environment where everyone feels that they belong, so I will be proudly sporting my pin in the NUNM Health Centers and other buildings around campus."
NUNM President/CEO Dr. Melanie Henriksen (she/her) is looking forward to welcoming everyone back to campus for the Spring 2022 term, which started April 4.
"Continuing our return to campus after being gone for the past two years because of the pandemic is a big step forward," Dr. Henriksen said. "The pronoun pins are a great way for everyone – staff, faculty and students – to reintroduce themselves and, I hope, foster an increased sense of belonging among the NUNM community."
For more information about NUNM's initiatives related to diversity, equity, inclusion and belonging, please visit NUNM Marks 65th Anniversary with Commitment to Diversity and Equity.